Sophie Turner Just Completely Roasted Joe Jonas. Here's What She Said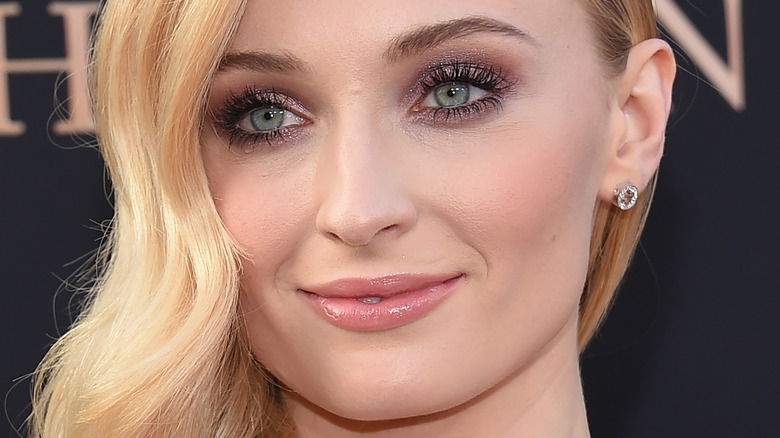 D Free/Shutterstock
At least Nick Jonas had the sense to pre-book a therapist for after the release of Netflix's "Jonas Brothers Family Roast." Perhaps he will even let Nick, Kevin, and Joe Jonas join him after their wives annihilated them on the no-holds-barred special that dropped on November 23. The Jonas Brothers spoke to E!'s "Daily Pop" before the special aired and it seems they were rightly nervous about the roast. Nick said (via E! News), "I definitely booked therapy for Monday morning," apparently anticipating a thrashing. As for Kevin, he appeared to be unsure if JoBros would make it through the roasting unscathed. "Talk to us after the show," he deadpanned. But, no other JoBro was as nervous about the roasting as Joe.
After all, the "Sucker" singer is married to "Game of Thrones" Queen of the North, Sophie Turner. And her bite, well, she's been known to serve her remarks with a dash of ice. Even when Taylor Swift bashed Joe in "Mr. Perfectly Fine," Turner nonchalantly bantered (via Us Weekly), "It's not NOT a bop." Apparently, comedians had been cautioning Joe about his wife's forthcoming quips. With warnings like, "Oh man, good luck, brother," Joe was understandably concerned about the savagery his spouse could spew. He panicked, "I'm like, that's not what I want to hear before this thing!"
But, dear Joe, that's exactly why we're here. Winter's coming and Mrs. Joe Jonas was ringing in all the jabs in time for the festive season.
Sophie Turner's NSFW roast on Joe Jonas and the purity rings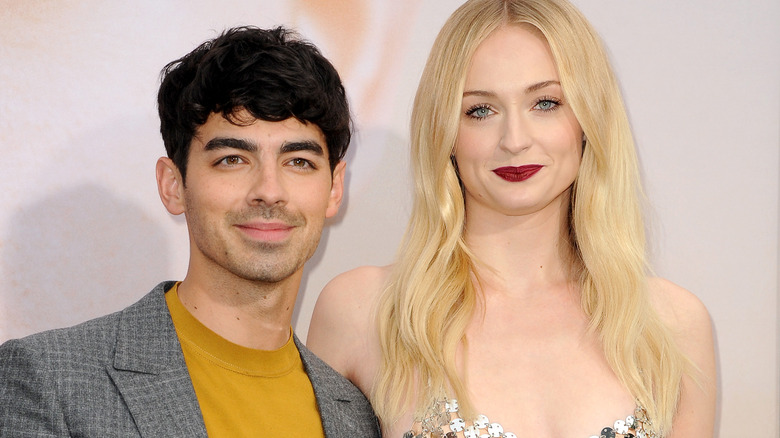 Tinseltown/Shutterstock
Sophie Turner did not hold back on the Netflix special "Jonas Brothers Family Roast." She reminded us of how the JoBros all wore purity rings at one point in their career. Now, in 2019, Kevin, Joe, and Nick Jonas appeared on "The Late Late Show with James Corden" and spilled the tea about the infamous pieces of jewelry. "Purity rings were to wait for the right person, when the time was right," Joe told Corden. "When you're like 12 and you do that, because we grew up in a church and our dad was a pastor, so it kind of just came natural for everyone we grew up with to go through this, and get one, and say, 'I'm gonna wait for the right person.'" However, this was prime roasting material for Turner who spared no punches. 
In her segment of "Jonas Brothers Family Roast," Turner declared, "No, the rings weren't a good idea," and then proceeded to annihilate her husband and the father of her child. "Look, Joe Jonas wasn't just sticking his fingers in some dumb metal rings. He was sticking his fingers in co-stars, actresses, and even a supermodel or two," she roasted. Joe could only prop his legs up, throw his head back, and applaud his wife's raunchy wit. While Danielle Jonas laughed at her sister-in-law's humor, Priyanka Chopra slapped her hand over mouth as she realized just how far Turner was willing to go.