Denise Richards' Explanation For Flying Without A Mask Is Turning Heads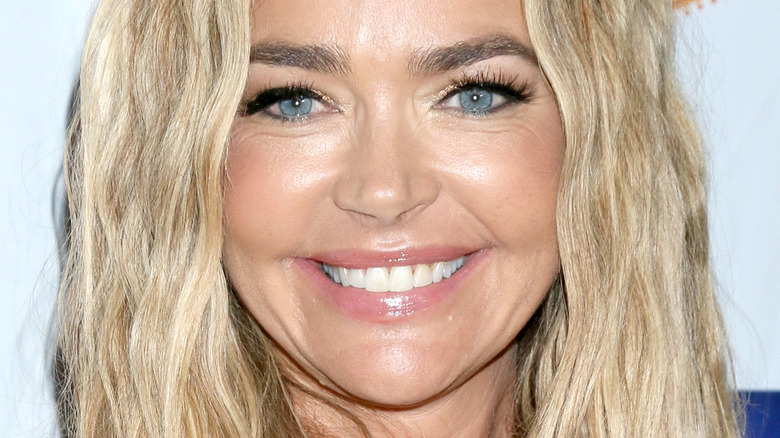 Kathy Hutchins/Shutterstock
Back in March 2020, when the world began to shut down in the hopes that everyone could help curb the spread of COVID-19 by staying home, Denise Richards was in Spain filming her series "Glow and Darkness." However, according to her Instagram, she quickly took the next available flight from Spain back home to Los Angeles to be with her family and it wasn't until several months(and many COVID-19 precautions) later that she was able to return to Europe to continue filming. Even on her flight back, Richards had made a point to share photos of her wearing a mask, and for the most part, take every precautionary measure to make sure she was keeping herself safe. 
In fact, Richards has been so careful, her husband, Aaron Phypers, even stepped in to help film her love scenes on "The Bold and the Beautiful" so she could keep her social distance from the other actors, according to People. She said back in August 2020, "So my husband has stepped in, which has been fun." She added, "It's been a lot of work, but it's been so great, and I'm so grateful that we're even able to be back in production because a lot aren't."
With that said, a lot of people can't help but wonder why Richards decided to ignore the CDC's guidelines during a recent flight, which she apparently took without her mask on.
Denise Richards used her coat to shield her mouth instead of a mask
Denise Richards surprised fans when she shared an Instagram Story of herself explaining why she decided not to wear a mask on a jet plane and used her winter coat to shield her mouth instead. According to Page Six, she wrote, "Anyone that is upset that I [am] not wearing a mask I'm hiding under a hoody amd [sic] a huge winter coat. Please. Thicker than any mask!!!!!!"
Needless to say, it didn't take very long for Richards' fans to criticize her move, as the Daily Mail points out that the Hollywood star was believed to have traveled from Oklahoma, where there are no mask mandates. Some comments included, "Why did she even feel the need to even post a photo anyway, just get on your flight and go," along with, "If she survived Charlie Sheen she can survive anything!" And while the CDC does state that face masks must be worn on all public transportation conveyances and hubs, the internet's sure not happy about Richards' excuse.