Inside Colin Kaepernick And Jay-Z's Tense Relationship
Rich Fury/Getty Images
Former San Francisco 49ers quarterback Colin Kaepernick has been unsigned in the NFL since 2017, following a season in which he protested the national anthem, per SBNation. As Kaepernick told the NFL at the time, he sought to make a statement about police brutality and racial injustice in America. "I am not going to stand up to show pride in a flag for a country that oppressed black people and people of color," Kaepernick said in August 2016. "To me, this is bigger than football and it would be selfish on my part to look the other way."
While Kaepernick is technically a free agent in the NFL, Bleacher Report noted that there was "no interest" from the league to sign the quarterback as of August 2020. In part, this could be because of his political stance. After Kaepernick's kneeling caught national attention, there were extremely polarized responses to his protest, with many feeling as though he were disrespecting the military and American flag, although he did amass plenty of supporters, too. This included hip-hop mogul Jay-Z, who spoke out in support of Kaepernick's actions, even though they eventually cost the football player his job. "Would you rather be playing football, getting your head dinged in, or would you rather be an iconic figure for the rest of your life?" Jay-Z asked rhetorically, speaking of Kaepernick back in 2018 on "The Van Jones Show," per CNN. However, Jay-Z may have changed his tune about the ex-footballer in recent years.
Jay-Z partnered with the NFL after Colin Kaepernick lost his job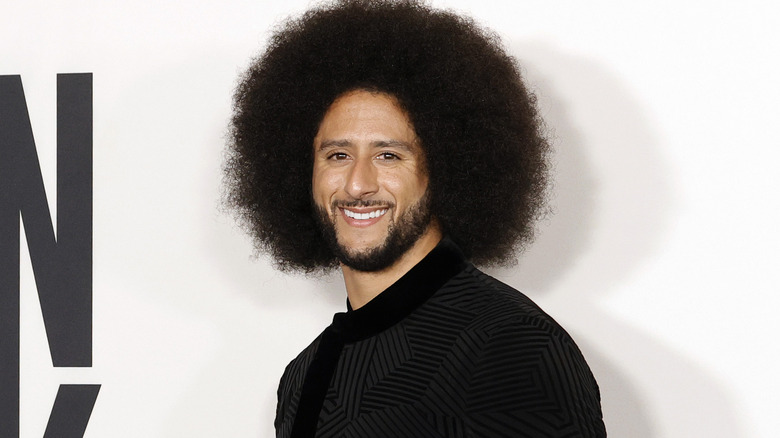 Frazer Harrison/Getty Images
In August 2019, the NFL announced a partnership with Jay-Z and his company Roc Nation, per The New York Times. The news came just one year after Jay-Z had turned down an offer to perform at the 2018 Super Bowl and left fans confused about the music man's true motivations — especially because he'd been so supportive of Colin Kaepernick in the past (and the athlete remained unsigned in the NFL). According to the outlet, the collab included consulting on live musical performances, such as the Super Bowl, as well as the social justice initiative Inspire Change.
The partnership triggered immediate backlash, including from Kaepernick's one-time teammate Eric Reid, who accused Jay-Z of "making millions and millions of dollars by assisting the NFL in buying Colin's career" on Twitter. However, Jay-Z addressed the controversy by telling The New York Times that he believed people should move on from Kaepernick's protests. "No one is saying [Kaepernick] hasn't been done wrong," the billionaire said. "He was done wrong. I would understand if it was three months ago. But it was three years ago and someone needs to say, 'What do we do now — because people are still dying?" He added that his objective was not to make money off the NFL, but rather to bring awareness to the league, spark change, and foster a national dialogue about social justice issues.
Colin Kaepernick and his girlfriend shaded Jay-Z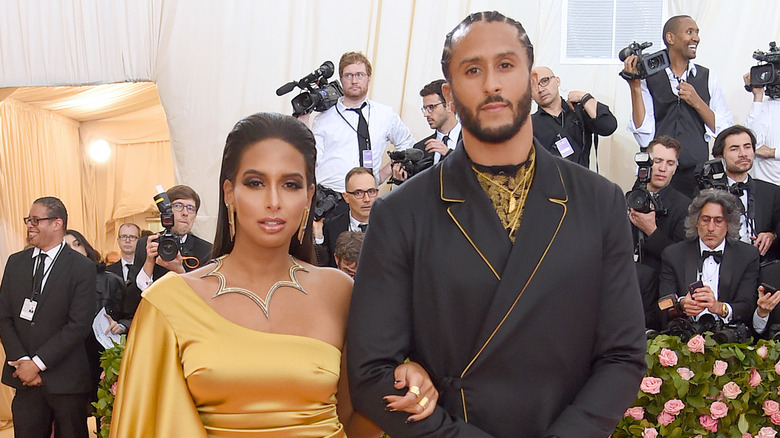 Jamie Mccarthy/Getty Images
Even as Jay-Z aligned himself with the NFL, he continued to support social justice issues ... at least on the surface. One example of this came when he and his wife Beyoncé remained seated during the national anthem at Super Bowl LIV, per Complex. As the outlet noted, Miko Grimes, wife of Tampa Bay Buccaneers' Brent Grimes, criticized the couple on Instagram. "I thought we were 'past kneeling' tho?" she wrote, underneath a TMZ headline about the pair's decision to sit for the anthem. Kaepernick and his girlfriend Nessa Diab were quick to shade Jay-Z and Beyoncé by reposting Miko's post on their Instagram Stories, according to Complex.
Beyond Kaepernick, critics felt that the power couple may have been pandering. As Vox noted, their subtle protest "nodded to injustice" all while Jay-Z was "collecting a paycheck from the league that punished others for doing the same." Others viewed Jay-Z's partnership with the NFL as a betrayal to Kaepernick, and Kaepernick's response on social media implied some hurt feelings. For his part, Jay-Z appeared unfazed by the backlash. In a discussion at Columbia University, he explained that things weren't what they looked like (via USA Today). "[The sitting] actually wasn't [a political statement]," he said, going on to explain that it "was not premeditated." Instead, Jay-Z had been making sound adjustments and was talking to his wife about Demi Lovato's performance. Still, the explanation alone may not be enough to mend fences with Kaepernick.