Sports Stars Who Battled Gay Rumors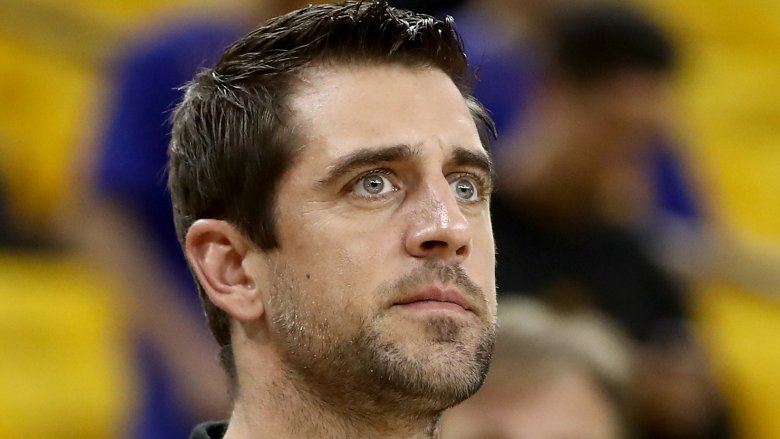 Getty Images
It feels like LGBTQ athletes shouldn't be a big deal in 2017. However, for a lot of sports stars, their sexuality is either kept quiet, closeted, or the subject of some completely bogus conjectures. These stars were all rumored to be gay ... and only a few of them actually are.
Michael Sam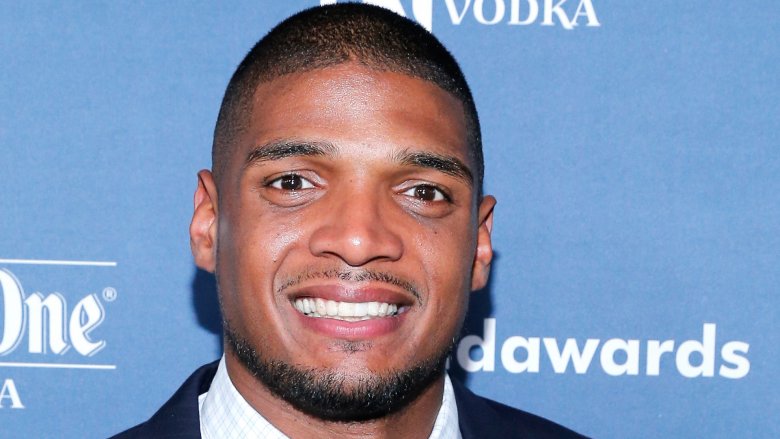 Getty Images
NFL hopeful Michael Sam came out as gay to his University of Missouri teammates in 2013, then to ESPN as an "openly proud gay man" just before the NFL draft in 2014, making him the first openly gay man to be drafted by an NFL team. His decision to come out at the time because he had "sensed that rumors were circulating," according to the New York Times.
Still, despite his heroic statements, he now thinks that coming out hurt his career, and he may be right: Sam was the first SEC Defensive Player of the Year in eight years drafted outside the first round — waiting until the seventh round for the St. Louis Rams to pick him up (and that was just eight picks before being entirely shut out). Soon the Rams cut him and he landed a spot on the Dallas Cowboys practice squad before retiring in 2015 to focus on his mental health.
"I think if I never would have came out, never would have said those words out to the public, I would still be currently in the NFL," he told the Edge Of Sports podcast in May 2016. "But because of me saying those words, I think it could have played a huge part in my current situation. I know how to play this game, I can play this game ... I don't know what goes on in the NFL with the guys who are making the decisions, but whatever it is, hopefully it's not what I think it is ... I don't regret coming out but I do wish things would have gone differently."
Incidentally, Sam has also implied that his story isn't an isolated incident. "I am not the only gay person in the NFL," he said in 2015.
Jason Collins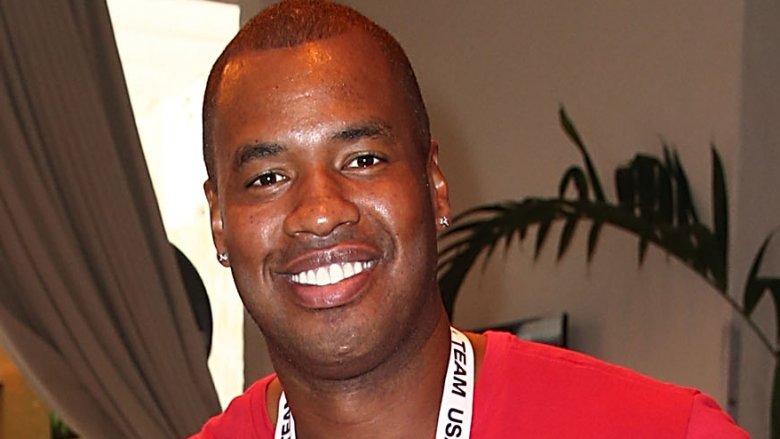 Getty Images
In April 2013, 7-foot NBA center Jason Collins came out of the closet, making him the first openly gay professional athlete to compete in the four major sports leagues.
A free agent at the time, Collins wrote in Sports Illustrated, "I didn't set out to be the first openly gay athlete playing in a major American team sport ... I go against the gay stereotype, which is why I think a lot of players will be shocked: 'That guy is gay?' But I've always been an aggressive player, even in high school ... Loyalty to my team is the real reason I didn't come out sooner. When I signed a free-agent contract with Boston last July, I decided to commit myself to the Celtics and not let my personal life become a distraction. When I was traded to the Wizards, the political significance of coming out sunk in. I was ready to open up to the press, but I had to wait until the season was over." He also mentioned his statement was being made at the time "in part to keep rumors and misunderstandings at bay."
In November 2014, Collins announced his retirement, writing in Sports Illustrated, "It feels wonderful to have been part of these milestones for sports and for gay rights, and to have been embraced by the public, the coaches, the players, the league and history. It had been argued that no team would want to take on a player who was likely to attract a media circus from the outset and whose sexuality would be a distraction. I'm happy to have helped put those canards to rest."
Aaron Rodgers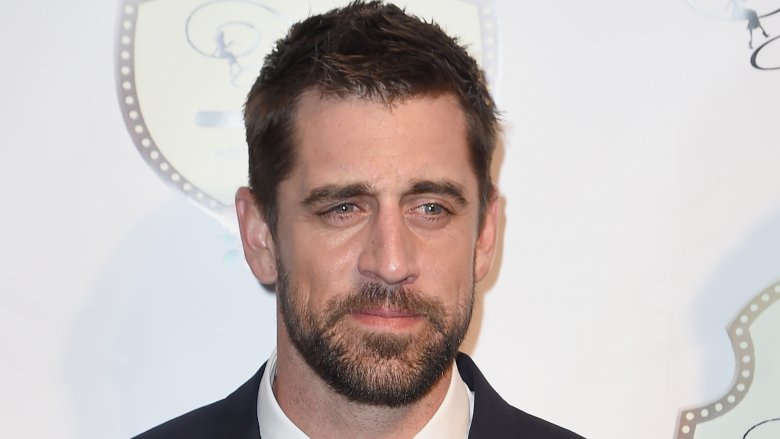 Getty Images
Was Aaron Rodgers' relationship with Olivia Munn fake? A lot of people think so, because the Green Bay Packers quarterback has been dogged by gay rumors for years.
A source told The Fame Driven in December 2013 that Rodgers was actually in a relationship with his roommate and personal assistant, Kevin Lanflisi, citing since-deleted tweets from Lanflisi, as well as local chatter for the rumors. The insider dished, "Aaron has attended numerous sports award shows with Kevin, always color coordinated and without any double female dates ... Kevin was also the first person Aaron embraced when the Packers won the Super Bowl in 2011 ... As of late there [have] been many bitter subliminal tweets on Kevin Lanflisi's Twitter alluding to a relationship much deeper than a friendship he had ...  because Kevin has never once tweeted about having a girlfriend, just mainly about the Green Bay Packers ... There has been speculation for years here in Wisconsin that Aaron is gay."
After Rodgers and Munn's split in 2017, Us Weekly reported that Rodgers was rumored to be hitting up the West Hollywood scene with actor Ryan Rottman and actor-musician Nick Jonas and that Rodgers had made "drastic changes" and frequently got facials and other beauty treatments ... which Terez Owens took to mean was an implication that he was hooking up with the two male stars.
Rodgers denied the rumors in 2013, telling ESPN, "I'm not gay. I really, really like women. That's all I can say about that."
Troy Aikman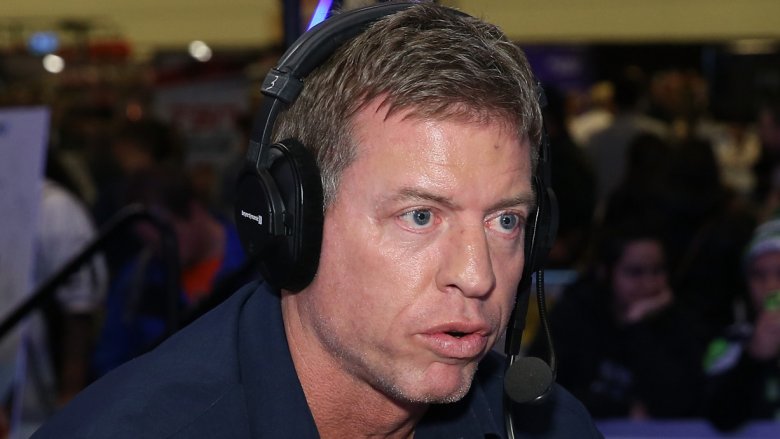 Getty Images
In his 1996 book Hellbent (via Sporting News), Dallas, Texas, sports editor Skip Bayless wrote of former Dallas Cowboys quarterback Troy Aikman, "I had heard the rumor since 1991. An off-duty Dallas police officer who traveled with the Cowboys and worked security at their hotels first told me that 'the word on the street' was that Troy Aikman was gay. Over the next four years, I heard the rumor from two more police officers who worked around the team ... One officer told me Aikman 'was supposed to be' having a relationship with a male member of a country-western band."
The rumors were never actually substantiated, and Aikman never commented on them at the time, which he regrets now. "I'm upset about it because it was made up and there was nothing accurate about anything that was insinuated ... I am probably more upset because I probably should have responded to it at the time it was going on," Aikman told Sports Illustrated in 2014. "The advice to me was 'Hey, just don't address it. It's not worth it.' ... So I didn't. But I probably could have responded differently and maybe that would have changed things. Maybe it wouldn't have. But it is ridiculous, and, yeah, it bothers me. If that is a lifestyle people choose, so be it. It doesn't affect me one way or another. But it is not my lifestyle."
Eddy Curry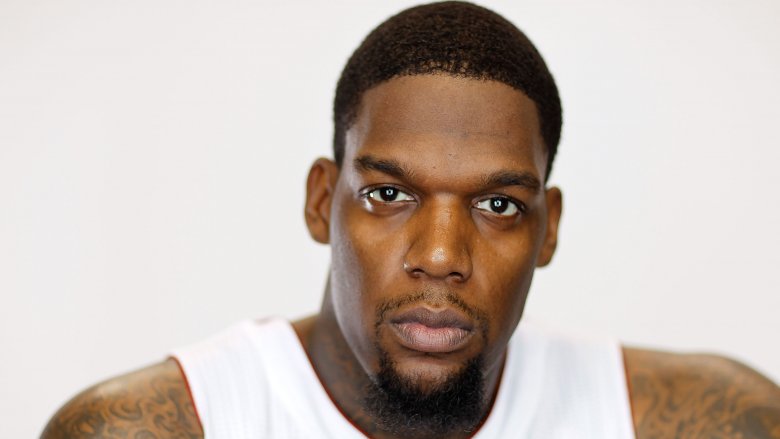 Getty Images
In 2009, the New York Post reported that New York Knicks center Eddy Curry was sued by a former chauffeur, David Kuchinsky, for $5 million. Kuchinsky alleged that the NBA star sexually harassed him and owed him $98,000 in unpaid wages. Kuchinsky accused Curry of frequently approaching him in the nude and demanding that Kuchinsky look at and touch his privates, as well as allegedly forcing Kuchinsky to clean up the mess Curry allegedly left after engaging in sexual activity. 
Curry and his attorney vehemently denied the claims, telling The New York Times that the accusations were "absolutely false ... I guess it's just a prime example of you just got to watch who you have around you, because this is a guy who I really thought he was my friend." The suit was dismissed and sent to arbitration.
Ryan O'Callaghan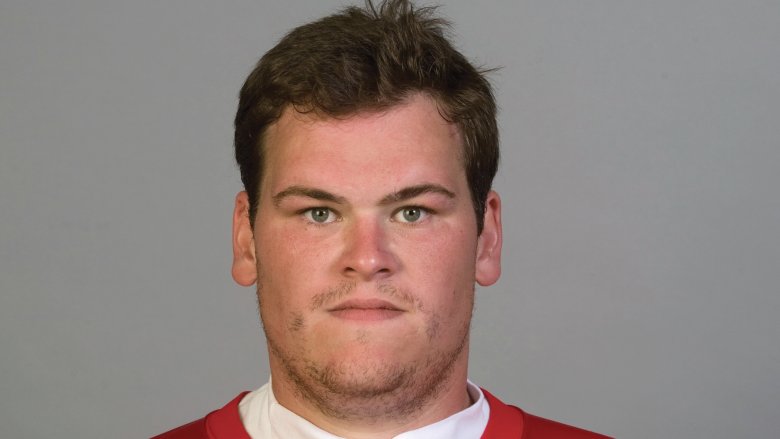 Getty Images
In June 2017, former Kansas City Chiefs and New England Patriots tackle Ryan O'Callaghan came out of the closet publicly in an interview with Outsports, explaining that he first got into football to hide his sexuality.
"No one is going to assume the big football player is gay. It's why a football team is such a good place to hide," he said, later adding, "In high school, football turned into a way to go to college. In college football was a great cover for being gay. And then I saw the NFL mainly as a way to keep hiding my sexuality and stay alive."
O'Callaghan went to great lengths to hide his sexuality from his teammates, even chugging coffee after practice in a training room to avoid showering with them, but eventually his struggle with his identity, as well as physical strains from the job, led O'Callaghan to abuse painkillers. He came out to a clinical psychologist who worked with the Chiefs, then to Chiefs general manager Scott Pioli, who accepted and embraced O'Callaghan for who he is.
Though he had to eventually retire from his injuries, O'Callaghan was grateful for the experience in the NFL. "Being gay wasn't just a small detail in my life, it consumed it," he said. "It's all I would think about. But now that I have come out it rarely crosses my mind. Yeah, I'd go about my daily life in football, but thinking about hiding it and hoping no one finds out and being ready for any situation was exhausting."
Tim Duncan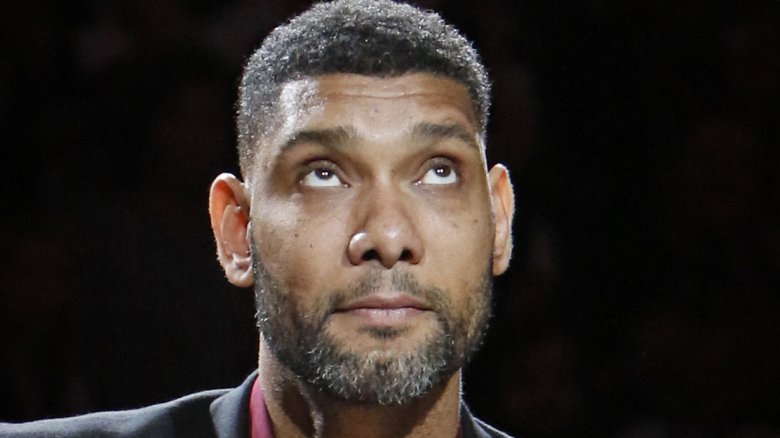 Getty Images
Legendary NBA forward Tim Duncan became a target for rumors about his sexuality while he was going through a bitter divorce with ex-wife Amy in 2013. The blog Diary Of A Hollywood Street King reported that Duncan had a relationship with a fellow male student when he and Amy were in college at Wake Forest University, going so far as to buy the man a home and let him live with the Duncans during the early years of their marriage.
"Amy treated Tim like a b***h throughout their marriage because she knew he was f**king his BFF," a source told the site. "Tim knows Amy was cheating on him but he's willing to give her whatever she wants, because he doesn't want Amy to tell the world that he's bisexual."
The rumors gained traction, but Duncan's teammate Danny Green told The Breakfast Club, "I just recently heard [about the rumors]. I don't believe [Duncan is gay or bisexual]. Timmy is Tim. I'm not going to look at him any differently. He's my teammate regardless of his sexual preferences. I haven't heard anything about it and I definitely haven't suspected anything. He's going through some stuff, and that's what happens when you go through a divorce sometimes. It gets ugly."
Josh Selby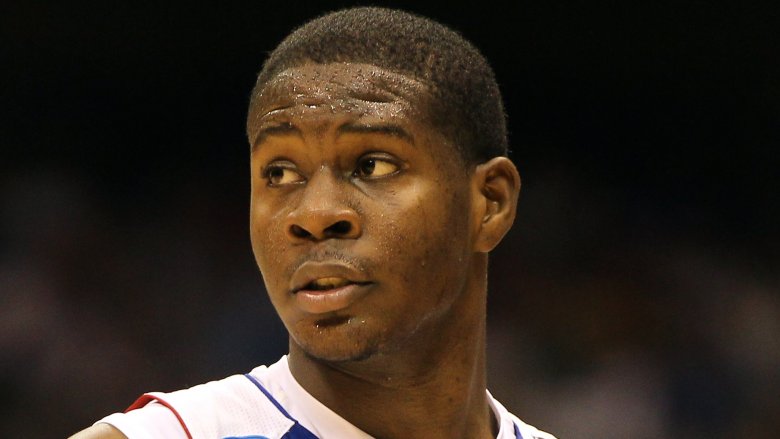 Getty Images
In 2011, then-NBA rookie Josh Selby fell victim to gay rumors that were entirely fabricated. Shirtless photos of Selby appeared, alongside fake emails, on several blogs that unfortunately gave the rumors legs — but keen observers quickly debunked the tale based on several holes in the story. Selby shrugged it off as a woman scorned trying to get revenge on him, tweeting, "Learned my lesson don't send any pics to any females cause when you crossed them. They get you back double worst ... People will do anything or make up anything to bring you to their level. That's not even my email. #GetALife."
Mike Piazza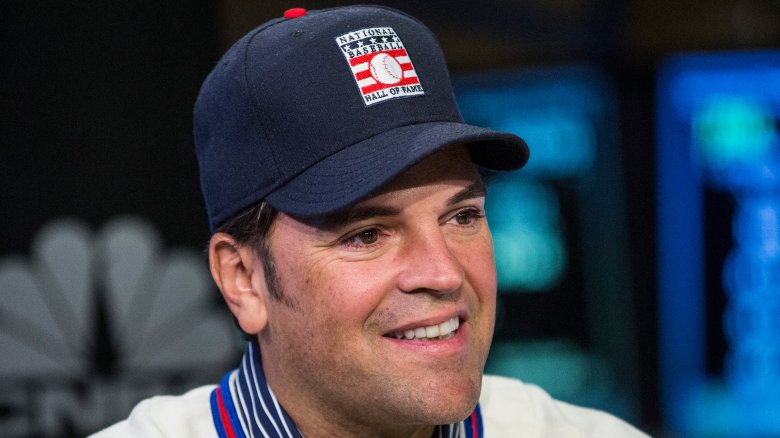 Getty Images
In 2002, then-New York Mets all-star catcher Mike Piazza was rumored to be dating meteorologist and weatherman Sam Champion, with possibly fabricated emails even circulating that Piazza had committed domestic violence against the the bronze, blond forecaster, as well as a tale that they planned to have a love nest together on the Jersey Shore. Piazza denied the rumor in a press conference, telling reporters, "I'm not gay. I'm heterosexual." 
Years later he'd also note in his autobiography, Long Shot (via Complex), "I found it hugely insulting that people believed I'd go so far out of my way — living with Playmates, vacationing with actresses, showing up at nightclubs — to act out a lifestyle that would amount to a charade. If I was gay, I'd be gay all the way." Indeed, Piazza married Playmate Alicia Richter in 2005 and retired from baseball in 2008.
Ovie Mughelli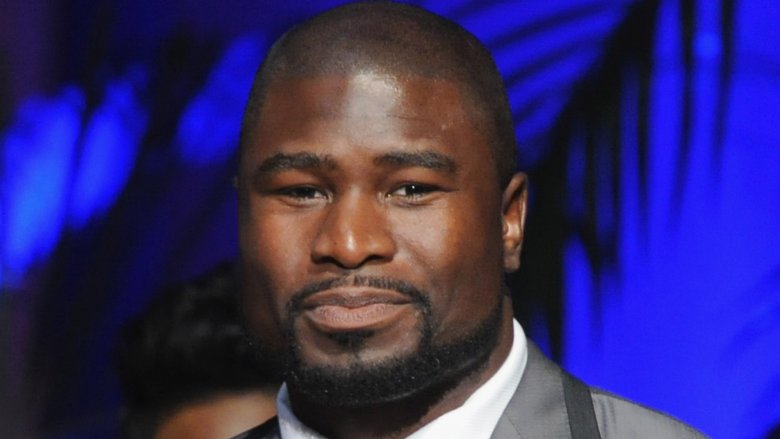 Getty Images
In early 2010, Atlanta Falcons player Ovie Mughelli was allegedly outed on a blog by a supposed ex-lover from his days at Wake Forest University who was "sick of all the lies." Mughelli never commented on it, but his attorney (former Real Housewives Of Atlanta star Phaedra Parks) did threaten legal action against the outlets that published the story.
Kerry Rhodes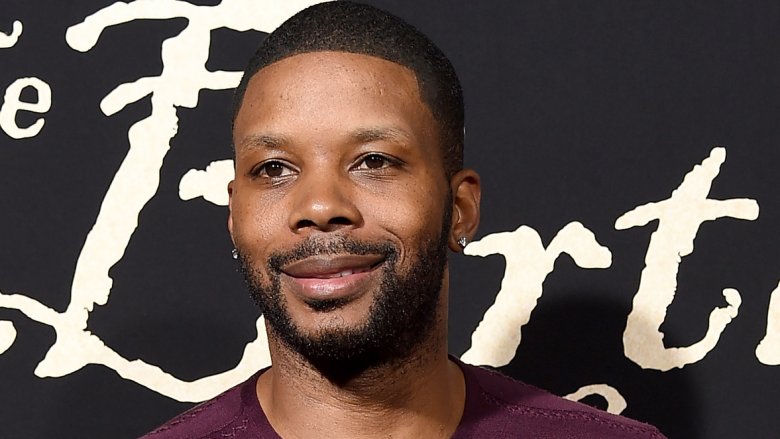 Getty Images
In 2013, NFL star Kerry Rhodes was allegedly outed for a supposed relationship with a man named Russell "Hollywood" Simpson, who released screenshots of text messages he claimed were from Rhodes after the football player denied a relationship. When photos emerged of Rhodes with his arm around another man, who was identified as his assistant Alton Craig, Rhodes told TMZ, "Photos have been circulating of my former assistant and I that have caused some rumors regarding my sexuality, and I wanted to address the situation. I am not gay. The shots were taken during a past vacation in a casual environment with my entire business team. I know a lot of people are recently talking about athletes struggling to come out to their fans right now, and I support them, as well as wish those individuals comfort."
Rhodes went on to marry blond stunner Nicky Whelan in 2017.
Braylon Edwards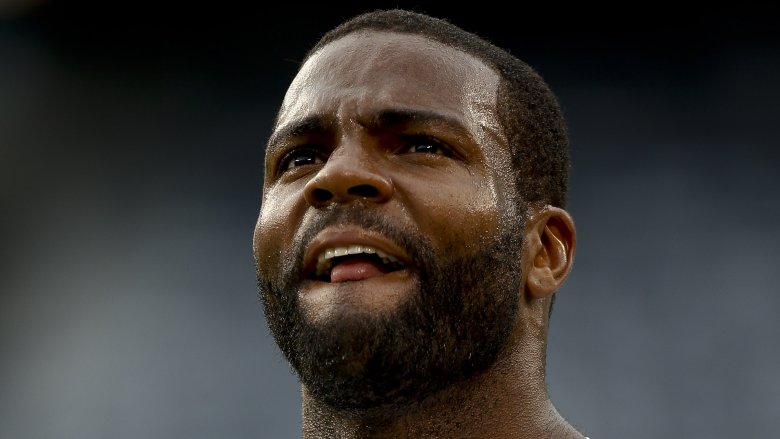 Getty Images
Despite fathering children with at least two different women, NFL player Braylon Edwards was rumored to be gay after fellow player Will Demps said in an interview that Edwards had asked him about modeling and acting opportunities. Seriously, that's it.
Manti Te'o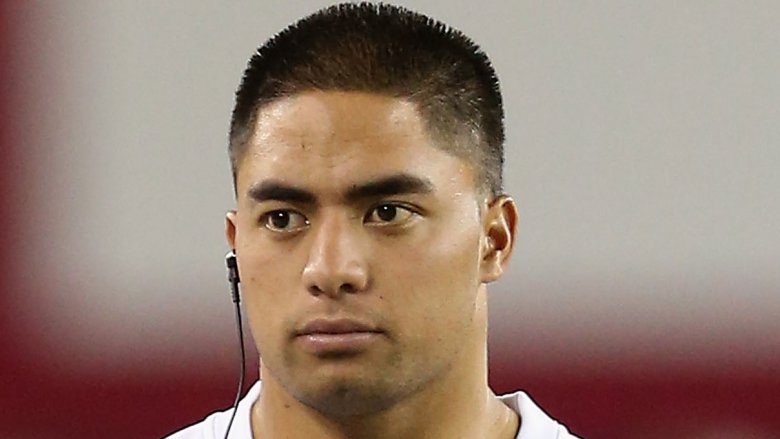 Getty Images
Manti Te'o may have been the most famous catfish victim of all time, with his tragic tale of a mysterious and elusive girlfriend named Lennay Kekua who almost died in car crash, then got terminal leukemia. Kekua ended up being the creation of Ronaiah Tuiasosopo, and it turned out that Te'o's only interactions with "Kekua" had been online and on the phone. As a result, some started to question his actual sexuality. When asked if he was gay, Te'o told Katie Couric, "No, far from it. Far from it."
Carl Lewis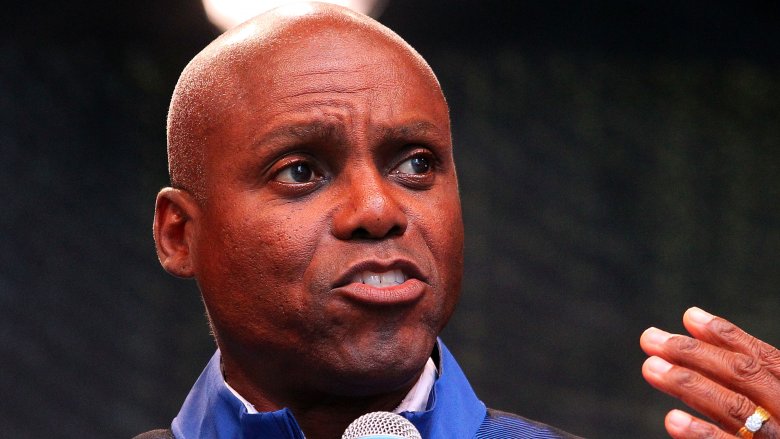 Getty Images
Olympic sprinter Carl Lewis was deemed the greatest athlete of all time at his peak in the 1980s, but that came crashing down when gay rumors began to swirl around him. They first took hold when he appeared in a Pirelli ad wearing red stilettos. He denied the rumors, but they still cost him endorsement deals with Coca-Cola and other brands.
Billie Jean King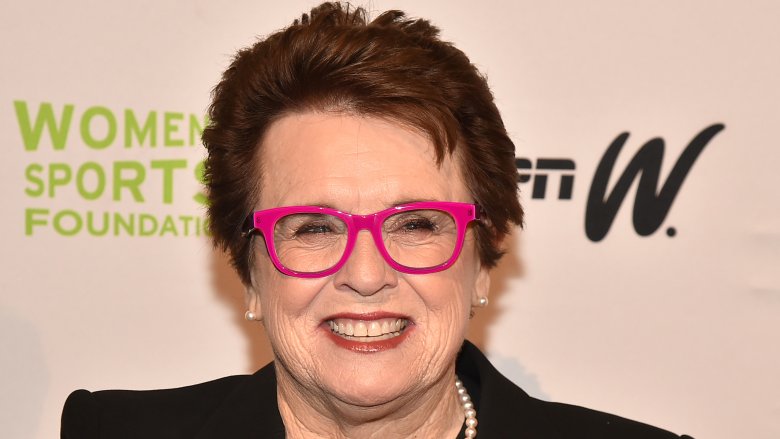 Getty Images
Though married to a man at the time, tennis legend Billie Jean King was plagued with gay rumors for years before coming out as a lesbian. In 1981, with her husband and parents in tow at a press conference, King confessed to having an affair with a female hair stylist named Marilyn Barnett, who sued King for financial support.
She would later tell The London Times, "I couldn't get a closet deep enough. I've got a homophobic family, a tour that will die if I come out, the world is homophobic and, yeah, I was homophobic. If you speak with gays, bisexuals, lesbians and transgenders, you will find a lot of homophobia because of the way we all grew up. One of my big goals was always to be honest with my parents and I couldn't be for a long time. I tried to bring up the subject but felt I couldn't. My mother would say, 'We're not talking about things like that,' and I was pretty easily stopped because I was reluctant anyway." 
Things only got worse from there. "I ended up with an eating disorder that came from trying to numb myself from my feelings