The Truth About Michael J. Fox's Middle Name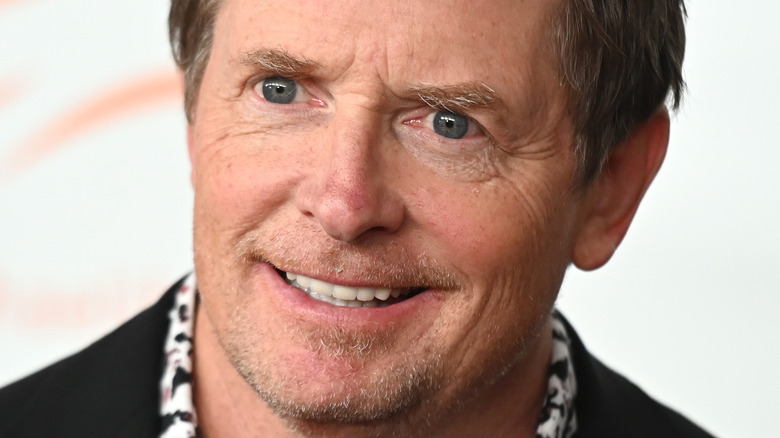 Noam Galai/Getty Images
Michael J. Fox captured the hearts of Americans in the 1980s as Alex Keaton in the NBC popular sitcom "Family Ties," but he started acting in the 1970s under a different name. Before Fox played the young Republican in the series that marked the cultural shift from the liberal 1970s into the Reagan era, the Canada native had already made his debut in the United States. After starring in the Canadian series "Leo and Me" in the mid-1970s, Fox moved to Los Angeles to try to make it as an actor in Hollywood, according to The Telegraph. 
Fox quickly caught the attention of producer Ronald Shedlo, who got him a small part in the 1979 made-for-TV film "Letters From Frank," the report detailed. It wouldn't be long before he starred in the Walt Disney comedy "Midnight Madness" in 1980, his first feature film, and Tom Holland's "Class of 1984" in 1981. These early works credited him as Michael Fox, a name that he was more than happy to keep. 
But as Fox noted in his 2002 autobiography "Lucky Man: A Memoir," the move to the U.S. required a few changes. "Along with a new country, new city, new job, new apartment, and new chair, I'd also picked up a new identity," Fox wrote. So Michael Fox became Michael J. Fox, suggesting he simply added his middle initial to his stage name — but that isn't what he did. While Fox does have a middle name, it doesn't start with J.
Michael J. Fox's middle name is Andrew
George Rose/Getty Images
The "Back to the Future" star was born Michael Andrew Fox in Edmonton, Alberta, Canada, according to Britannica. After kicking off his career at the age of 15, Fox hadn't considered changing the name he had always gone by: Michael Fox. But he ran into a problem when he joined the Screen Actors Guild after moving to the United States, as The Telegraph pointed out. When trying to register his stage name, Fox learned that he had been beaten by the character actor who shared his name, the Michael Fox of "What Ever Happened to Baby Jane?" and "Young Frankenstein," according to IMDb. 
As Fox had never considered changing his name, he had to sit with his options. "My middle name is Andrew, but 'Andrew Fox' or 'Andy Fox' didn't cut it for me," Fox wrote in "Lucky Man: A Memoir." He also didn't care for Michael A. Fox because the pronunciation of the letter was too close to the Canadian interjection "Eh," he explained. "And then I remembered one of my favorite character actors, Michael J. Pollard, the guileless accomplice in 'Bonnie and Clyde,'" Fox noted. 
Fox sandwiched a J between his given name and last name and resubmitted his application. There was no other Michael J. Fox on the books, so the actor successfully found the perfect stage name — and an opportunity to fool people. "... I sometimes tell people [the J] stands for either 'Jenuine' or 'Jenius' ..." he wrote. 
Choosing 'A' as his middle initial posed another issue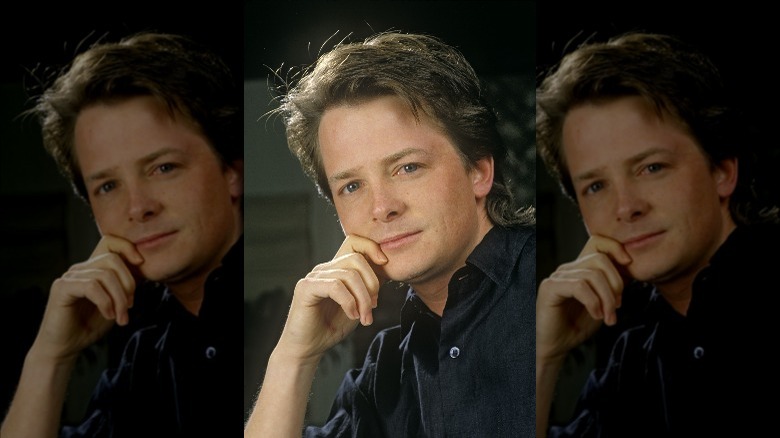 George Rose/Getty Images
In addition to sounding "uncomfortably Canadian," adding his actual middle initial to his name posed another problem for Michael J. Fox, he explained in "Lucky Man: A Memoir." The actor thought that Michael A. Fox sounded too much like "Michael, a fox," at a time when the word "fox" had acquired a different meaning. "Michael A. Fox was even worse [than Andrew or Andy Fox], the word 'fox' having recently come into use as a synonym for attractive. (Presumptuous?)" Fox pondered. "... Maybe I was just being oversensitive."  Whether he overthought it or not, Fox found the name that propelled him into fame and distanced himself from the early work he did as Michael Fox. 
As a teenaged Michael Fox, the actor starred in "Leo and Me," a Canadian sitcom that later became the subject of an investigation in connection with Parkinson's disease, a degenerative brain condition with which Fox was shockingly diagnosed when he was only 30, as The Telegraph explained. In 2002, about a decade after Fox's diagnosis, reports emerged that three other cast and crew members who worked with him in "Leo and Me" had also been diagnosed with Parkinson's before the age of 40, leading to an inquiry into whether the disease could be triggered by exposure to virus or pollutants, The Guardian reported at the time. "It was stunning in the possibilities it suggested," actor and director Don Williams told the Seattle Post-Intelligencer that year.