Ireland Baldwin Roasts Dad Alec, Jokes About His Infamous Voicemail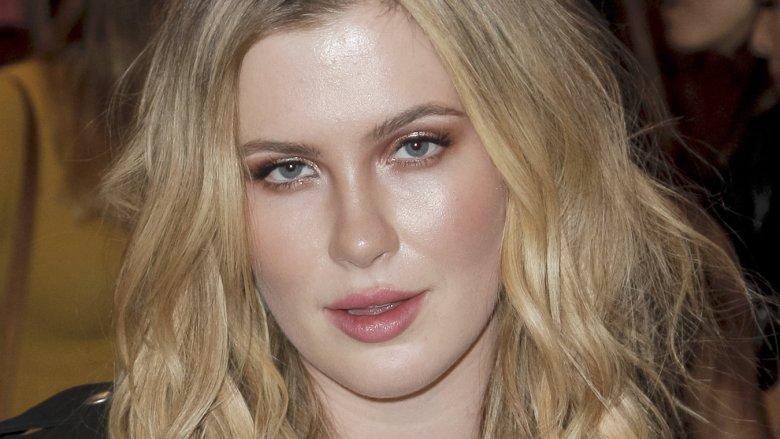 Getty Images
The 21-year-old model finally got back at her father for leaving that nasty voicemail with her nearly a decade ago.
Alec Baldwin's friends and family took part in Spike TV's One Night Only series, making fun of the 30 Rock actor at New York City's Apollo Theatre. Alec's daughter Ireland Baldwin, whom he shares with ex Kim Basinger, took to the stage to call out her dad for his past indiscretion.
"Hello, my name is Ireland, and I'm a Baldwin. Yes, I'm a member of that family. The Baldwins," Ireland began (via People). "I'm here to roast this big old ham I call my father. Speaking of pigs. Some of you may remember me as that thoughtless little pig you read about."
She continued, 'That was a decade ago, and my dad and I are in a much better place now. He would never say something like that. Because I'm 6'2″ and I would keep kick his a**."
"The truth is, that whole awful period nearly killed him emotionally," Ireland went on, joking, "I wouldn't see my dad that upset ever again...until I showed him my first tattoo. Okay, my second tattoo. I couldn't show him where I got the first one."
During her speech, Alec, who was also roasted by former President Bill Clinton, Julianne Moore, and Robert De Niro, playfully threw food at his daughter.
Alec gained notoriety after a voicemail he left for a then-12-year-old Ireland went viral in 2007. In the message, he can be heard calling Ireland, whom he'd been trying to secure joint custody of at the time, "a rude, thoughtless pig."
"Once again I've made an a** of myself getting to a phone to make a phone call," Alec yelled. "I'm tired of playing this game with you. You have insulted me for the last time... You've made me feel like sh*t – and you've made me feel like a fool over and over again ... I'm going to straighten your a** out."
He later made a public apology, stating, "Although I have been told by numerous people not to worry too much, as all parents lose their patience with their kids, I am most saddened that this was released to the media because of what it does to a child."
Luckily, Alec and Ireland seem to have worked everything out and now appear to enjoy a healthy relationship.
At the roast, Ireland ended her speech on a positive note, praising her father despite their past. "I know you've heard this time and time again, but I really am proud to be your daughter, and I'm so happy to be here tonight," Ireland said (via the Daily Mail). "And I absolutely love and adore you."
Glad everything's worked out for these two.