The Truth About Michael Strahan's Career In The NFL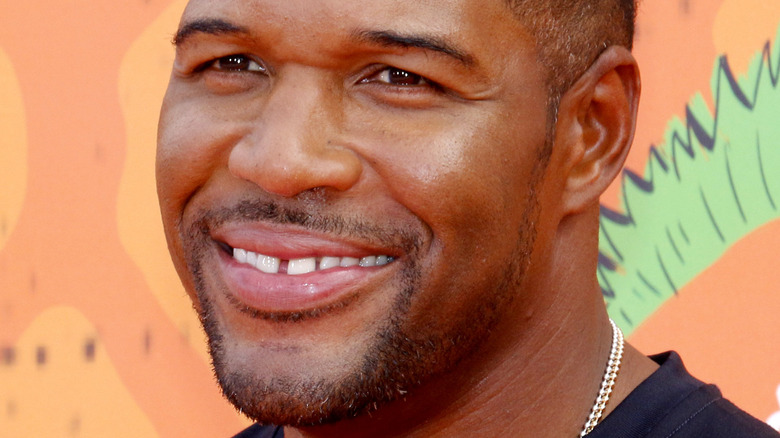 Tinseltown/Shutterstock
There are plenty of former athletes who have parlayed their athletic talents into equally successful second careers. Ex-wrestler Dwayne "The Rock" Johnson retired from WWE to become one of Hollywood's biggest action stars, per Polygon. Former New Orleans Saints quarterback Drew Brees left the NFL in 2021 only to become the highest paid NFL analyst in sports history, as Sporting News reported. And bowing out of the league didn't have to mean giving up on the sport he loved. "Watching the game with me, I mean, I'm yelling at the screen ... I'm just constantly doing the stuff that I would be doing if I was actually on the field playing," Brees told People,of his transition from player to analyst.
Likewise, Michael Strahan is another ex-footballer who took his talents elsewhere once he left the field for good in 2007. The New York Giants alum first landed a co-hosting gig alongside Kelly Ripa on ABC's "Live with Kelly and Michael," according to USA Today. Unfortunately, strained relations with Ripa led to his departure from the show, and as Strahan told the outlet, "When it was time to go, it was time to go." Strahan headed to "Good Morning America" and signed a four-year contract with the network as of September 2021, per Hello! Since he's been busy carving out a niche for himself in the entertainment world, fans may not remember that he had quite the career in the NFL more than a decade ago.
Michael Strahan won one Super Bowl and lost another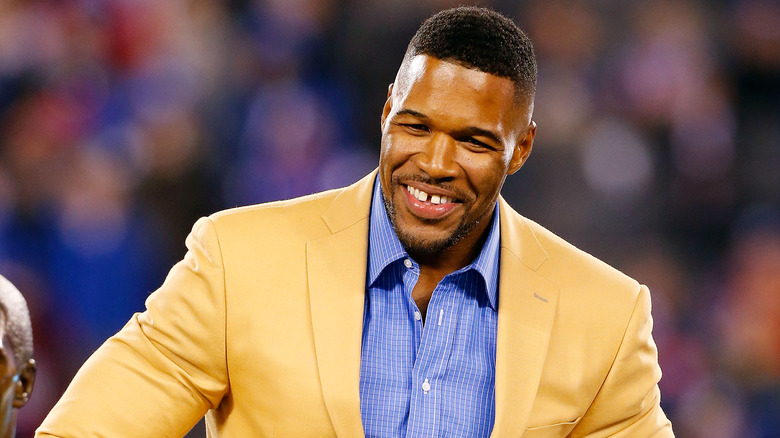 Jim Mcisaac/Getty Images
Michael Strahan played defensive end for the New York Giants throughout his entire football career, according to ESPN. During his time in the league — which lasted from 1993 to 2007 — the outlet reports that his 141.5 quarterback sacks were the fifth highest in NFL history. In 2014, his achievements landed him a spot in the Pro Football Hall of Fame. And unlike plenty of other athletes, Strahan truly went out with a bang. His final season with the Giants culminated in a Super Bowl win over the then-undefeated New England Patriots, per ESPN. However, it wasn't the defensive player's first trip to the Super Bowl, as Strahan and the Giants previously lost to the Baltimore Ravens in a game that Strahan would later tell Men's Journal defined his career on the field.
"I remember after the Giants lost the Super Bowl to the Ravens, in 2001, sitting in the locker room and feeling like I couldn't even face my family because I was such a failure," the ex-footballer recalled. "But now I always tell people that had we won the Super Bowl that season ... there's no way I would have played the 15 years that I did or had a Hall of Fame career." That's because losing motivated Strahan to work harder in the long run. "As much as that loss hurt, I learned to look at failure as a chance to grow and not feel like my worth is lost if I fall short," he added.
Michael Strahan struggled with insecurity during his rookie season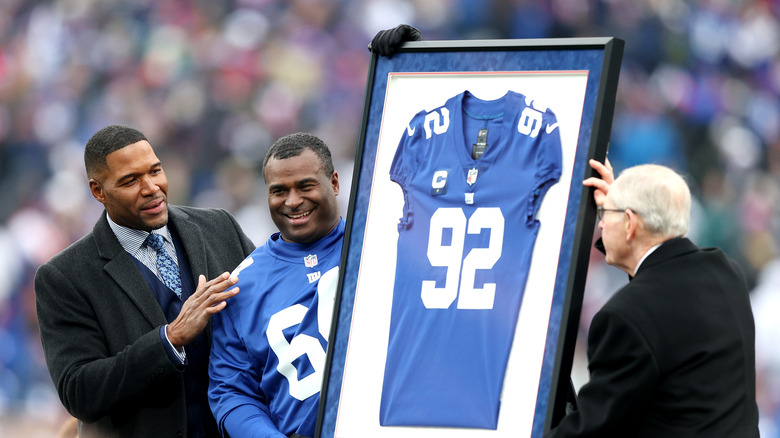 Elsa/Getty Images
Michael Strahan may have had the kind of record-breaking career that many athletes only dream of — but even so, he was not without his own insecurities. In 2021, ESPN reported that the New York Giants officially retired his jersey number, but Strahan's memories of his time on (and off) the field revolve around other players. He was "in awe" of then-linebacker Lawrence Taylor, and had a fanboy moment the first time ex-quarterback Phil Simms said "Hello, Michael," as Strahan told ESPN. As a rookie, he was also intimidated by locker room dynamics.
"I was scared as hell," Strahan told host Jimmy Fallon on a 2021 episode of "The Tonight Show Starring Jimmy Fallon." He continued, "I'm in this locker room. I'm not like a big guy. ...The guy[s] who played my position ... he had muscles coming out of everywhere, neck, ears, everything. ...I just remember looking at him thinking, 'He plays my position. If I have to look like him to play, I might as well go home. I'm never going to look like that.'" Thankfully, Strahan got over those insecurities and went on to become one of the NFL's most successful players. As of this writing, Strahan still holds records — like the 22.5 sacks he racked up during his 2002 season — which have yet to be broken more than a decade later, per ESPN.