Why Was Rob Gronkowski 'Happy' To Be Suspended From The NFL?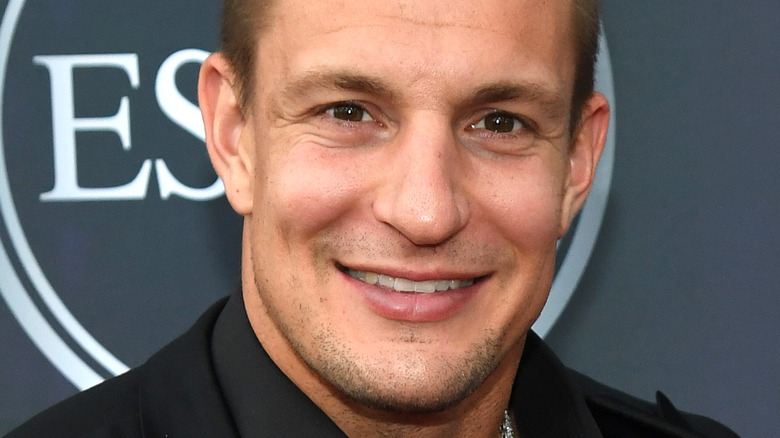 Kevin Mazur/Getty Images
Rob Gronkowski is nearly as famous for his off-the-field party antics as he is for his on-the-field exploits. In 2011, when he was still with the New England Patriots, Gronkowski was in hot water with the franchise when spicy photos of him surfaced online. The man affectionately known as "Gronk" posed topless next to Britney Maclin — who is best-known by her adult film star name Bibi Jones — as she wore his Patriots jersey. After those snaps went viral, Gronkowski issued an apology to his team. "I didn't intend anything to hurt the reputation of anyone on the New England Patriots or on behalf of [team owner] Robert Kraft," the NFL star said, per the Daily Mail. "It was just a simple picture, and that's all."
A year later, Gronkowski made headlines again when Jones posted more photos of her and the then-Patriot. This time the pictures were more salacious, as Jones posed in only black thong underwear next to the hulking tight end, per the Daily News. "[A] pic of gronk [and] I that no one has never seen lol — naughty!" she wrote.
In 2015, Gronkowski said that using partying as a release valve was one of the keys to his successful career. "It makes you get that itch to go back out. You go out and get refreshed," he said on "CBS This Morning." Gronkowski usually kept his indiscretions off the field, until one outburst during a game in Buffalo cost him a suspension.
Fans were angry, but Rob Gronkowski was relieved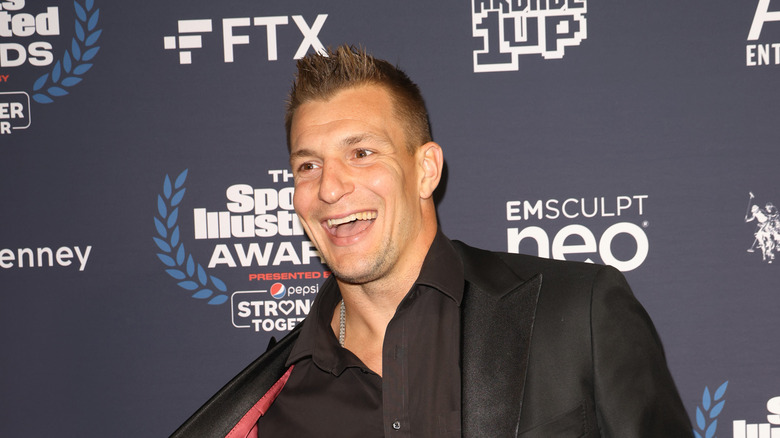 Rodrigo Varela/Getty Images
During a game against the Buffalo Bills in 2017, Rob Gronkowski was suspended for a late "dirty hit" on Tre'Davious White who was laid out on the ground before Gronkowski jumped on his back, per CBS Sports. "Your actions were not incidental, could have been avoided and placed the opposing player at risk of serious injury," NFL Vice President John Runyan said at the time. That earned Gronkowski a one-game suspension — which he was delighted to serve. "I just got suspended a week. I was happy, I was finally happy," he revealed on the January 4 episode of the docu-series "Man in the Arena," via the New York Post. "I was like, 'Yes, I'm away from football for a week. I get to recover my body.'" 
Not only did Gronkowski miss a game, but he missed a paycheck and was still elated to get much-needed time off. "I lost a game check and it was about $300,000 that game check, and I didn't even care one bit," he added. Gronkowski may have been happy at the time, but many fans were furious with the cheap shot by the then-New England Patriot. "What the hell are you doing, Gronk?" one person tweeted.
Afterward, Gronkowski issued an apology to White. "I'm not in the business of that," he said, via CBS Sports. "I was just really frustrated at that moment and it just happened naturally through emotions."