How Did The Grey's Anatomy Cast Feel About Kate Walsh Getting Her Own Spin-Off?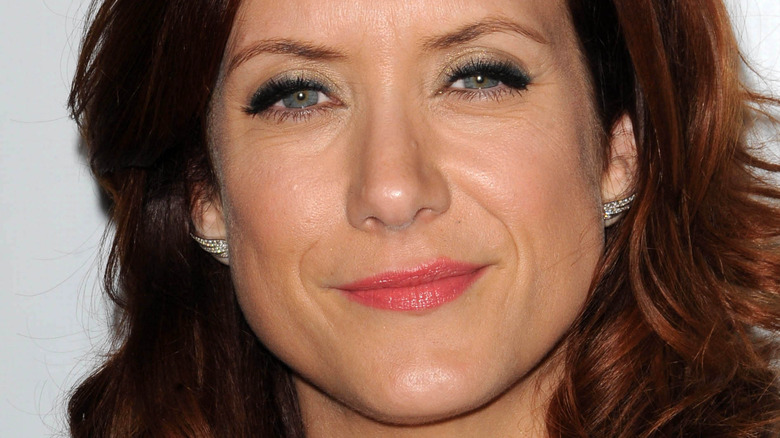 s_bukley/Shutterstock
Meredith Grey herself, Ellen Pompeo, is arguably the biggest breakout star of "Grey's Anatomy," but there are plenty of other huge names who got their start at Grey Sloan Memorial. The show has sparked the careers of some seriously huge names over the years, from Patrick Dempsey to Sandra Oh to Katherine Heigl all donning white coats before going on to huge things. But it wasn't actually of those big names who landed their own show...
Kate Walsh was honored with her own spin-off of the hugely popular ABC show when "Private Practice" debuted back in 2007, running for six seasons until 2013. The show followed Walsh's character, Dr. Addison Montgomery, after she waved bye bye to Grey Sloan Memorial and went to work at Seaside Health and Wellness Center (a private practice, duh!).
But with so many big names on the show who we're guessing probably would have liked their very own "Grey's Anatomy" spin-off series, it's probably not all too surprising to hear that "Private Practice" may not exactly have been welcomed with open arms by Walsh's famous co-stars...
Did Private Practice give Grey's Anatomy the jealousy bug?
It's not just viral diseases that spread around Grey's Sloan Memorial, as it sounds like the jealousy bug may have found its way into those hospital walls (or set walls, we should say). Back when Kate Walsh landed herself the honor of being the star of "Private Practice," it was reported some of the "Grey's Anatomy" cast weren't exactly thrilled for their co-star. In fact, they were even described as "disgruntled." Yikes.
Back in the halcyon days of February 2007, a source alleged to Star (via Today) that Walsh's co-workers "seemed instantly resentful" of her and supposedly gave the actor the "cold shoulder" over the role because they thought they'd be the ones lucky enough to land their own show. Well, with the cast of the ABC hit being so littered with A-Listers, there were definitely quite a few options!
Meredith Grey herself, Ellen Pompeo, also got a specific name check from the inside source, as they alleged that as the main star of the hugely popular medical drama she "seemed particularly peeved" about Walsh's solo show and felt "she should have been consulted."
Walsh shared her thoughts on being the chosen one to TV Guide back in 2009, admitting she herself "was shocked and excited and mostly just totally blown away" when she was told she'd be the star. "Then I was nervous, like, 'Wait, really? Why me?' But mostly I was just thrilled," she added.
Kate Walsh claimed her co-stars were 'supportive'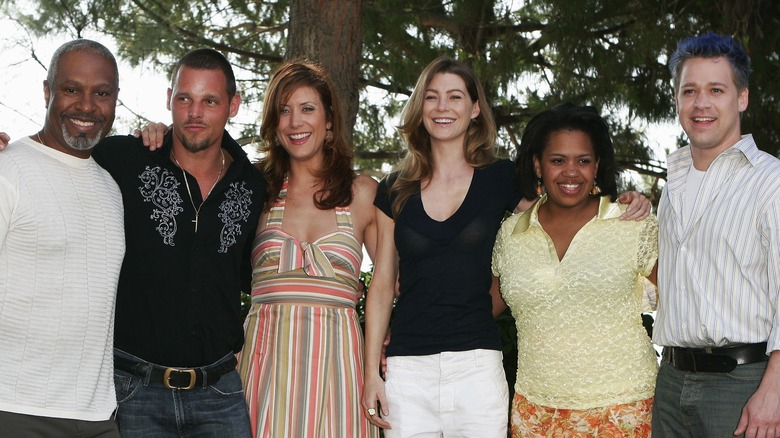 Francois Durand/Getty Images
Though there were reports to the contrary at the time, Kate Walsh had a different take on how her "Grey's Anatomy" co-stars reacted to her spin-off. Walsh didn't name names, but claimed the cast of the original ABC hit were "totally supportive" of her going to her own show, adding to TV Guide in 2009, "We're so tight and bonded that it was a big deal."
She also shed a little more light on why she decided it was time to leave the "Grey's" behind, adding, "It did feel like the right time to go... It felt like leaving home for college. I miss them, for sure, because you spend so much time working with everyone every day. It's like they're your family, you know?" Walsh noted that none of her former co-stars had been to visit her on the set of her new home though, claiming, "They're busy working!" 
Walsh then addressed reports of drama on set, playing a little coy but admitting, "I can say unequivocally we all pretty much adore each other."
During "Private Practice"'s run there were a few run-ins with the old gang at Grey Sloan memorial, with several crossovers happening over its multi-season run. Ellen Pompeo didn't have much to say when asked what she thought of the 2012 crossover though, pretty bluntly telling E! when asked what she could say about the episode, "I don't know because I'm not in it!"