How Much Money Did Michael Jordan Lose By Gambling On Golf?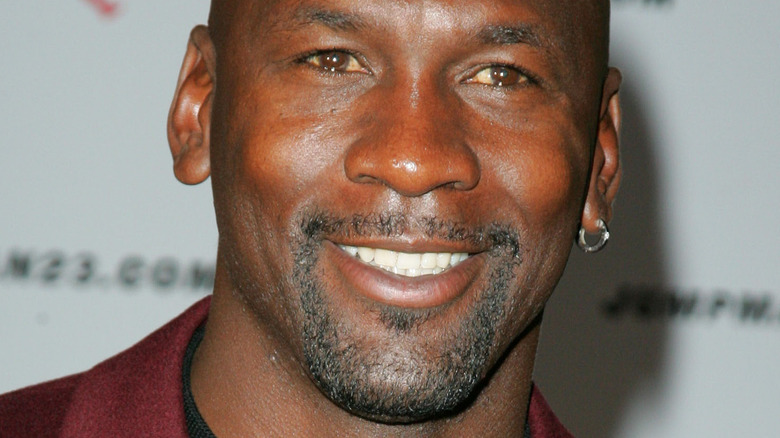 landmarkmedia/Shutterstock
We may receive a commission on purchases made from links.
Each sporting generation has a GOAT (or Greatest of All Time). For example, many consider quarterback Tom Brady to hold this title in the football space, per NFL.com. Likewise, Essentially Sports argues that Tiger Woods continues to rule over the links, ahead of golf greats like Jack Nicklaus and Phil Mickelson. In basketball, fans believe Michael Jordan is still the reigning GOAT, despite current players like LeBron James challenging his reign on the court. Per ESPN, "a new poll commissioned ... in 2020 found that 73% of NBA fans believe Jordan is the superior player overall, and the Chicago Bulls legend swept all 17 questions comparing him to James by metrics both on and off the court." As Bleacher Report noted, Jordan was easily the most dominant player of his era, where he held 10 scoring titles and a career average of 30.1 points in a game, which remains the most in NBA history.
However, despite his on-the-court success, there's a lot more to Jordan than his ability to dunk and dribble. In 2020, Netflix's docuseries "The Last Dance" pulled back the curtain on Jordan's life to reveal lesser-known facts about the sports legend, like his gambling habit. Per USA Today, Jordan was known to gamble both on high-stakes games and silly basketball bets ... but perhaps his most infamous gambling story involves the golf course.
Michael Jordan supposedly owed one businessman over $1 million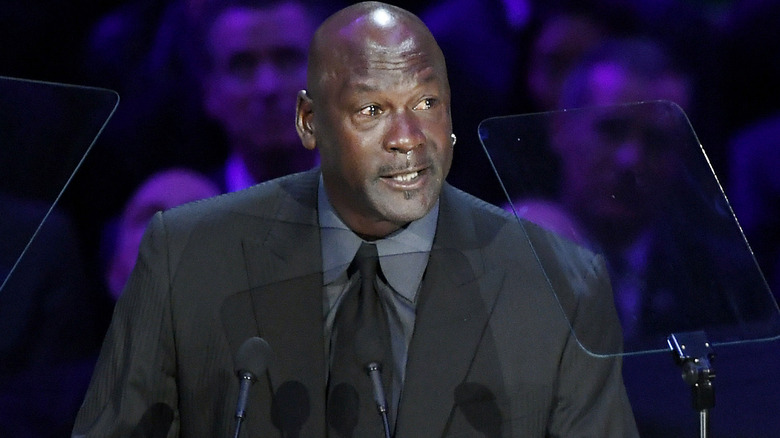 Kevork Djansezian/Getty Images
Michael Jordan is far from the first celebrity to struggle with gambling, but his habits are somewhat infamous. Take, for example, the time the ex-NBA player went on a 36-hour gambling spree, according to Sportscasting. In March 2021, fellow basketball star Antoine Walker appeared on an episode of "All Things Covered" to recount how he and Jordan were down nearly $1 million during a seemingly endless game of spades. At some point, Jordan nearly fell asleep at the table. "[Jordan] got too tired," Walker said. "We couldn't go no more." However, that story pales in comparison to the time that Jordan lost an alleged $1.25 million during a 10-day golfing binge.
San Diego businessman Richard Esquinas wrote a whole book about his gambling problem with Jordan in 1993, aptly titled "Michael & Me: Our Gambling Addiction ... My Cry For Help!" Esquinas believed he "was a controlled gambler" until he and Jordan "went berserk" and racked up more than $1 million in debt over a 10-day golf bender, according to The Washington Post. However, Esquinas claimed that Jordan had allegedly negotiated to have the debt reduced to $300,000. In the wake of the claims, Jordan's agent declined to verify Esquinas' story, and Nike — who sponsored Jordan at the time — criticized Esquinas. "It's so out of proportion here," the company's public relations manager said, per The Washington Post. "[Jordan] is ... being attacked by people who are using him to get publicity."
Michael Jordan defended himself against critics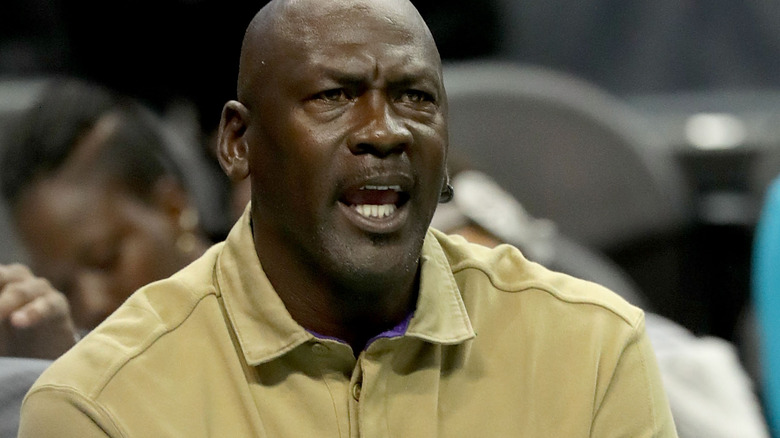 Streeter Lecka/Getty Images
In a 1993 interview between Richard Esquinas and Bob Costas, Esquinas defended himself, saying that his motivation behind publishing the book in the first place was to "reach out and help Michael Jordan." Still, he was unable to prove that Jordan truly owed him the staggering $1.25 million figure. "Ultimately, it would come down to Michael versus my word," Esquinas added.
In response, Jordan issued a statement to set the record straight. "I have played golf with Richard Esquinas with wagers made between us," the athlete said at the time, per the Los Angeles Times. "Because I did not keep records, I cannot verify how much I won or lost. I can assure you that the levels of our wagers was substantially less than the preposterous amounts that have been reported." When "The Last Dance" hit Netflix in 2020, Jordan once again addressed the controversy by doubling down on his original statement. "I'm actually playing golf with people all the time ... and if they want to gamble, we gamble," he said in the series, according to Clutch Points. "The character of those individuals — I found out later what kind of people I was playing with. I learned that lesson. But the act of gambling? I didn't do anything wrong." The former Chicago Bulls player further exonerated himself once and for all with a mic drop. "I don't have a gambling problem, I have a competition problem," he said.