Megan Fox's Engagement Ring From Machine Gun Kelly Is A Cut Above The Rest - Exclusive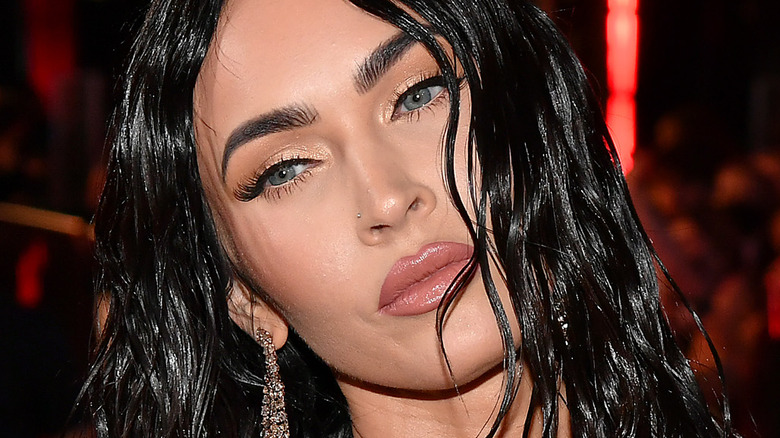 Jeff Kravitz/mtv Vmas 2021/Getty Images
Underneath a luscious tree surrounded by candles, Machine Gun Kelly and Megan Fox got engaged — in very "MGK and Megan Fox" fashion — they announced in an Instagram post on January 11. After repeated engagement rumors throughout MGK and Fox's 19-month-long relationship, Kelly, documenting his romantic gesture on video, got down on one knee and presented his ring as a shocked Fox gasped and pulled him into an embrace. Posting the video to her Instagram later, Fox wrote, "In July of 2020 we sat under this banyan tree. We asked for magic... Somehow a year and a half later, having walked through hell together, and having laughed more than I ever imagined possible, he asked me to marry him. And just as in every lifetime before this one, and as in every lifetime that will follow it, I said yes."
As Fox's caption concluded, the couple — whose relationship trademark has been bucking tradition — "drank each other's blood" to celebrate the momentous occasion. Whether the actor was joking or not, the self-alleged blood consumption was just one way in which Kelly's proposal switched things up. Fox's engagement ring, as it turns out, is one of the rarest (and most impressive) we have seen in a while. 
Megan Fox's ring reflects how Machine Gun Kelly is her twin flame
Megan Fox's engagement ring is a "two-in-one" deal! Set with two pear-shaped stones as opposed to one, Fox's ring is on full display in an Instagram video posted by Machine Gun Kelly. As the musician poetically wrote, "yes, in this life and every life... beneath the same branches we fell in love under, i brought her back to ask her to marry me. i know tradition is one ring, but i designed it with Stephen Webster to be two: the emerald (her birth stone) and the diamond (my birth stone) set on two magnetic bands of thorns that draw together as two halves of the same soul forming the obscure heart that is our love. 1-11-2022."
The two-tone ring indeed resembles two halves of a heart shape forming together. Mike Fried, the CEO of The Diamond Pro, praised Kelly's taste in engagement jewelry, telling Nicki Swift, "Megan Fox's ring is absolutely stunning, just as it's absolutely unique. While two-stone rings have risen in popularity in the last few years, two rings joined together is quite uncommon. Machine Gun Kelly really took the design to the next level to display his love for Megan and their special relationship." Fried also estimated each stone was 5 carats apiece, weighing in, "I'd estimate the value of the diamond to be $150,000 and the emerald to be at least $110,000." Small price to pay for eternal love, right?