Fans Are Absolutely Losing It Over Kelly Ripa's Gross Moment On Live TV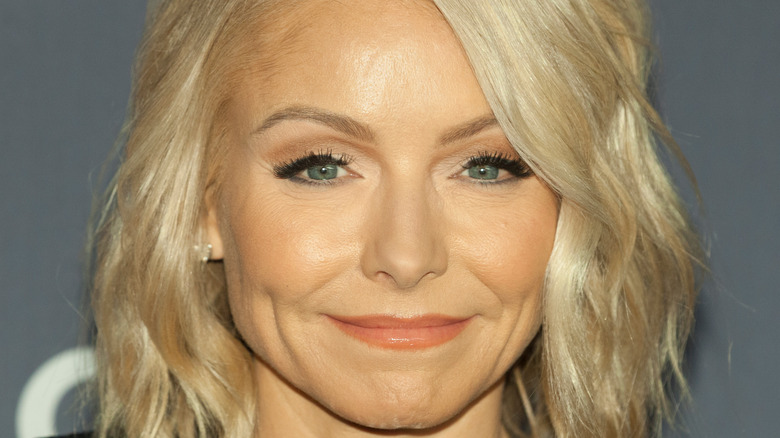 Lev Radin/Shutterstock
For the past two years, people have been forced to change their work routines because of the coronavirus. Days of working in the office have been replaced by Zoom calls and meetings with people doing everything they can to create a productive work environment — and celebrities like Kelly Ripa have been doing the same to limit close contacts with others. The host has reverted back to remote filming with co-host Ryan Seacrest on "Live with Kelly and Ryan" earlier this month due to rising cases of the omicron variant in New York City, according to Hello! magazine.
"We're coming to you from the studio which we've made to look like two separate bedrooms," Ripa joked on the January 3 broadcast (via Hello!), while Seacrest added they were "back home out of an abundance of caution."
The move wasn't out of the ordinary for the two seasoned television personalities, since they worked from home in the early days of the pandemic. However, Ripa has seemingly gotten more entertaining this time around, sharing a "disgusting" moment on "Live" on January 13 — which caused both Seacrest and some fans to recoil.
Kelly Ripa scared Ryan Seacrest with her face oil
Kelly Ripa kept it real on January 13's episode of "Live with Kelly and Ryan" by blotting her face on live television. Co-host Ryan Seacrest was in the midst of announcing the celebrity guests for the day, when Ripa noticed that her face was extra glowy.
"I'm noticing on the feed here that my face looks extra glisten-y and so I thought I would just de-glisten. Too much face oil," Ripa said while pressing a blotting paper across the planes of her face, as Seacrest looked on unamused. The paper was quickly filled with oil splotches to which Seacrest commented, "There is a little bit of grease on that." Ripa then joked that the oil from the blotting paper "is disgusting."
Some fans agreed. "That's a lot of oil," one user tweeted with an embarrassed emoji. "Putting on like a pound of make-up before appearing on tv.......no wonder," another wrote. Others, however, actually appreciated Ripa's authenticity and willingness to point out her flaws. "Kelly Ripa is just the best," one viewer shared.
This isn't the first time Ripa or Seacrest have been criticized for their at-home appearances. In May 2020, some fans commented that Ripa looked "shiny" on air, which was met with a stern response from the host, who told them she doesn't care about her appearance anymore (via She Knows). We love that Ripa continues to be unfazed by criticism and does what she wants.