Sarah Paulson Makes Strong Declaration To Holland Taylor On Her Birthday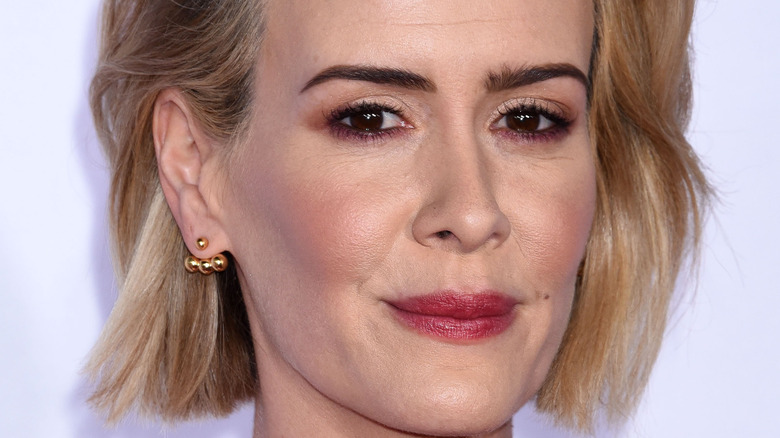 Ga Fullner/Shutterstock
Sarah Paulson has a heart of gold, especially for the underdog. In November 2021, The "American Horror Story" actor shared on Instagram that she was partnering with Paw Works Animal Rescue to help rescued animals find a new home. Paulson didn't only plea to the public for donations, she put her money where her mouth is.
"The View" host Sunny Hostin revealed in January that Paulson was instrumental in helping her expand her family, per the Daily Mail. She also shared a snap of her and Koko Chanel, formerly called Gidget, on her Hostin's Animal House Instagram account. While on the show, she revealed Koko Chanel's back story. "I follow a wonderful page on Instagram called Faces of Devore and Big Bear Shelter. I saw that Gidget had been hit by a car and left for dead," she said before continuing, "I called over to the shelter and Sarah Paulson apparently also saw Gidget. [She] pulled her with the help of Sally's Rescue." Hostin shared that Paulson even paid for Koko Chanel's surgery. Sally's Rescue also confirmed that Paulson had footed the medical bill, adding that the pooch had double surgery.
Interestingly, Paulson didn't toot her own horn on social media, and left it for other people to sing her praises. Yet, when it came to her significant other, she wasn't shy to share her sentiments from the rooftops. In fact, Paulson made her feelings clear.
Sarah Paulson celebrates 'love of my life' Holland Taylor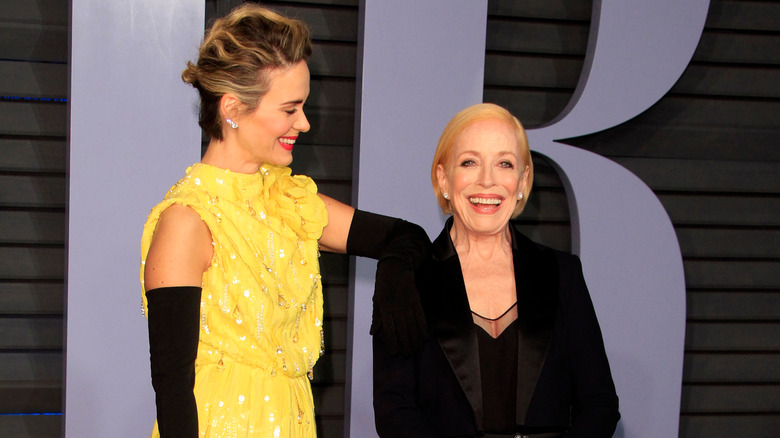 Kathy Hutchins/Shutterstock
In case you didn't know, Sarah Paulson is infatuated with January 14, and the reason has everything to do with her partner, Holland Taylor. According to the Daily Mail, Paulson and Taylor have been dating since at least 2015. Despite a 32-year age gap, their relationship seems to be thriving.
Paulson took to Instagram to wish Taylor on her 79th birthday. She began, "Love of my life. The one. The only one." She then continued, "January 14th is my favorite day of the year- a day to unabashedly celebrate you @hollandvtaylor. Paulson concluded the caption by saying, "I am the luckiest of the lucky. I love you only," and wishing her "magical poet darling" a happy birthday. Last year, Paulson's birthday wish to Taylor was equally romantic, with Paulson writing, "All roads lead me to this face, those eyes, that soul. You are, quite simply- everything to me." Is it getting hot in here?  
And the feelings aren't one-sided. Taylor isn't blind to their age gap but chooses to be grateful for having Paulson in her life. In January 2020, she told Us Weekly, "A big age span is a challenge to any relationship. And she's just very brave ... And so I basically am following her lead, and I'm blessed." She added, "She's obviously at the center of my life." Paulson and Taylor's love is probably the greatest gift on any birthday. We hope you had a good one, Holland!