Johnny Knoxville Shares NSFW Update On His Gruesome Injury
Featureflash Photo Agency/Shutterstock
Carrying out an alarming number of stunts and pranks that range from dangerous and dumb to cringe and hilarious, "Jackass" co-creator and star Johnny Knoxville is taking a painful stroll down memory lane while promoting the latest installment of the franchise. "Jackass Forever" will be released in theaters on February 4, reuniting most of the gang and introducing a new crop of friends and familiar famous faces. The film's trailer promises laughter amongst old friends and enough dangerous comedy and pranking to confirm that, even after all this time, no one is safe.
According to People, Knoxville has revealed that another go against a bull — why does he keep doing this to himself? — landed him "a concussion, a broken wrist and a broken rib too." All of that from one sequence in the new film, which begs the question, how many injuries has this mad man had? Knoxville actually sat down with Vanity Fair in 2018 to explore his injury timeline and, when asked if it was all worth it, he simply said, "Yeah, yeah it was," with his iconic Knoxville laugh.
Gearing up for the world to see what new pain he and his pals have caused for themselves in "Jackass Forever," the lucky leader is spilling more details on one particularly awful bone to break.
Johnny Knoxville offers too much information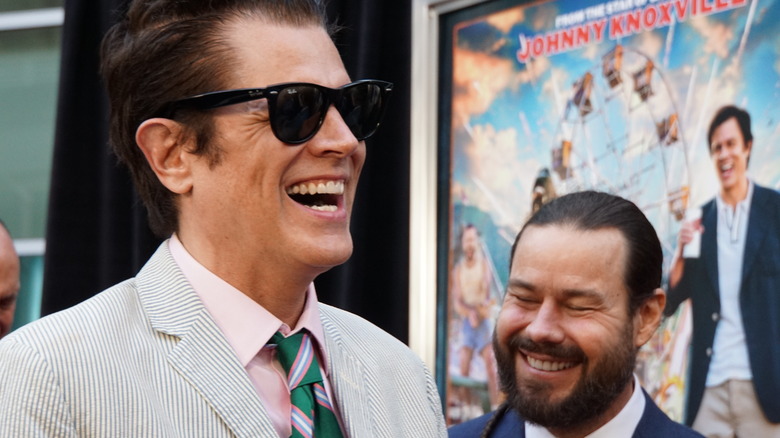 Alex Millauer/Shutterstock
In a chat with Variety, Johnny Knoxville got very personal and vivid about a "Jackass" stunt that caused serious pain. Two decades of dangerous stunts and stupid setups have given Knoxville concussions, broken bones, and way too many close calls to count. One injury stands out to the backyard daredevil, and he is more open than most would be about it. "I broke my gym dog a number of years ago," Knoxville colorfully shared, highlighting an unfortunate incident from 2007. "That's been well documented. So much has been said about so little," he joked.
According to a 2008 interview with People, Knoxville explained, "I decided I could back-flip a motorcycle." As a member of "Jackass," he was not prepared for the stunt. "I guess I should have decided if I could ride a motorcycle beforehand, because I can't. The bike goes about 15 feet in the air, comes down and breaks off the handlebar on my crotch."
Reflecting on the mega-ouch moment, the star shared that it was a clean break, with his doctor at the time saying only "a couple centimeters down and it would've been out of commission." These scary moments build a convincing case to retire from stunts. He added levity to the memory by stating that, since the injury, he's had two children, which means "it's in great working order." It's a relief (yet still so very concerning) to know that enough time has passed for Knoxville to laugh it off.