The Tragic Story Of Ellen Pompeo's Heartbreaking Loss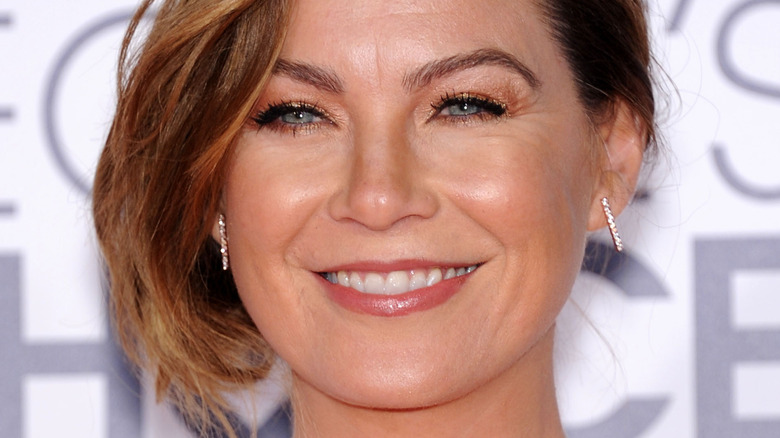 DFree/Shutterstock
Ellen Pompeo strives to provide her children with the best early life experience she can. The "Grey's Anatomy" star is a family gal through and through, placing a ton of importance on spending quality time with her husband, Chris Ivery, and their three kids. In fact, her perfect Friday night involves "cuddling with my babies. And then maybe some other things after that that I won't mention," she said on The Hollywood's Reporter's "Finish that Sentence."
After being together for about four years, Pompeo married Ivery, a music executive, at City Hall in New York 2007, People reported at the time. The couple expanded their family in 2009, when they welcomed their first child, daughter Stella Luna, according to Us Weekly. Pompeo and Ivery went on to add another daughter, Sienna May, and a son, Eli Christopher, to the brood in 2014 and 2016, respectively.
For Pompeo, raising children who can stand up for themselves is her No. 1 priority, especially when it comes to her daughters. "Whether it's your own body or your own experience, or you see someone else doing something to someone else, speak up do not be silent ... I wish someone had told me that when I was young," she reminds Stella and Sienna, Pompeo told InStyle in a 2018 interview. Being the best mother she can be is particularly important for Pompeo because she experienced a traumatic loss when she was a pre-schooler, an event that led to a less than optimal childhood.
Ellen Pompeo's mother overdosed when she was 4
The first experience Ellen Pompeo remembers set the stage for a hard childhood. "The first memory of my life is seeing my mother dead," Ellen told Dax Shepard on his "Armchair Expert" podcast in August 2020. Her mother, Kathleen Pompeo, died from an accidental painkiller overdose when she was 39. Ellen was only 4. "My life started out with tragedy," Ellen told Good Housekeeping in 2016. Kathleen became addicted to prescription drugs after she was hit by a drunken driver at the age of 16, Ellen explained. Kathleen's injuries were so severe that she had to spend nearly a year in the hospital. 
To manage her pain, Kathleen was administered morphine for a lengthy period of time. Kathleen recovered, but continued to suffer from chronic pain, which Ellen says led to a lifelong habit of using painkillers. Ellen was too young to understand the complexities that led to her mother's addiction. Unable to relate to her mother's pain, Ellen mainly resented her for leaving her motherless. "I definitely, when I was a teenager, was super angry at her for leaving. Not understanding addiction, not understanding pain, not understanding any of that, just coming from a completely ignorant place. Just anger," she told Shepard.
Ellen's memories from childhood are generally negative. "I was quite sad as a child ... I definitely had a sad childhood," she told CBS Sunday Morning in March 2021, adding that losing her mother at a young age shaped her "entire existence."
If you or anyone you know is struggling with addiction issues, help is available. Visit the Substance Abuse and Mental Health Services Administration website or contact SAMHSA's National Helpline at 1-800-662-HELP (4357).
Ellen Pompeo's experience made her value family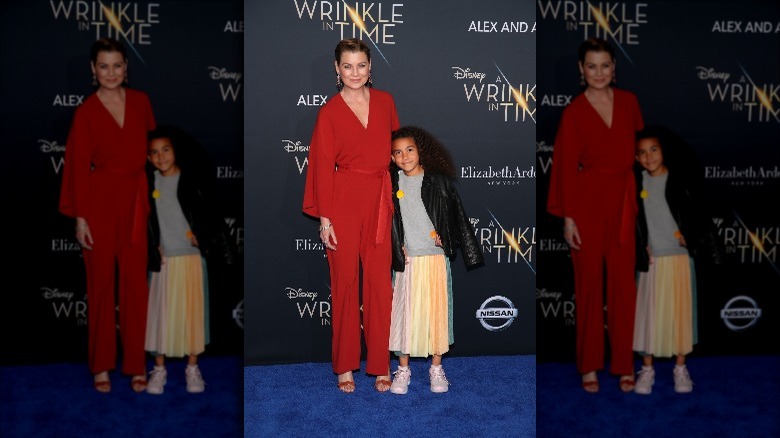 Christopher Polk/Getty Images
After growing up, Ellen Pompeo learned to sympathize with her mother. Ellen was raised Catholic in an Italian-Irish household where Kathleen Pompeo's death was treated as taboo, she said on the "Armchair Expert" podcast. As such, her family never talked about Kathleen, making it difficult for Ellen to understand what led to her early death. "I didn't grow up hearing stories about her or hearing her name," she detailed. Now, Ellen understands that her mother suffered largely in silence. "Once you get older, you understand, oh, there was actually no help for addiction because no one talked about addiction, so she probably had zero help," she told host Dax Shepard.
But growing up without Kathleen had lasting effects on Ellen. "I was pathetically insecure. I didn't have a mother to tell me how amazing I was," Ellen told Good Housekeeping in 2016. Given her formative experience, Ellen has made an effort to create a stable life for her three children. "I didn't grow up with a particularly happy childhood. So the idea that I have this great husband and these three beautiful children [and] a happy home life was really something I needed to complete, to close the hole in my heart," Ellen told the "Jemele Hill is Unbothered" podcast in August 2020 (via Us Weekly). Ellen was determined to be a great mother, even if achieving it hampered her work. "For me, personally, a healthy home life was more important than career."