Jason Momoa And Lisa Bonet May Be Moving On Faster Than We Thought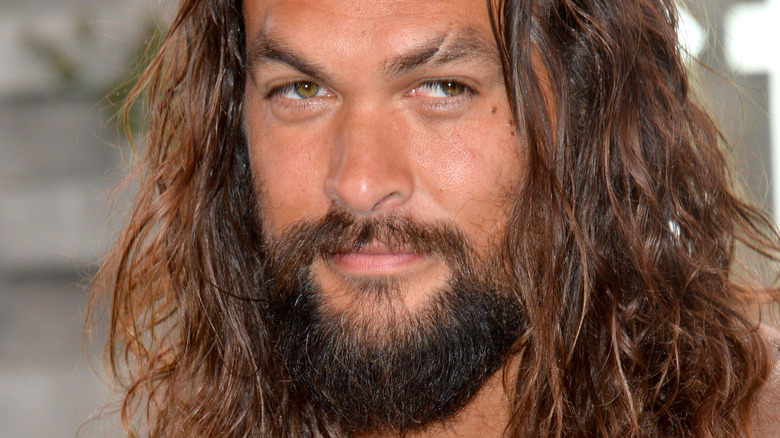 Featureflash Photo Agency/Shutterstock
Jason Momoa and Lisa Bonet took their time to finally get married after being a couple for years, but their relationship started out hot and heavy. Although they did not start dating immediately upon meeting, the two actors were inseparable from the get-go. "In that moment, love came and it came big, and he did not run as I think a lot of men do," Bonet told Porter during a 2018 interview. It now appears the former couple is moving on with their post-marriage lives in a similar fashion.
On January 12, Momoa and Bonet announced their divorce in a now-deleted joint statement on Instagram. The statement was filled with flowery language that made reference to a tumultuous time in society. "A revolution is unfolding and our family is of no exception," the pair wrote (via Vanity Fair). They made reference to an "evolving" love between them. "We free each other to be who we are learning to become."
Apparently, a divergence of career goals was a factor in the split. Shortly after Momoa and Bonet made their public statement, a source revealed that the "Aquaman" star's busy filming schedule caused a major rift. "For Lisa and Jason's marriage, being apart has been a disaster," the insider told People on January 18. The former couple — who share two children — plan to be part of each other's lives, but appear to be moving on as fast as they originally fell in love.
Their divorce was not sudden
Lev Radin/Shutterstock
From an outsider's perspective it could appear that Jason Momoa and Lisa Bonet have transitioned quickly into post-married life, but this was not an overnight change. "They have been doing things separately for quite a while," a source revealed to People on January 19. The rise of Momoa's fame reportedly did not coincide with Bonet's ambitions. "They were a great couple with a lot of love and respect for each other, but people change and goals change and they weren't the same together anymore," the insider added. Apparently, the pair were in agreement to "explore other things" as soon as they separated.
On January 17, less than a week after Momoa and Bonet went public with their breakup, Momoa made it clear that he was no longer married. The "Dune" actor was spotted in a grocery store parking lot, and there was no wedding ring on his left hand, per Us Weekly.
Getting divorced after five years of marriage was not a hasty decision, as the former couple contemplated it for some time before reaching a conclusion. "They didn't just wake up one day and decide to divorce," a source told Life & Style on January 13. A month before releasing their joint statement, Bonet perhaps hinted at their imminent break up. "Definitely learning how to be authentically me ... following this invitation from the universe to step into this river of uncertainty," she said about her mindset during a December 2021 sit down with Marisa Tomei for Interview.