T.I. Responds To Rob Kardashian's Threesome Accusation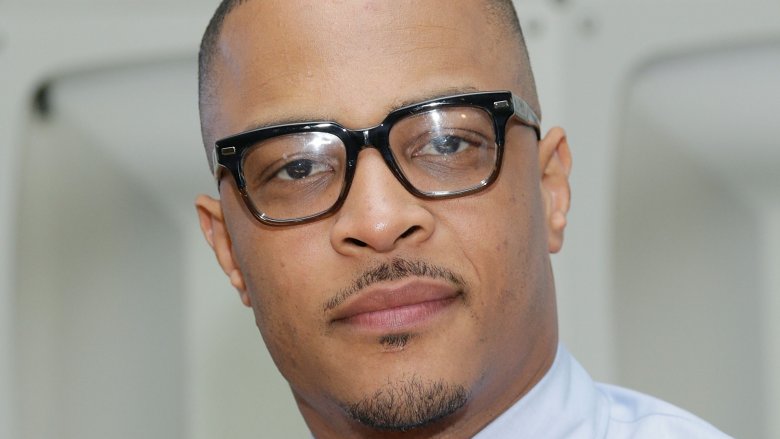 Getty Images
As previously reported, rapper T.I. (real name Clifford Harris, Jr.) opened himself up for attack from Rob Kardashian after he criticized the reality TV star's recent Instagram meltdown. 
In response, Kardashian pressed pause on putting ex Blac Chyna on blast — which included posting naked photos of her, accusing her of cheating with multiple men, and using drugs — to suggest that T.I. and his wife, Tameka "Tiny" Cottle, paid Chyna for a threesome. 
So naturally, when TMZ caught up with T.I. at LAX, the "Live Your Life" rapper offered some more advice. "Don't tell women's business. That's bad. That's very, very bad. It's in poor character. That's flawed," T.I. said, waving his finger at the camera. 
"If a woman trusts you, man, and confide in you, man, with secrets and stuff like that, you don't ever let that...you don't do that. You don't do that," he continued. T.I. then wondered how difficult Kardashian's social media revelations are going to make it for the Arthur George founder's future love life. 
And T.I. isn't the only one advising Kardashian against crying all over social about his lady problems. Fellow rapper Snoop Dogg recently weighed in on the ugly meltdown with his own sage words of advice. 
On Instagram, Snoop told his fans to leave him alone "with all this mess between Blac Chyna and Rob." Then the legendary rapper offered the following thoughts on the situation: 
"He knew what she was getting into when he got her. She is what she is. She was who she was, man. Quit crying to the internet, like, you got more money to burn, go buy you another. Blac Chyna just did what she was supposed to do. She seen a sucker and she licked him. For all you suckers out there, don't get licked. Do the lickin'." 
Wise words from wise men. Your move, Rob.