Pete Davidson's Latest Major Purchase Is Hilariously Random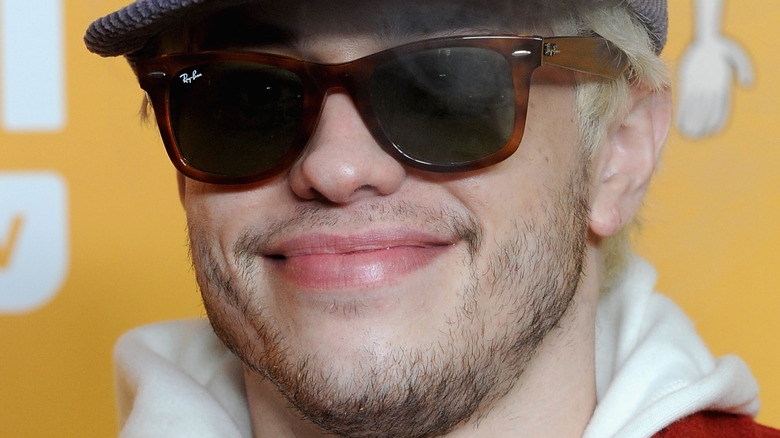 Albert L. Ortega/Getty Images
Pete Davidson's romantic life can arguably be described as random, to put it most generically. With his casual slouch, tattooed body, and affinity for hoodie-wearing, he doesn't strike one at first blush as a Hollywood lothario. Nonetheless, the world watched as Davidson dated A-listers from Kate Beckinsale to Ariana Grande and now, current girlfriend Kim Kardashian. If a Page Six inside source is accurate, Davidson didn't have to chase these Hollywood hotties much, either. "All of these women he has been with approached him," the insider said, adding, "It's not even that he has a type." Furthermore, don't be so shocked at Davidson's status as Hollywood's seemingly hottest bachelor. "You wouldn't think it, but he has impeccable manners and is so polite. I think, honestly, that's part of the reason women like him," the insider divulged.
Davidson became the subject of endless memes and, unfortunately, unwarranted hate as well. In the case of Beckinsale, par example, their 20-year age difference factored into the peanut gallery's assessment of their relationship. The couple drew many ageist and sexist remarks during their 2019 romance, even prompting Davidson to directly address it in a "Saturday Night Live" segment, per PopBuzz.
HIs impressive list of paramours isn't the only area in which Davidson has surprised. The popular "SNL" staple just dropped a hefty sum on an unexpected item that is still, somehow, very Pete Davidson.
Pete Davidson and Colin Jost teamed up for this surprising purchase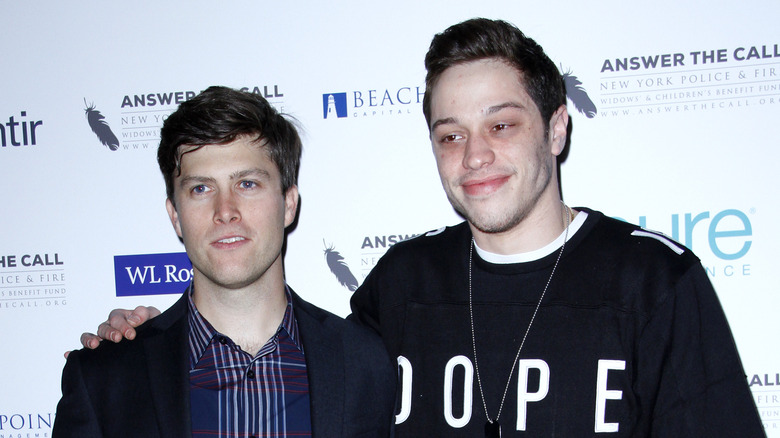 Donna Ward/Getty Images
Staying true to his roots despite being an honorary Kardashian, Pete Davidson just purchased a Staten Island ferry. That's right — "John F. Kennedy," a decommissioned Staten Island ferry boat, was bought anonymously for $280,000 on January 19 by none other than Davidson, "Saturday Night Live" costar Colin Jost, and realtor Paul Italia, per Vulture. While Davidson's 2020 film, "The King of Staten Island," is essentially a loose biopic depicting his younger days, Jost is also a native known for cracking jokes about the storied New York City borough during his "Weekend Update" segment. 
While the idea of a Staten Island ferry — which is used as a boat for New York commuters — screams the opposite of Hollywood luxury, the trio plans on transforming the boat into a live entertainment venue that will feature comedy performances, art installations, and food, per Vulture. The auction for "John F. Kennedy" lasted for one week before Davidson and co. snatched it up and per the NYC Department of Citywide Administrative Services regulations, Jost and Davidson better hurry — as they have only 10 days from purchase date to pick it up! 
With the vessel's listing noting a 5,200-person capacity, the ferry sounds like a potentially awesome party boat, after all.