The Grey's Anatomy Star You Didn't Know Was Steven Spielberg's Stepdaughter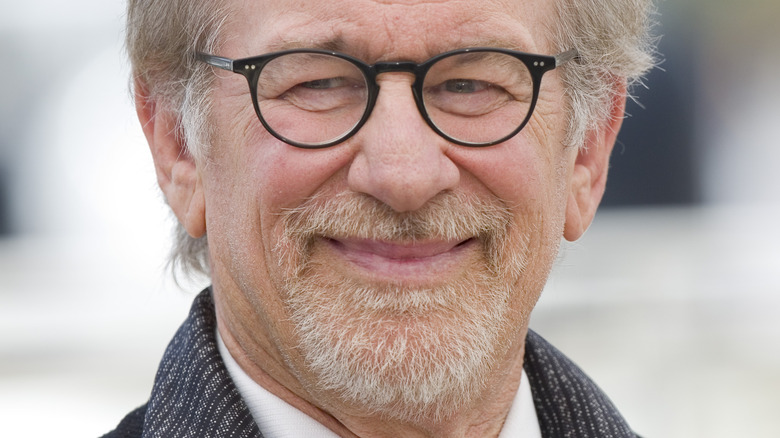 BAKOUNINE/Shutterstock
Steven Spielberg is one of Hollywood's most famous directors, having directed classics like "E.T.," "The Terminal," "Jurassic Park," and most recently, "West Side Story," per IMDb. His films have won him numerous awards, including Best Director twice at the Academy Awards for "Schindler's List" and "Saving Private Ryan," according to Film Site.
Though Spielberg has earned a legendary reputation in Hollywood, he never intended to become a director when he developed an interest for film as a teenager. "I never had a big thought about what I could do with movies in those days," he told the Directors Guild of America about his earliest memories of hanging out at Universal Studios. "I was infatuated with the control that movies gave me in creating a sequence of events or a feeling, stuff like a train wreck with two Lionel trains that I could then repeat and see over and over again." He added his love for filmmaking came from "a realization" that he could tell stories in a different medium — and it clearly paid off for him. But Spielberg isn't the only talented one in his family; his stepdaughter also became a household name on "Grey's Anatomy."
Jessica Capshaw was a fan favorite on Grey's Anatomy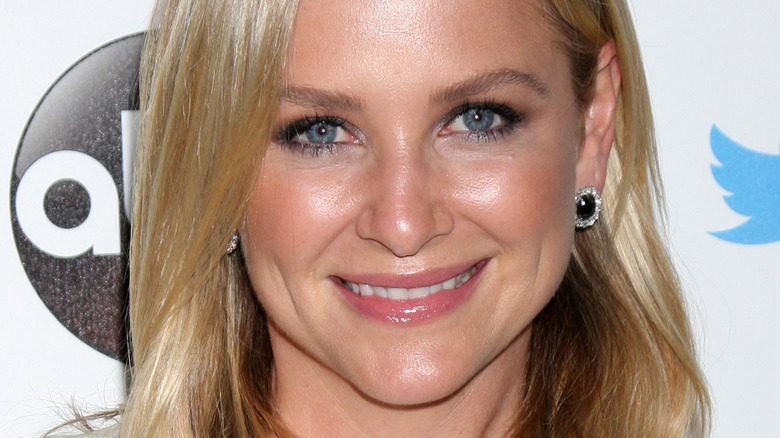 Kathy Hutchins/Shutterstock
Steven Spielberg's stepdaughter is Jessica Capshaw, who starred as Dr. Arizona Robbins on "Grey's Anatomy." She was born in 1976 as the eldest child of Kate Capshaw and Robert Capshaw. Per Showbiz CheatSheet, Jessica became Spielberg's stepdaughter when her mother remarried into his family years after meeting him on the set of "Indiana Jones and the Temple of Doom." Jessica joined older stepbrother Max as the Spielberg/Capshaw family welcomed five more children during their years together, according to Closer Weekly.
Even though Jessica was a teenager when she became part of the Spielberg family, she never relied on her famous stepfather for opportunities when she decided to pursue acting as a career. She graduated from Brown University with a Bachelor of Arts degree in English and attended the Royal Academy of Dramatic Arts in London, per SerieTV Magazine.
Jessica began her acting career with minor roles on television shows like, "ER," "Odd Man Out," and "The Practice," per IMDb. However, she rose to prominence in the television world when she was cast as Robbins on "Grey's Anatomy" in 2009. Jessica was on the medical drama for ten seasons, before leaving the show in 2018. At the time of her departure, Jessica wrote on Instagram that she was "grateful" for the opportunity to play the character and thanked fans for their support.
Jessica Capshaw is close to her family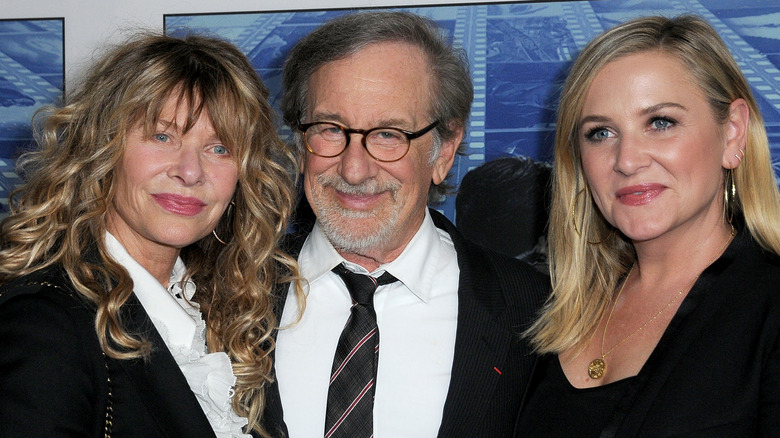 Barry King/Getty Images
Coming from a famous family can have its downsides, but Jessica Capshaw has managed to maintain a close relationship with both of her parents. In fact, she is often spotted out on walks with her stepfather, Steven Spielberg, and husband Christopher Gavigan (per Daily Mail). She has also attended her stepfather's premieres with her mom Kate Capshaw. Jessica married entrepreneur Gavigan in 2004 and they share four children together, according to People.
Jessica has been open about their marriage and family throughout the years, revealing to the outlet that she and her husband have created holiday family traditions for their own children, as well. "It's about tradition, and it's about creating times for your kids to really enjoy what I think that the holidays are all about — which is, again, giving, receiving, and being kind, and going out of your way maybe even a little bit more," Jessica said. "We have a lot of [traditions] that I think everyone does."
Meanwhile, Spielberg has continued to create movie magic that he hopes will inspire his grandchildren, telling The Guardian in 2016, "[Filmmaking] is all about making kids feel like they can do anything. That nothing's impossible."