How Compatible Are Orlando Bloom And Katy Perry Based On Their Zodiac Signs?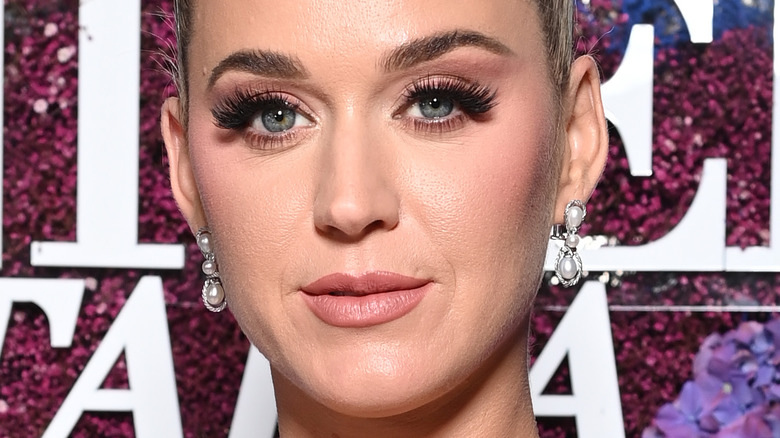 Daniele Venturelli/Getty Images
Katy Perry and Orlando Bloom welcomed daughter Daisy Dove Bloom into the world in August 2020, and the two have embraced the challenges of parenting together ever since. For Perry, there are aspects of being a mom that remind her of her wilder partying days, as she hilariously explained on "The Ellen DeGeneres Show" in 2021. "Now that I'm a mom, my life is actually kind of totally different, and yet I realized, it's kind of similar to being a pop star. You're up all night, usually holding a bottle of some kind, there's vomit on the floor, and your boobs are always out," she said.
But motherhood has also cemented her relationship with Bloom in ways she couldn't have foreseen. Ahead of her return to "American Idol" in 2020, Perry spoke to "TODAY" about how her life feels "very full and whole," in no small part thanks to Bloom. "Daddy's doing a great job ... I've seen the Bjorn on him, I've seen him with the bottle," she added. For his part, Bloom hasn't been shy about sharing his love for his fiancee either. "Got myself a real catch," he posted to Instagram for Mother's Day 2021, alongside a photo that showed him holding Perry, who had been photoshopped as a mermaid. Perry returned the favor for Father's Day that same year, calling Bloom "the healer of [my] heart" and her "whole world," via Instagram. Now, these two seem more in love than ever — but is their love story written in the stars?
Are Katy Perry and Orlando Bloom meant to be?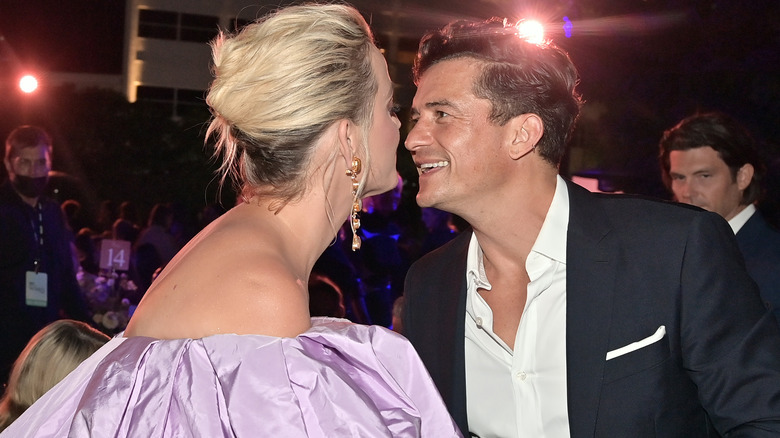 Stefanie Keenan/Getty Images
Katy Perry and Orlando Bloom first met and began dating in January 2016, though they called off their relationship in February 2017, per People. Happily, they reconnected in 2018, and Bloom popped the question to Perry in 2019. Their break and subsequent reunion makes sense, according to the zodiac, because trust and emotional depth are equally important to Bloom (as a Capricorn) and Perry (as a Scorpio). "Orlando's Scorpio Moon is in conjunction with Katy's Sun," astrologer Rachel Lang told Women's Health. "The Moon in astrology represents our emotions, family, and home. This is arguably one of the most significant points of compatibility we see in astrology because it suggests that they feel at home with one another, can easily relate with one another, and share a deep heart-centered connection."
Along with trust, Perry and Bloom also share a steamy sexual connection thanks to the placement of Mars in their zodiac. "This is a strong indicator of sexual chemistry and compatibility," Lang explained to Women's Health. However, the most telling indicator that Perry and Bloom are meant for each other (astrologically speaking) is the fact that her North Node aligns with Bloom's Moon, as Cosmopolitan explains. When the North Node — which indicates things like destiny and fate — meshes with a partner's planet, the connection "can feel fated," according to the outlet.
Katy Perry and Orlando Bloom still face challenges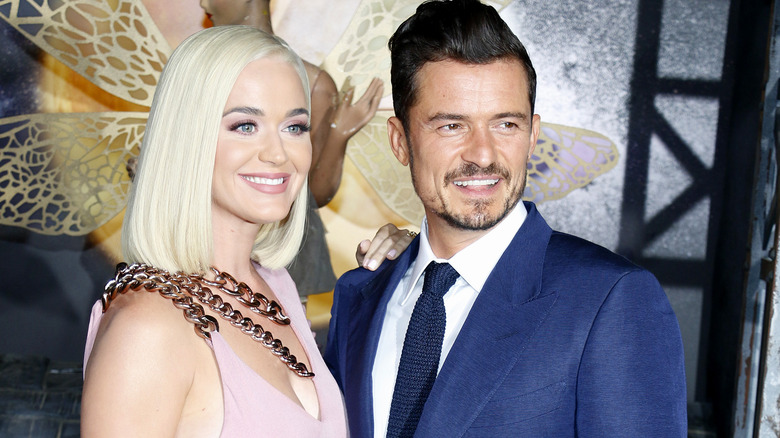 Tinseltown/Shutterstock
Despite the couple's strong star showing, there are still aspects of their zodiac pairing that aren't perfect. Both Capricorn and Scorpio are intense personalities, with connections to planets of power and ambition, per Elite Daily. Consequently, these strong-minded personalities can clash and make maintaining long-term relationships difficult. Furthermore, though astrologer Rachel Lang told Women's Health that Perry and Bloom will never lack for conversation topics, Bloom's "bluntness" can make for some challenges. Per the outlet, "It can make him seem insensitive at times when he doesn't mean to be. A lot of it has to do with the fact that he's an Aquarius rising. It means he needs space and freedom to be really happy which might come off as standoffish."
In good news, the placement of Saturn will help ensure Perry and Bloom can get through challenges together. As Lang shared with Women's Health, the duo mesh nicely together, but "Katy might feel that Orlando wants to be in charge. It's important for him not to be too fixed in his opinion or too stubborn when making joint decisions." Zodiac differences notwithstanding, it seems that these two have the astrological compatibility to go the distance. Keeping in mind the fact that Bloom proposed to Perry on Valentine's Day, it feels safe to assume that the lovebirds can expect a long and happy union together.