The Truth About Jay Z And Kanye's Relationship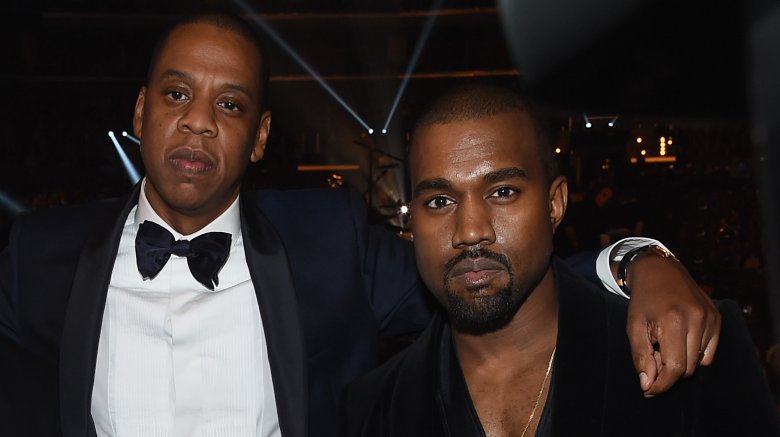 Getty Images
Kanye West and Jay-Z used to be best bros, with Jay inspiring West's song "Big Brother," a track that truly moved Hov when he first heard it. Jay himself echoed the fraternal sentiment in summer 2013, telling BBC, "[Working with West] actually was really easy, because of the relationship. It's always been a big brother thing and a respect thing. It's always a good experience. He's going to challenge everything because he's really trying to test it and poke holes to make sure that it stands up. I admire that. It kind of works for me." Years later, it appears their relationship is very different. What happened?
Jay saw their friendship as a business venture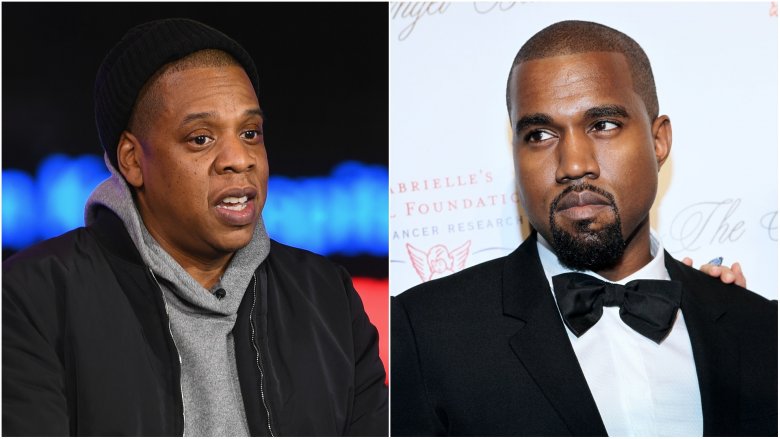 Getty Images
A source told Page Six that while West truly adores Jay-Z as his "big brother," Jay doesn't particularly like West as a person.
"Jay can't stand him. He looks at him as this crazy, eccentric motherf**ker he can tolerate in small doses," the source said. "Kanye is a nut job. Everyone knows that." The insider added that Jay "tolerated" West, particularly as it pertained to 2011's Watch the Throne album, because "there was so much money to be made. Jay was like, 'I'm gonna knock this out. We're going to do a tour to bring in millions of dollars. I can tolerate that.'"
Kanye attracts too much publicity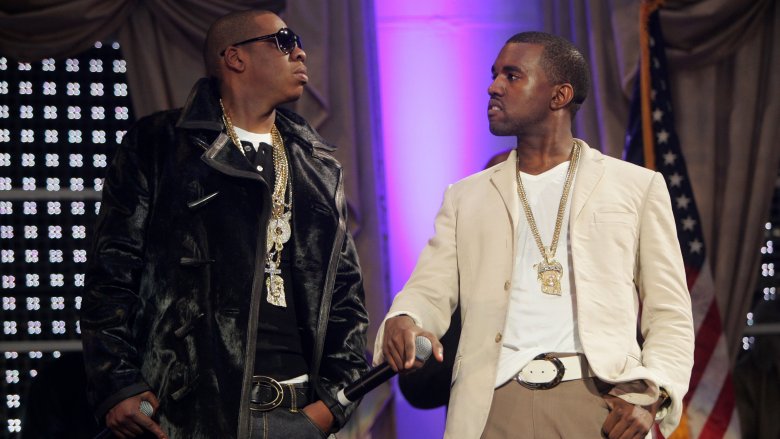 Getty Images
An insider told Page Six that Yeezy's constant cries for attention are part of the reason Hov and West don't see eye to eye. Jay is more mild-mannered and prefers, generally, to fly under the radar. "The reality is that Jay doesn't want that much to do with him. He likes his own space and is private," the source said. "They're very much not the same person. Jay's immediate circle is very insular, and Kanye is just a guy who always wants something in the spotlight."
The Carters skipped the Kimye' wedding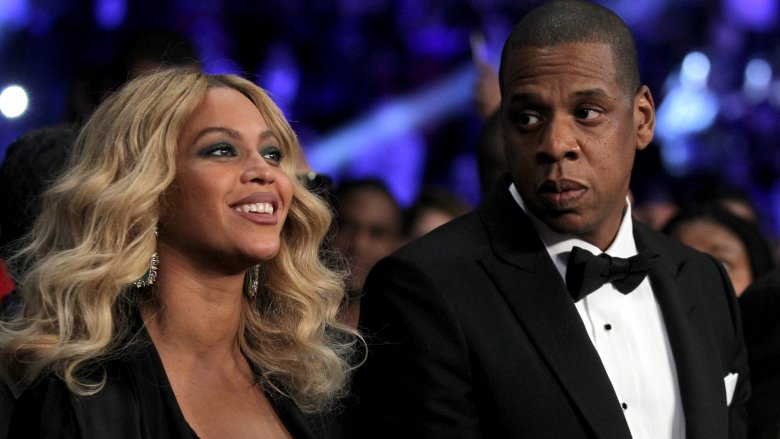 Getty Images
Jay and Bey didn't attend West and Kardashian's 2014 wedding in Florence, Italy...but there's a decent reason for that: Kardashian is friends with Rachel Roy — the alleged "Becky with the good hair" that Beyoncé slams on her Lemonade album. Roy was reportedly present at the nuptials, and, well, chances are the couple wanted to avoid another elevator incident. 
The Carters don't approve of Kardashian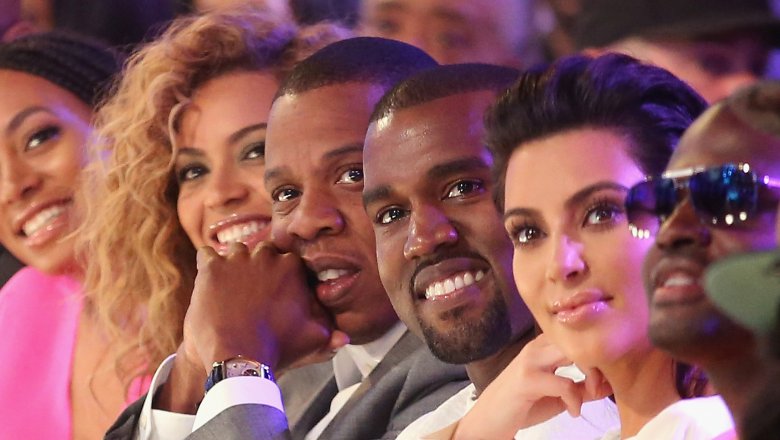 Getty Images
An insider claimed part of the rift between Hova and Yeezus stems from West "forcing Kim Kardashian" on Jay and Bey. "Kanye is frustrated that his wife does not have a better relationship with Beyoncé," a source told Page Six. "He wanted to put that pressure on Jay. It's like, 'We're cool and we do business together, and now our wives should be friends?' It's not organic. It's not real."
"Bey does not like Kim at all. She's cool with Kanye, but can't stand Kim," an insider told Radar Online. "B calls Kim a 'scandalous social climbing wh*re' behind her back."
A source also told Page Six the Carters think the Kardashians are downmarket. "They are guarding like hell their status," the insider said. "Beyoncé wasn't going to allow a Kardashian to socially climb her. And Jay didn't want Kanye with Kim — he thinks it's bad for business. I think Jay lost a little respect for Kanye there."
...no matter how hard Kim tries to kiss up to Bey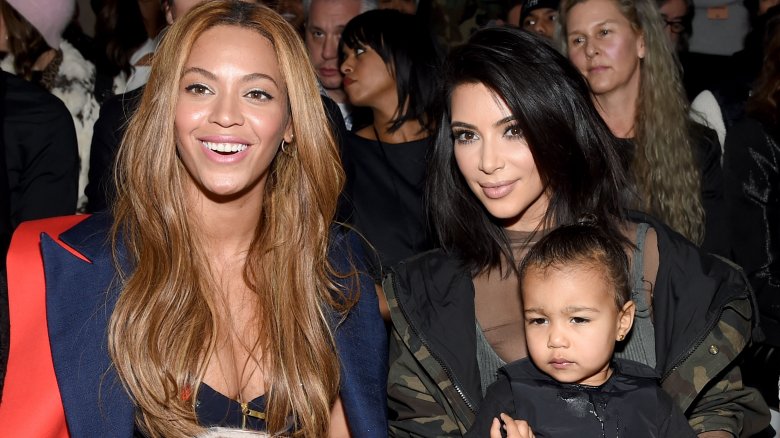 Getty Images
A source told Hollywood Life, "There was a time when all Kim wanted was for Beyoncé and Jay to accept her but she's over it, she doesn't feel like she needs their approval anymore. It's kind of ironic because she's a big part of the reason this whole feud started. She used to get so upset over Beyoncé and Jay-Z snubbing her and that infuriated Kanye. He still can't believe that his own friends would disrespect his wife."
The failed friendship wasn't for Kardashian's lack of trying. A spy told the New York Daily News Kardashian was "trying to do whatever she can" to get close to queen Bey, including tagging along on tour with West when they first began dating in hopes of getting a close encounter with the superstar; with an insider claimed "[Kardashian would] live and breathe to hang out with Beyoncé."
However, sources also told the New York Daily News that even when the ladies are together, like at the Made in America festival in September 2012, Bey was never too keen on chatting up the reality star and, at times, wouldn't even acknowledge her presence.
Their wives are competitive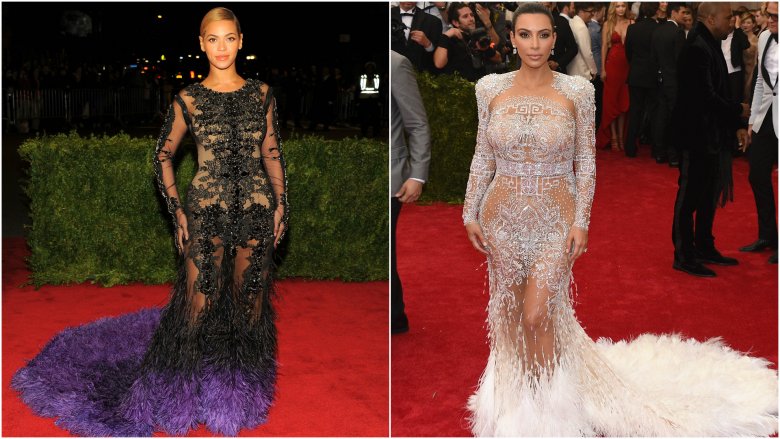 Getty Images
Even West admits that Beyoncé and Kardashian have a rivalry going on, and there's some evidence of that. In May 2012, post-baby Bey rocked a sheer, feathered Givenchy gown at the Met Gala, and Kardashian wore a very similar white Roberto Cavalli gown to the Met Gala just three years later.
West told 105.1 FM (via Vulture), "[Kardashian and Beyoncé] love each other. They respect each other. When Beyoncé's working on her album, she has pictures of Kim on the wall because Kim represents powerful women. Kim plays '7/11' for our daughter. They definitely respect each other. But maybe there's a LeBron James/Kobe [Bryant] element to it, but I can't say that."
Money got in the way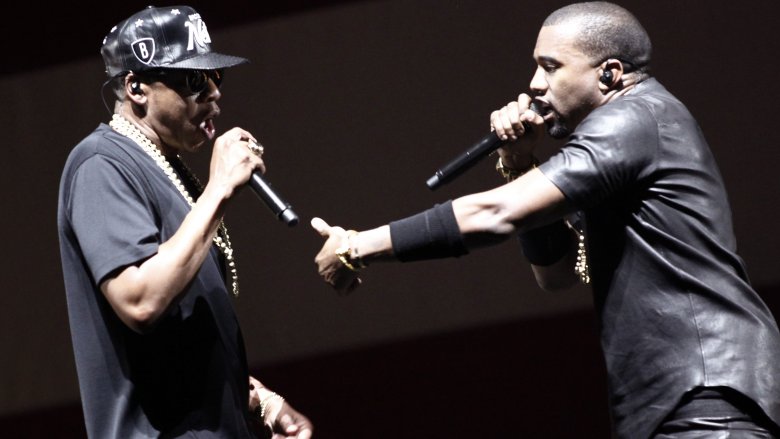 Getty Images
Business may have gotten in the middle of West and Jay's friendship. TMZ reported that West wanted to end his deal with Tidal after the Jay-Z-led streaming service allegedly failed to pay him a $3 million bonus that he was owed for the exclusive release of The Life of Pablo in February 2016. However, Tidal sources told Billboard that West allegedly didn't deliver on several music videos he was supposed to provide as part of the contract. Sources told Billboard that West did, in fact, end the deal.
Tidal wasn't the only financial issue that may have come between the former friends. TMZ reported that the $20 million Hov refers to in his track "Kill Jay Z" was an advance granted to West to cover tour expenses. Jay-Z raps, "But you ain't a saint, this ain't kumbaye / But you got hurt because you did cool by Ye / You gave him 20 million without blinking / He gave you 20 minutes on stage, f**k was he thinking." Billboard, however, disputed this claim, noting that Jay's company, Roc Nation, doesn't structure its touring deals that way.
Kanye lashed out at Jay publicly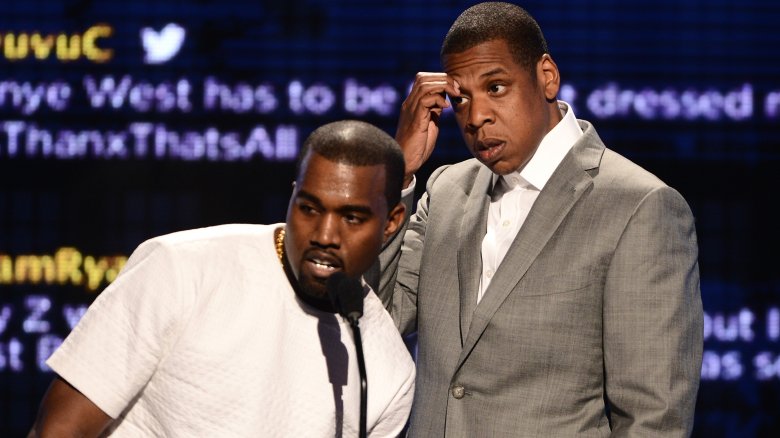 Getty Images
Much of West and Jay's tension seems to stem from West's very public November 2016 rant, which occurred shortly after Kardashian was robbed in Paris. West fumed during a concert in Sacramento, Calif., "Sometimes, we be playing the politics too much and forget who we are just to win. F**k winning. F**k looking cool...F**k being cool. F**k all that, bruh! I've been sitting here to give y'all my truth even at the risk of my own life. Even at the risk of my own success, my own career. I've been sitting here to give y'all the truth. Jay-Z, call me, bruh. You still ain't calling me. Jay-Z, call me. Aye, bruh, I know you got killers. Please don't send them at my head. Just call me. Talk to me like a man. I'm not trying to be the man...Feelings matter, bro. The way motherf**kers put money up so high, popularity, radio spins. Feelings matter, bro. Feelings matter, bro." At a Seattle tour stop, he said of Hov, "Our kids ain't never even played together."
West cast serious shade on Jay and Bey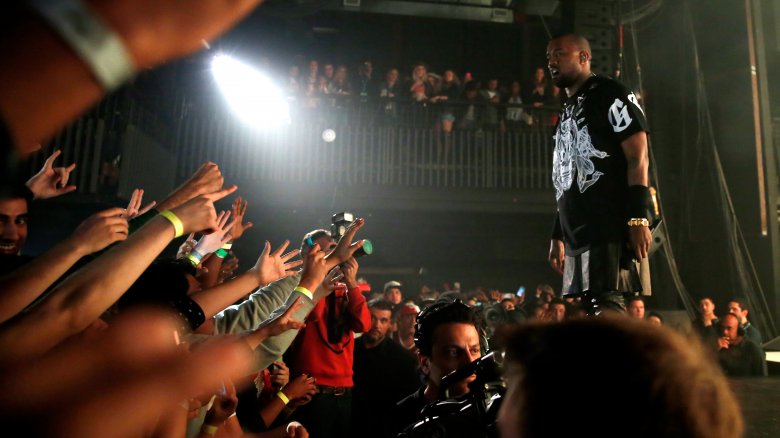 Getty Images
In February 2013, West flipped out onstage at both Jay and Beyoncé, shading the latter for her Pepsi endorsement. "Can I sell a drink for you please? So you can help me put on a better show," he said (via Rolling Stone). "Please corporations. Can you please support me, Kanye West? I swear I'm a nice n***a now. I swear I'll put the pink polo back on. I swear to you. Please? Just for three million dollars. I need it so bad. I need a new pool in my backyard. So I'll tell all my fans your s**t is cool. And if they believe in me they should also believe in you...What's my public rating now? Are people liking me again? Enough to get some money for some corporations? They forgot about the whole Beyoncé thing right? Okay cool." 
In the same rant, he also dissed Jay's collaboration with Justin Timberlake, "Suit & Tie." With friends like West, who needs enemies?
Jay was nonplussed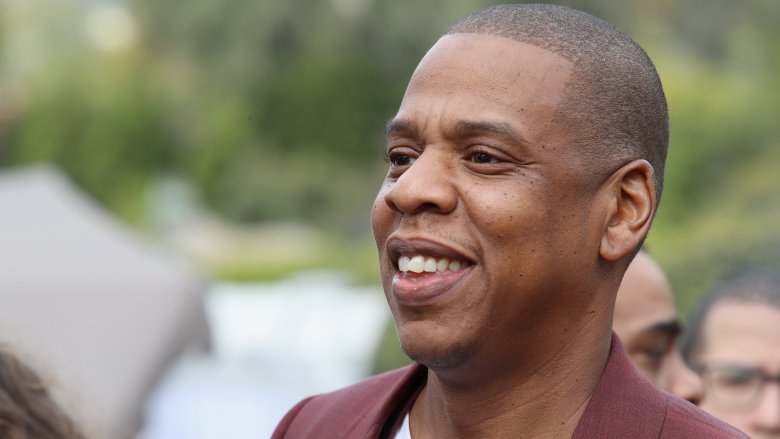 Getty Images
Jay has seemed mostly unfazed, yet still really irritated by West's loud mouth. "The last I saw [West], he spoke really highly of Jay. I'm not sure about the relationship at this point," mutual pal Kareem "Biggs" Burke told Page Six days after West's onstage outburst in 2016. "I spoke to Jay [after West's rant] and we're both just like, 'We miss the old Kanye.' From what I know of Kanye, he's usually really honest. So it sounds like something he's going through right now. He may [say] something like that, and then three weeks later he may be back to, 'That's my brother.' But at this point, with everybody's career, we're a little too old for rap beef."
Kanye holds his VMA tirade against Beyoncé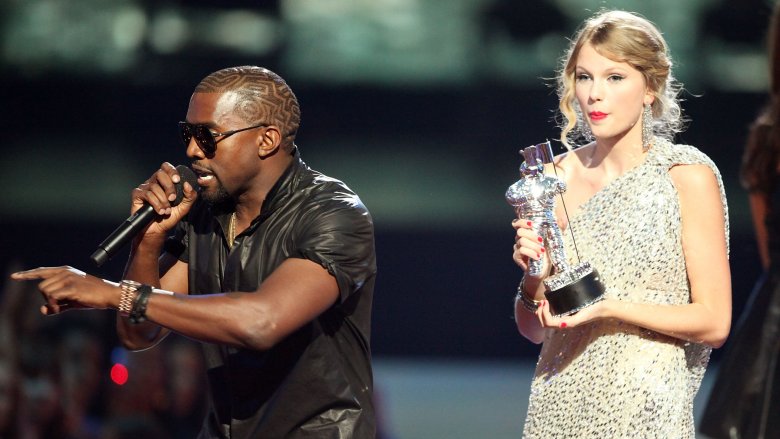 Getty Images
West was furious when Beyoncé won over him at the 2016 MTV Video Music Awards. During a November 2016 concert rant he said, "So, when I talk about MTV, let me explain something. I was hurt. Beyoncé, I was hurt because I wanted to present a video called 'Fade' and I don't expect MTV to help me. 'Mr. West, I don't respect you. I will let you know that Beyoncé is winning the video tonight for 'Formation' over 'Hotline Bling' and 'Famous.' They told me beforehand so I wouldn't run on stage..." 
He added, "Beyoncé, I was hurt. I went down seven years on behalf of your fake s**t. Beyoncé, I was hurt because I heard that you said you wouldn't perform unless you won video of the year over me and over 'Hotline Bling.'" And as if we didn't know his opinion already, he gave it to us this way: "In my opinion...She is great. Taylor Swift is great. We are all great people. We are all equal. But sometimes, we be playing the politics too much and forget who we are just to win. F**k winning."
The "seven years" remark likely refers to West's infamous storming of the stage at the 2009 VMAs, interrupting Swift's acceptance speech for best female video because he believed Beyoncé should have been the victor. That incident fueled years of bad blood between West and Swift. 
Jay mocked Kanye's breakdown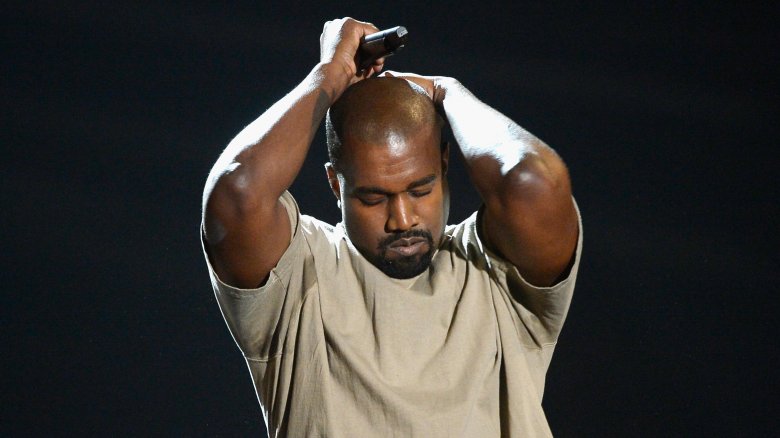 Getty Images
West was hospitalized in November 2016, just weeks after his onstage meltdowns, for a "psychiatric emergency." While it's still not entirely clear what happened to him, West was allegedly suffering from exhaustion and off his medication for bipolar disorder, in addition to coping with the stresses of his career, Kardashian's robbery, and the anniversary of his mother's death. West was reportedly suffering from paranoia, delusions, and dehydration. While he seems to be doing better, he hasn't gotten back to work yet and has remained under the radar since his release from the hospital.
Jay didn't exactly show a lot of empathy for West post-breakdown—at least not in his own lyrics. In his song "Kill Jay Z" from 4:44, Jay snaps, "'F**k wrong with everybody?' is what you saying / But if everybody's crazy, you're the one that's insane." Yeezy likely would have appreciated a bit more sensitivity to the fact that he seemed to be suffering from mental illness, which isn't a joking matter.
They'll probably reconcile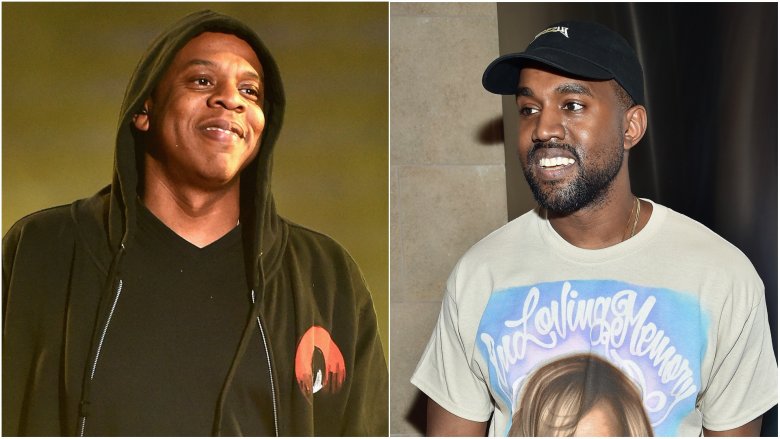 Getty Images
Though the rift between Jay-Z and West runs deep, a source told Page Six they'll mend fences eventually. "Their relationship is familial," the insider said. "I'd be very surprised if they didn't work together or have some kind of relationship in the future."
Kim could bring them together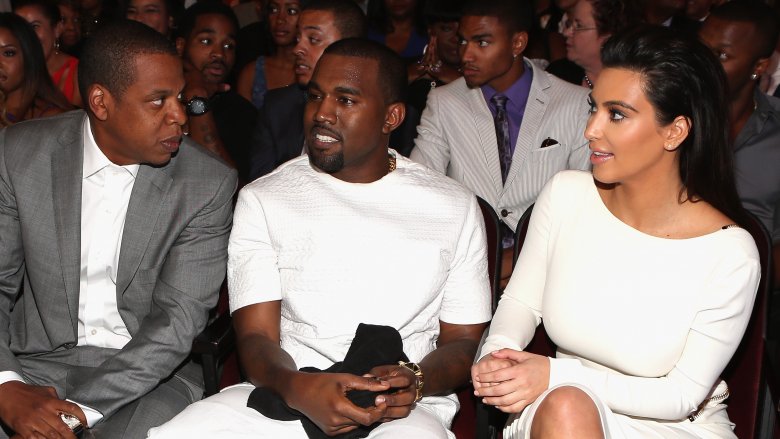 Getty Images
"Even though Kim doesn't feel like she needs to be BFF's with Beyoncé and Jay-Z, she can see how much this feud is upsetting her husband and she wants it to end. She hates to see him hurting and she knows the pain isn't good for him," a source told Hollywood Life. 
But another insider claimed Kardashian may have ulterior motives. "[Kardashian] doesn't want the beef, she wants status, and some of that comes with being friends with the right people," a source told Hollywood Life. "Clearly Beyoncé and Jay are the right people. Kim doesn't like that Jay called out her husband on the album, but she wants Kanye to be the bigger man and apologize so they can move on and return to being friends."
Jay is upset that Kanye talked about his family
In a sitdown with the Rap Radar podcast on Aug. 21, 2017, Jay said his lyrics in "Kill Jay-Z" weren't totally about West. Sort of.
"Think about how I got to that point. It's not even about Kanye, it really isn't... His name is there, just because it's just the truth of what happened," Jay said, adding that he was upset that West called out his family onstage. "The whole point is, 'You got hurt because this person was talking about you on a stage.' But what really hurt me was—you can't bring my kids and my wife into it. Kanye's my little brother. He's talked about me 100 times. He made a song called 'Big Brother.' We've gotten past bigger issues. But you brought my family into it, now it's a problem with me. That's a real, real problem and he knows it's a problem."
Jay-Z continued, "He knows that he crossed the line. I know him. He knows...I know he knows, because we've never let this much space go between one of our disagreements, and we've had many, because that's part of who we are. That's what I like about him. He's an honest person, he's open and he'll say things and he's wrong a lot of times but he'll/we'll confront it." Except, well this time...for now.