What Is Johnny Manziel Up To Now?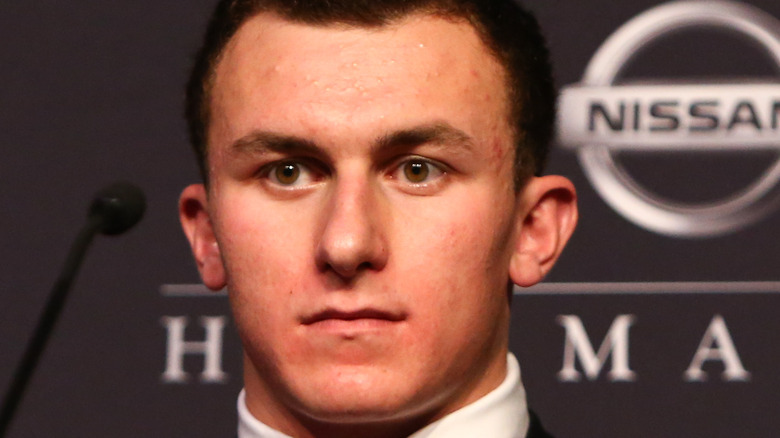 Debby Wong/Shutterstock
Johnny Manziel, also known as Johnny Football, was well on his way to becoming one of the best in the league. He first made a name for himself while he was playing at Texas A&M. According to Fox News, the redshirt freshman quarterback had a promising future after two successful years with Texas and winning the 2012 Heisman Trophy Award. However, Manziel was often caught up in several controversial circumstances that seemed to overshadow his potential on the field.
Despite the headlines and bad press that followed Manziel, the Cleveland Browns took a leap of faith and selected him as their 22nd pick in the first round of the 2014 NFL draft, per ESPN. "We took the opportunity to take the players that we had in the order we had them ranked," former general manager Ray Farmer told the outlet. "When the opportunity presented itself, we took those liberties."
Unfortunately, the hype centered around Johnny Manziel quickly faded after his personal life issues overcame his ability to perform.
Johnny Manziel is eyeing a professional golf career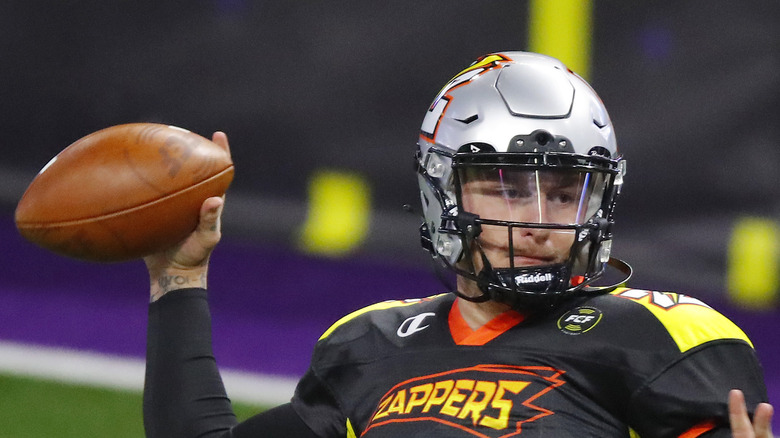 Todd Kirkland/fan Controlled Football/Getty Images
According to Bleacher Report, the Cleveland Browns dropped the rising quarterback in March 2016 after only playing 15 games over the span of two seasons. Johnny Manziel was also fighting an alleged assault case against his girlfriend at the time — the charges have since been dismissed — and rumors were swirling that he was showing up to practice intoxicated, per CBS Sports.
In 2018, he played for the Hamilton Tiger-Cats and Montreal Alouettes and in 2019 he played for the Memphis Express of the Alliance of American Football League. And while he has continued playing football, during a February 2021 episode of the "Green Light" podcast, Manziel revealed he was trying to play professional golf — and that he would give himself 12 years to accomplish that goal. "I'm gonna grind this out and see how good I can get and see if I can enter some tournaments and see if I can go play professional golf eventually. I think it is a very uphill battle, but that's what I'm setting for my goals," he explained.
In July 2021, he got the opportunity to flex his skills during the 51st Higginbotham Texas State Open at The Cascade, but instead was faced with a rude awakening after an underwhelming performance. According to the Golf Channel, Manziel came in last. Despite the outcome, Manziel felt good about being back in his hometown doing what he loves. Though he didn't "play the way I wanted to," he acknowledged, "It's a good first experience for me and had to start somewhere," he told Tyler Morning Telegraph.
Still, Johnny Manziel hasn't given up football completely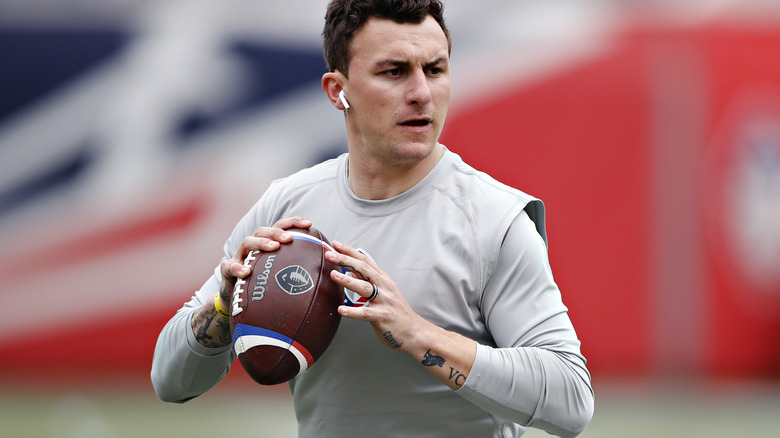 Wesley Hitt/aaf/Getty Images
In February 2021, right around the same time as he announced his golf career, Johnny Manziel started to generate buzz again — only this time, in the football arena as well. News started to spread that the former Browns player was the official starting quarterback for the "Zappers" — a Fan Controlled Football League (FCF), per USA Today.
Despite popular opinion, Manziel made it clear that playing for the Zappers wasn't his "comeback" into the league. "After I play here, I probably won't pick up a football again for another year. Two. Or maybe even longer than that," he said. He continued to stress to USA Today Sports that it was just a good opportunity for a more structured life and to build business connections with a great group of men.
In terms of his career as an athlete, it looks like Manziel is making golf his main focus — at least for the next 12 years.