Evan Rachel Wood Levels Further Disturbing Allegations Against Marilyn Manson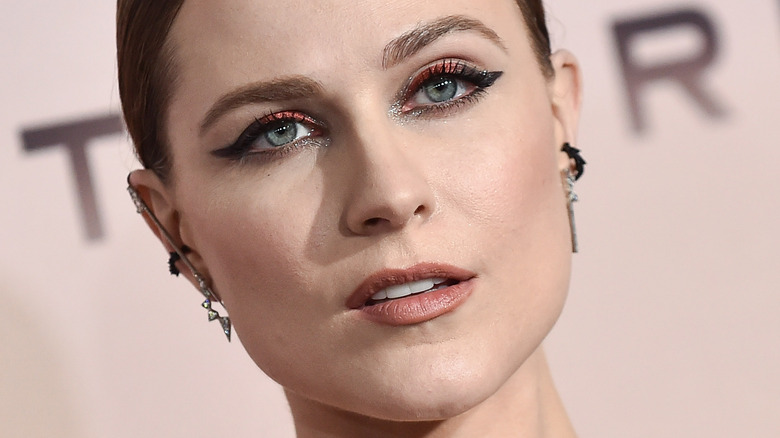 DFree/Shutterstock
This article contains discussion and details of sexual assault.
Evan Rachel Wood has long tried to contribute to ending the stigma around mental health by addressing her stint at a psychiatric hospital when she was 22, as she detailed in a 2019 essay for Nylon. The "Westworld" star has also been open about how her PTSD was triggered by sexual abuse, according to the essay. Wood first went public with her experience in a November 2016 interview with Rolling Stone. "Yes," Wood told the magazine in a letter. "I've been raped. By a significant other while we were together. And on a separate occasion, by the owner of a bar." At the time, Wood chose to keep the details of her story to herself. 
Wood later gave testimony in support of two separate sexual assault bills, including one she created and helped pass — the 2018 Phoenix Act — as People reported. Because Wood started infamously dating Marilyn Manson when she was 19 and he was 38, speculation that she was referring to the musician swirled. When a Metal Hammer interviewer asked him to comment on Wood's testimony in September 2020, Manson cut the conversation short and issued a public statement (via NME) denying abusing Wood. 
But it was not until February 2021 that Wood named Manson as her alleged abuser on Instagram, shortly after California State Sen. Susan Rubio had asked the FBI and the U.S. attorney general to investigate Manson following accusations by "several women," as Billboard reported. Now, Wood is offering details about what she says transpired between them.
Evan Rachel Wood shared chilling details of the making of Heart-Shaped Glasses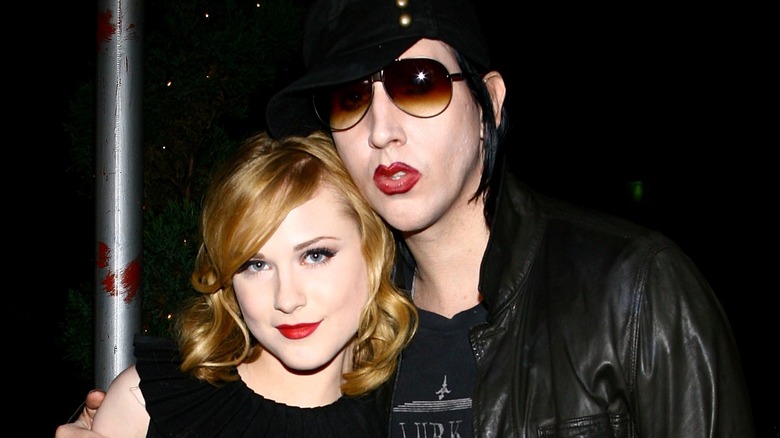 Scott Wintrow/Getty Images
When Marilyn Manson's 2007 music video "Heart-Shaped Glasses" came out, the public speculated the sex scene had been real. Evan Rachel Wood previously denied that was the case, including in her 2016 interview with Rolling Stone, when she shared she was a rape survivor. But in "Phoenix Rising" (via People), a documentary about her life that premiered at Sundance on January 23, Wood revealed the music video served as the stage for Manson's first alleged crime against her. "We had discussed a simulated sex scene, but once the cameras were rolling, he started penetrating me for real. I had never agreed to that," Wood said.
Wood also accused him of getting her drunk on absinthe to the point of unconsciousness ahead of shooting, which removed her ability to consent, according to The Guardian. "I was coerced into a commercial sex act under false pretenses," she said (via People). "That's when the first crime was committed against me. I was essentially raped on-camera."
In addition to accusing Manson of physical and sexual abuse, Wood has also previously alleged suffering emotional and religious violence at the rocker's hand. "I was called a 'jew' in a derogatory manner. He would draw swastikas over my bedside table when he was mad at me," Wood wrote in an Instagram Story (via People) in February 2021. Manson has not been charged with any crimes, but is facing several civil lawsuits, USA Today reported in June 2021.
If you or anyone you know has been a victim of sexual assault, help is available. Visit the Rape, Abuse & Incest National Network website or contact RAINN's National Helpline at 1-800-656-HOPE (4673).