For Every Time Miley Cyrus Has Been Controversial, This Moment Stands Above The Rest
Tinseltown/Shutterstock
It's hard to believe Miley Cyrus launched her entertainment career more than 15 years ago. Per Billboard, Cyrus first rose to fame with the debut of "Hannah Montana" on the Disney Channel back in 2006. The show — which followed an undercover teen popstar — broke ratings records at the time, but it was Cyrus' powerhouse vocals (rather than her acting ability) that captivated audiences and kept them tuning in for more.
Despite the success that "Hannah Montana" afforded, Cyrus seemed determined to shed her squeaky clean image as she grew older. Like fellow former Disney Channel stars Demi Lovato and Joe Jonas, she has since spoken out about how Disney pressured her to be perfect, per The Wrap. Perhaps that's why Cyrus went all out to distance herself from the network, experimenting with everything from racier outfits to drug use. It's fair to say that the singer's public transition from Disney darling to independent adult hit the world with the force of a "Wrecking Ball." But, though she once apologized for her early indiscretions, she now owns them. As of this writing, Cyrus has seemingly overcome a huge number of scandals, which include a controversial Vanity Fair cover, nude photos, a broken engagement and subsequent divorce, and allegations of cultural appropriation. The former Disney actor has practically made a career from all her controversies, but which moment stands above the rest?
Hollywood was horrified by Miley Cyrus' 2013 VMAs performance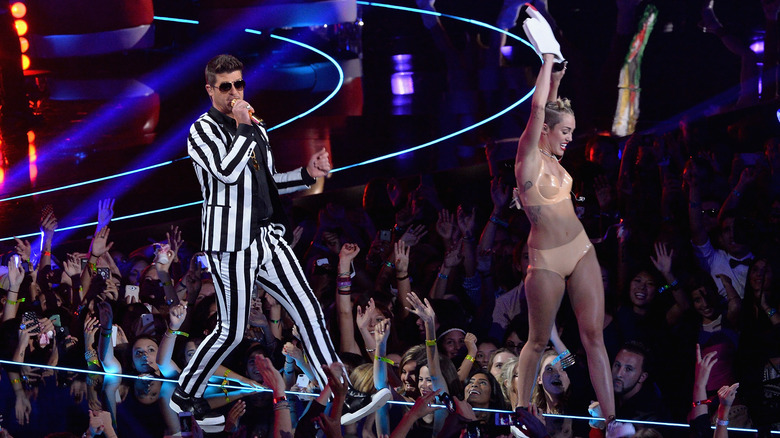 Rick Diamond/Getty Images
The VMAs are always a chance for artists to push boundaries — and for Miley Cyrus, the 2013 awards ceremony was a chance to leave her Disney persona behind forever. The "Midnight Sky" singer shocked fans when she stripped down onstage to a nude shorts and crop top combo that left little to the imagination. Next, she proceeded to twerk against Robin Thicke, who was then enjoying the peak of his career with the smash hit "Blurred Lines." The performance was so jarring that friends of the pop star later told Page Six they believed Cyrus was on drugs at the time, pointing to the constant sticking out of her coated tongue as evidence.
Following the controversial performance, celebs and viewers took to social media to share their thoughts. They were confused and horrified, to say the least. "Remind me to never let my kids into showbiz," actor Nick Canon tweeted. Industry icon Cher also weighed in with her two cents, calling the whole thing "abysmal." She added, "[Cyrus] can't dance, her body looked like h***, the song wasn't great, one cheek was hanging out," (via Page Six). Likewise, American figure skater Johnny Weir was equally taken aback. "I'm watching the VMAs and Miley Cyrus has made me so uncomfortable. The WORST thing I have ever seen," he wrote on Twitter. 
Cyrus' onstage partner, Thicke, may have been the only one who wasn't appalled, as he branded the performance "dope," via Twitter.
What did Miley Cyrus have to say?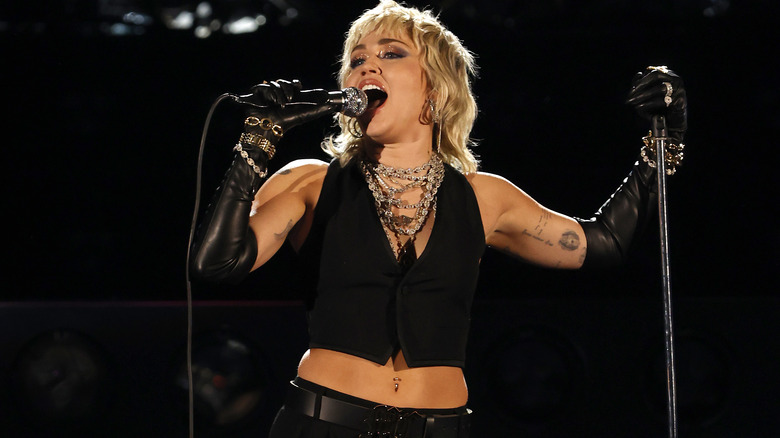 Jamie Squire/Getty Images
While Miley Cyrus successfully jettisoned her Hannah Montana character thanks to her very grown-up performance, she also took plenty of heat from the media in the process. That same year, she dropped "Bangerz" and upped the shock factor with barely-there outfits, super short hair, and more scandalous performances. "People have made me seem like a character. So now I'm just enjoying playing a character of myself," she explained in a 2014 interview with Elle. However, the "Bangerz" era was eye-opening for Cyrus in more ways than one, as she began to fully embrace the power of her platform. "Not only was culture changed, but my life and career were changed forever," she said in an interview with Wonderland in 2018. "It inspired me to use my platform for something much bigger. If the world is going to focus on me and what I am doing, then what I am doing should be impactful and it should be great."
These days, the pop star channels a more pared-down vibe and has evolved from her "Bangerz" days. That's because her wild fashion choices became somewhat routine. "In the beginning, it was kind of like saying, 'F*** you. Girls should be able to have this freedom or whatever.' But it got to a point where I did feel sexualized," Cyrus admitted in a cover story for Harper's Bazaar in 2017. Eventually it became "more punk" for her to be covered up, as she told the outlet.