Dolly Parton Addresses The Infamous Rumor About Her Breasts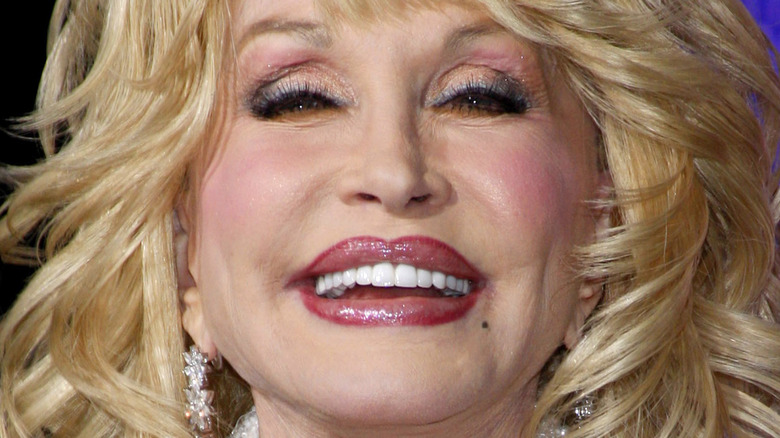 Tinseltown/Shutterstock
Dolly Parton is iconic. That's just a fact. The star is infamous for writing and recording some of the biggest hits in the country music world and far beyond, blessing the airwaves with the likes of hits including "9 To 5" and "Islands In The Stream" (don't forget she wrote "I Will Always Love You," too!) — but it's not just her musical ability that's made her one of the world's biggest stars.
Of course, Parton has carved out her own unique look over the years, so much so that she's become one of the most popular fancy dress costumes ever. The star regularly pokes a little fun at herself for her super glam and over the top look as well, with Parton even confessing that she made a very conscious decision to become the ultimate blonde bombshell because of an, erm, infamous figure from her hometown.
The star joked in October 2020 that she looked like "a clown" when answering some of the most Googled questions about her with WIRED, as she admitted she modelled her look after the "town tramp." The superstar explained, "This woman that used to walk the streets had all this makeup and hair, high heel shoes. I thought she was so beautiful," adding, "that's kinda how I look. But I like to think I'm a little more than that."
And so much more than that she is, but that doesn't mean her iconic look has raised some questions about her assets over the years.
Dolly Parton's breast assets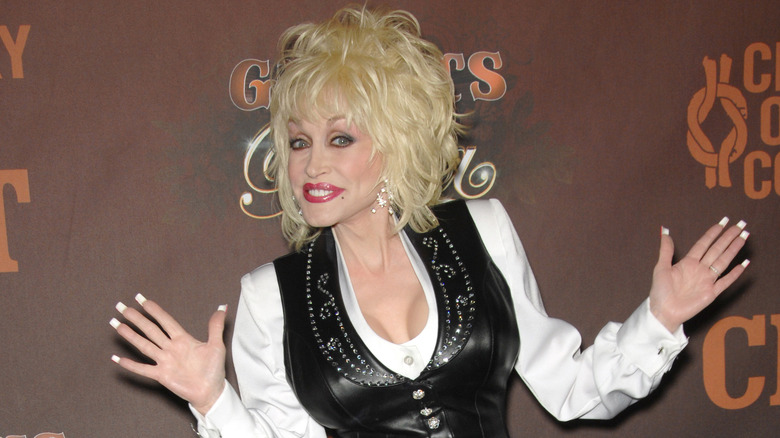 Featureflash Photo Agency/Shutterstock
Dolly Parton is no stranger to a rumor or two (she's been in the entertainment industry for decades, after all!) but she's shutting down some pretty crazy speculation. The star got real about rumors involving her breasts, clearing the air about a longstanding claim she'd insured her assets. So, if you were wondering if Parton's chest is insured? Well, it's not.
Parton explained the whole thing was a misunderstanding and stemmed from her joking about an actor back in the day who insured their legs. "At that time, I said, 'Well maybe I should get my boobs insured since I'm famous for them,'" she revealed after being probed about the body part rumor on "Today With Hoda & Jenna" on January 26. She then clarified that it was all "a joke." So there we have it.
Parton has been pretty open and honest about her body parts of the years though, including joking that she actually wants people to have a peek at her chest because of how much she paid for her implants. "I've slapped a few people who didn't stare at them! This kind of money, they'd better be looking at them," she joked in 2011, per Stuff, after being asked how she feels about being ogled. "No, I've not insured my boobs. I just paid $1 million for them and I hope they look like a million dollars too!"
There's no denying Parton certainly always looks like a million bucks to us!