Dolly Parton Opens Up About Keeping Her Marriage Fresh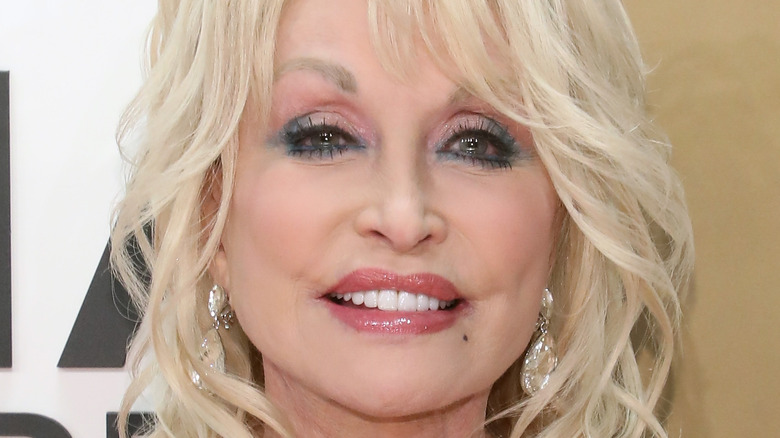 Taylor Hill/Getty Images
There are a few arguably strange things about Dolly Parton's marriage that might intrigue you. For instance, the iconic star and her husband, Carl Dean, have been together for over five decades after meeting back in 1964 and eloping in 1966. On top of that, the two aren't exactly out there making regular appearances at high-profile industry events together and posing for the paparazzi. Parton explained to Entertainment Tonight in October 2020, "[H]e does not want to be in the spotlight at all ... It's just not who he is. He's like, a quiet, reserved person and he figured if he ever got out there in that, he'd never get a minute's peace and he's right about that."
Granted, Parton is occasionally willing to share tidbits about her life with Dean. Along with opening up about what things are like in their household, she's also taken to Instagram to post an unbelievably adorable throwback photo of the pair. While that has surely thrilled the beloved singer's fans, that's not the only thing she's revealed when it comes to her enduring relationship. She's also shared her secret for keeping her marriage hot. Oh my!
Dolly Parton goes the extra mile for her husband
"I like to dress up for Carl," Dolly Parton told E! News' "Daily Pop" on January 26 when opening up about how she keeps her husband, Carl Dean, interested and entertained. Even though the two have been together for years, she went on to explain why she still puts effort into her appearance for her husband's sake, saying, "Every day, I put on some makeup and fix my hair because I think, 'Well, the whole world, I'm out here and everybody else sees me all dressed up, and I'm not going to just kind of go home and just flop on him.'"
Of course, Parton was sure to say that Dean "would love [her] either way," she also noted, "It's important to me that I look as good as I can." She also admitted that she "think[s] it kind of helps keep things spicy." Plus, Parton asserted that "nobody wants to make out with a slouch!"
Granted, when Parton said she dresses up for her husband, she was likely talking about keeping her hair and makeup nice as well as opting for flattering outfits. At the same time, she's apparently willing to dress up another way. In June 2021, she helped her hubby celebrate his birthday by dressing up in her memorable Playboy outfit and posted a video of her look on Instagram, writing, "It's always #HotGirlSummer for my husband, Carl ... Happy birthday my love!" How can you not love their love?!