Megan Fox And Machine Gun Kelly's Most Outrageous PDA Moments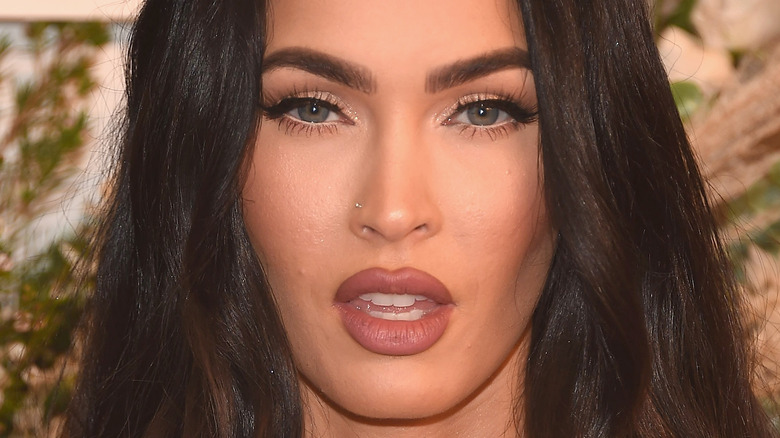 Gary Gershoff/Getty Images
Megan Fox and Machine Gun Kelly seem to be deeply, utterly, and wildly in love, and they're not afraid to let the world know. In fact, they're not shy (at all!) when it comes to showing off the passion that sparks between them. Their entire relationship has involved the famous figures getting up close and personal at industry events, posting personal pics on social media, and opening up about their intimate moments in interviews.
That includes revealing the details of their physical relationship like their first kiss — or, what was kind of a kiss, but not really, because these two don't really indulge in anything normal. In October 2021, Kelly explained to GQ, "Even our first kiss, she wouldn't kiss me. We just put our lips right in front of each other and breathed each other's breath and then she just left." Er, romantic?
While there have been other celebrity couples who also like to make headlines by making their personal lives more than a little public — ahem, Kourtney Kardashian and Travis Barker — Fox and Kelly have a knack for taking things over the top. That's why you'll surely be intrigued and perhaps even shocked by the duo's most outrageous PDA moments.
1. Bloody Valentine video PDA
When Machine Gun Kelly released the official video for "Bloody Valentine" in May 2020, his on-screen — and shockingly dangerous — love interest turned out to be Megan Fox. The two may have been acting out a fictional relationship for the video, but it was a glimpse of the kind of PDA-proud pairing they would become.
2. Making their relationship Instagram official in towels
Machine Gun Kelly may have posted about his feelings for Megan Fox in July 2020, but she took a little longer to share hers. When she did use Instagram to share a personal photo of the two and seemingly confirm their relationship — and her love — she chose a pic where they were posing together in towels.
3. Black tongue and crotch grab at the BBMAs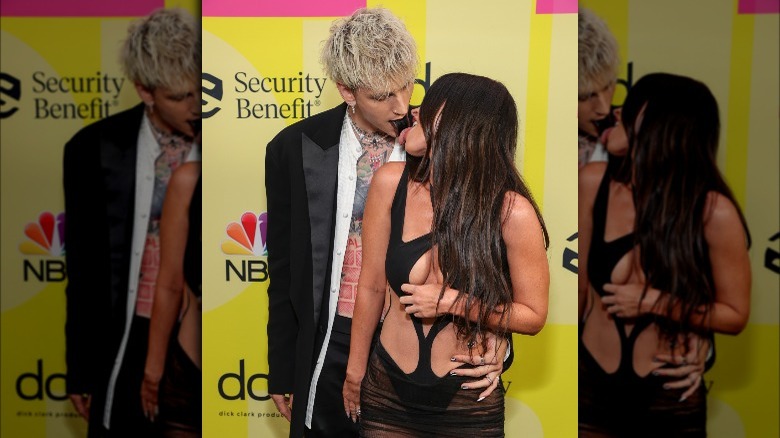 Rich Fury/Getty Images
When Machine Gun Kelly and Megan Fox appeared at the 2021 Billboard Music Awards, they couldn't keep their hands — or tongues — off each other. While MGK's black tongue was enough to make headlines, if you look lower, you'll notice she took things up a notch by grabbing his crotch.
4. Bum caress with claws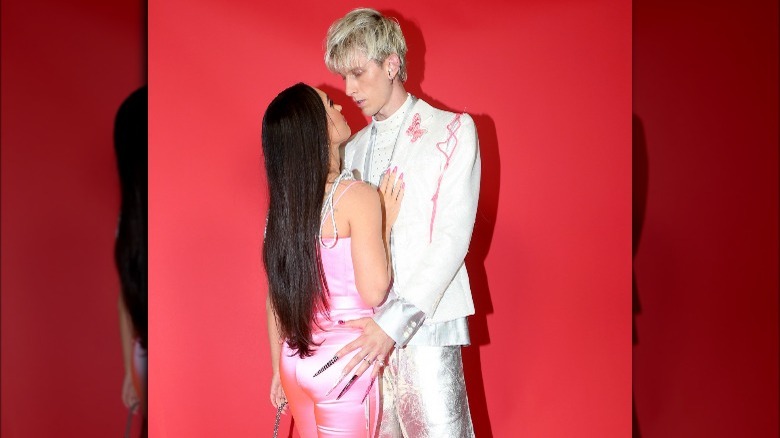 Phillip Faraone/Getty Images
Machine Gun Kelly and Megan Fox's date at the iHeartRadio Music Awards in May 2021 involved eye-catching outfits and plenty of PDA, as you might expect. What still may have surprised you was the fact that they gave the cameras a good view of him caressing her rear end with his super-long, claw-like nails.
5. A backstage boob grab
Caressing Megan Fox's bum wasn't the only kind of PDA that Machine Gun Kelly took part in at the 2021 iHeartRadio Music Awards. He also shared an Instagram story that showed him touching her breast while backstage. When she told him to instead "go underneath," he gave a second angle that showed him doing just that.
6. Licking puckered lips
Even when Megan Fox goes in for what she may have thought was a sweet kiss, Machine Gun Kelly has other ideas. In a Valentine's Day post that the actor shared on Instagram in February 2021, she included a pic that showed MGK licking her puckered lips.
7. Double the PDA with Kourtney Kardashian and Travis Barker
Megan Fox and Machine Gun Kelly have a lot in common with Kourtney Kardashian and Travis Barker. That includes the fact that both couples are willing to pose while sticking their tongues in each other's mouths as they stand standing in a bathroom stall at an industry event. Talk about a tongue-tied affair.
8. Sharing a rose-filled bath
It may seem as if no moment is too personal or too private for Megan Fox and Machine Gun Kelly to share with the world. That includes posting a video in January of the rose-filled bath they took together while also showing off matching toenail polish.
9. A little tongue action at the 2021 VMAs
Getting on stage with Kourtney Kardashian to honor their "future baby daddies" wasn't the only thing that Megan Fox did at the 2021 VMAs. She also did was she always seems to do: Went in for a kiss from Machine Gun Kelly who, of course, indulged in a little tongue action.
10. Chained together by their fingernails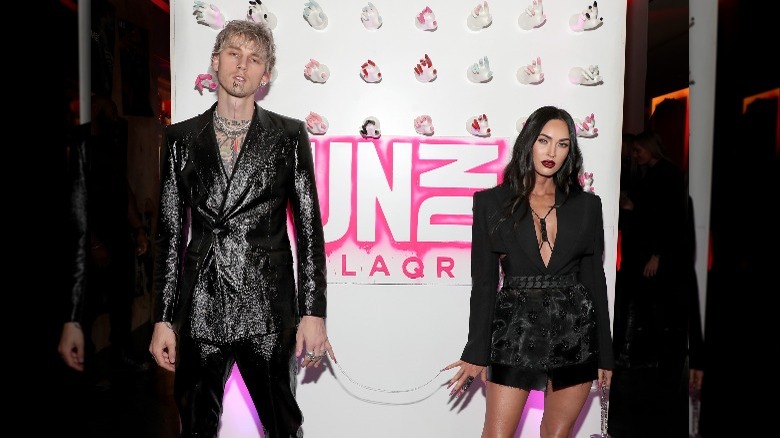 Jerritt Clark/Getty Images
Fashion choices can certainly make a statement. When it comes to Machine Gun Kelly and Megan Fox, they apparently want their style to take their PDA-vibe to the extreme which they did by chaining themselves together by their fingernails while attending the UN/DN LAQR Launch Event in December 2021.
11. Intensely intimate PDA pose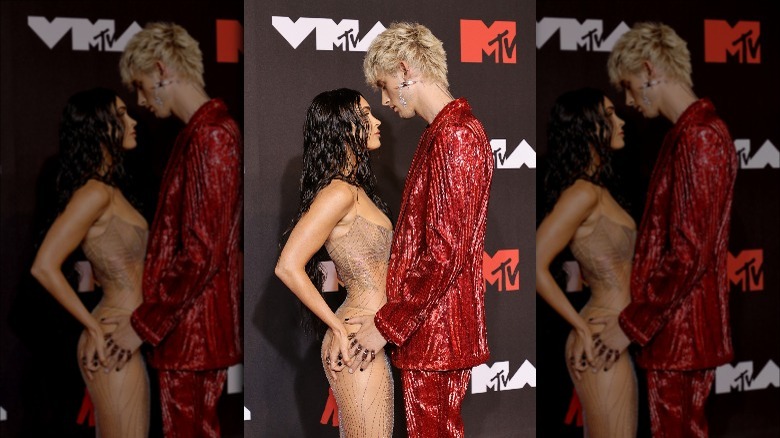 Jamie Mccarthy/Getty Images
In a red carpet appearance that involved his hands nearing her crotch and fully getting a feel of her backside, Machine Gun Kelly and Megan Fox also took some time while arriving at the 2021 MTV Video Music Awards to pose as if no one else was around by staring into each others eyes.
12. Blood-drinking engagement
When Megan Fox and Machine Gun Kelly got engaged in January and shared a video of the (not-so-private) occasion, their make-out session involved a simple kiss. However, it was a (highly curated?) moment that came along with a caption that ended with: "...and then we drank each other's blood." Unsurprisingly, that sparked comments like, "You did what now?"
Clearly, Fox and MGK are very into each other — and if these outrageous PDA moments are any indication, their upcoming wedding is sure to raise some eyebrows.