The Truth About David Eigenberg's Marriage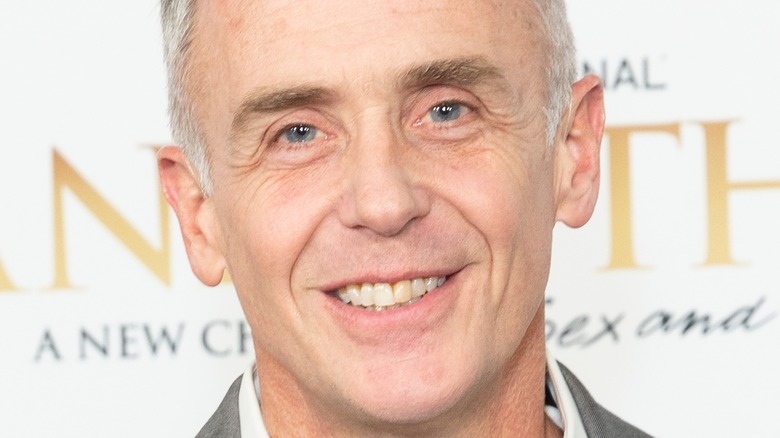 Lev Radin/Shutterstock
David Eigenberg is an actor who made his way into the spotlight with his role as Steve Brady on the HBO series "Sex and the City." He described the experience of becoming famous in a 2008 interview with Entertainment Weekly. "In the public eye, I certainly get seen as Steve, and once in a while someone knows my real name," he said, adding that at a restaurant one night, "These three women were sitting at this table next to us, and they flipped out." He also recalled an encounter with a fan who forgot the name of her own child because she was so overwhelmed to be meeting the actor. Most fans loved his character for the softness he gave to his on-screen partner, Miranda Hobbes. "They're a heartwarming couple without the syrup," Eigenberg told EW of Miranda and Steve.
When the "Sex and the City" reboot was announced in 2021, fans were thrilled to get to see how Steve and Miranda's relationship had evolved over the years. Speaking to Us Weekly in December 2021, the actor said that "it was scary" to film the revival because it had been so long. However, "it was fun" and "great" for him to meet up with the cast again. 
Nowadays, Eigenberg is equally known for his role as Christopher Herrmann on NBC's popular "Chicago Fire." He even moved to Chicago from Los Angeles to accept the role, bringing along his wife, Chrysti Eigenberg, and their two kids.
David and Chrysti Eigenberg weren't immediately meant to be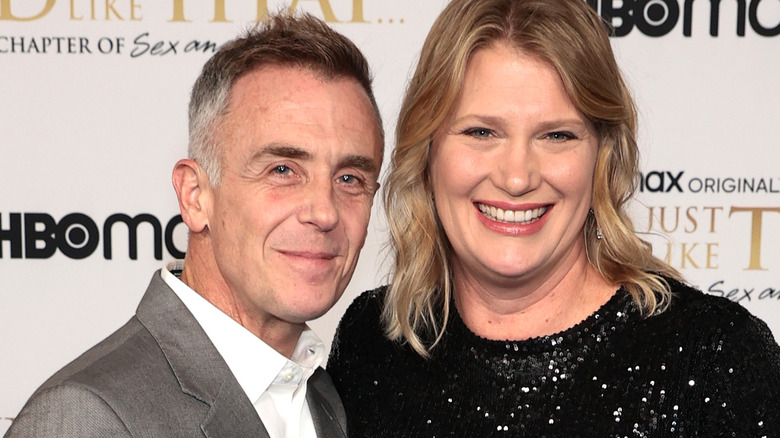 Dimitrios Kambouris/Getty Images
David and Chrysti Eigenberg met shortly after 9/11 in Virginia at an army base where Chrysti was serving at the time, as per The Day. The actor described falling immediately in love with her in an interview he gave to the publication in October 2021. "It just hit me at the core," he said, adding that he had never experienced something like that before. Meeting her was the catalyst he needed to shift the focus away from himself and "commit ... to being engaged with somebody else."
The "Garfield" actor asked Chrysti to marry him just a few months after they began dating and they tied the knot in 2002 at the Russian Samovar in Manhattan. They now share two children together as well: Louie Steven, born in 2009, and Myrna Belle, born in 2014. Despite his demanding acting career, David is a huge family man and enjoys spending time with his wife and kids, which is evidenced by the photos he posts to his Instagram account. In one 2014 post, the family vacationed at a tropical beach resort in Turks and Caicos. David posted a photo of his son looking out over the ocean with the simple caption, "Super cool." He also takes to Twitter to provide updates on his family life, including one adorable post in October 2021 that detailed every Halloween costume Myrna had worn throughout her life.
David and Chrysti Eigenberg's marriage wasn't always smooth sailing
While David and Chrysti Eigenberg have spent nearly two decades together, their marriage has had plenty of ups and downs. In a 2013 interview with Cosmopolitan, the "Chicago Fire" star revealed that their second year of marriage was the hardest. "We fought, I think for a year straight, it was awful," he said. Despite this, the couple stayed together and became stronger as a result. David added, "When the dust settles, and you could still like, forgive each other and communicate  ... there's something in that ..."
It seems like David has a positive outlook on life in general, which definitely helps him get through the rough spots. In an interview with The Day in October 2021, David stated, "I'm not adverse to going through hard times. They come. And my wife and I, we've rolled through them ... we have to learn to adapt." Even after tragedy struck and they lost a baby at 16 weeks, the couple didn't break. Instead, they "had to find [their] way through that" too. 
One of the ways they recommit to one another when things get hard is through their shared love for their children. David told The Day, "My children are the gift that I never dreamed of happening," while Chrysti frequently posts about them on her Twitter account. In one February 2021 post, she wrote, "When contemplating the hardest things in life, I've realized that the best options usually come from children."