The Changing Looks Of Kylie Jenner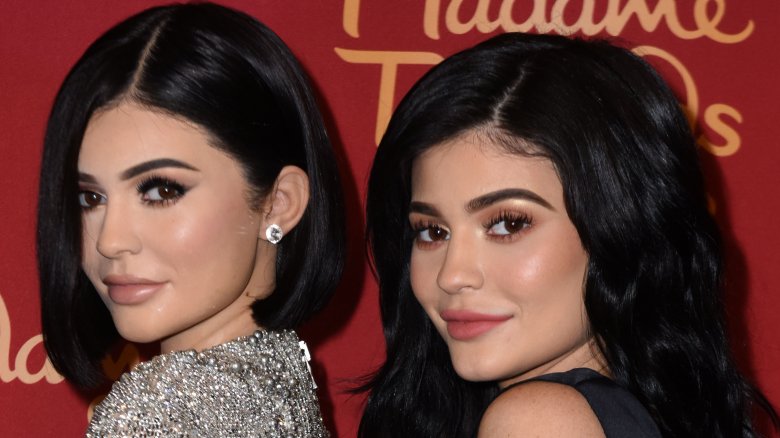 Getty Images
Kylie Jenner has made herself into a beauty icon, a cosmetics queen, and a chameleon—she rarely looks the same from one day to the next, be it a result of a rainbow wig, hair extensions, contouring, or lip injections (about which she may or may not be forthcoming, depending on her mood.) But while her looks change from day to day, they have drastically changed over the years. 
While some of that is to be expected from any girl growing up, Jenner isn't just any girl. She's a satellite Kardashian, and these women are known for their major makeovers. Let's see how Jenner (seen here with a wax figure of her very first Met Gala look from May 2016) has changed her looks over the years.
Tiny tot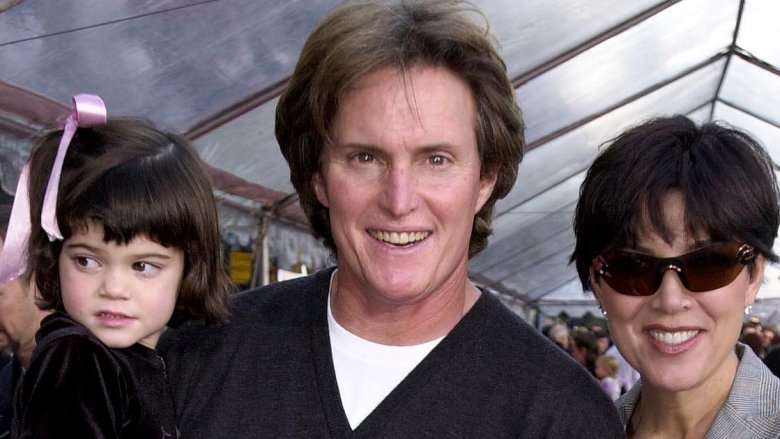 Getty Images
Seen here with dad Bruce (now Caitlyn) Jenner and mom Kris Jenner in December 2000, this may be the very last time we saw Kylie with her natural hair color and without a whole lot of makeup plastered on her cute face. 
We're kidding (sort of.) Check out that sick side-eye! Kylie is clearly already rocking high-profile events with her parents, who were married for 22 years. Their tumultuous divorce was finalized in 2014, but Kris has since released some epic throwback photos of the fam that include adorable shots of Kylie and her siblings.
Cute tween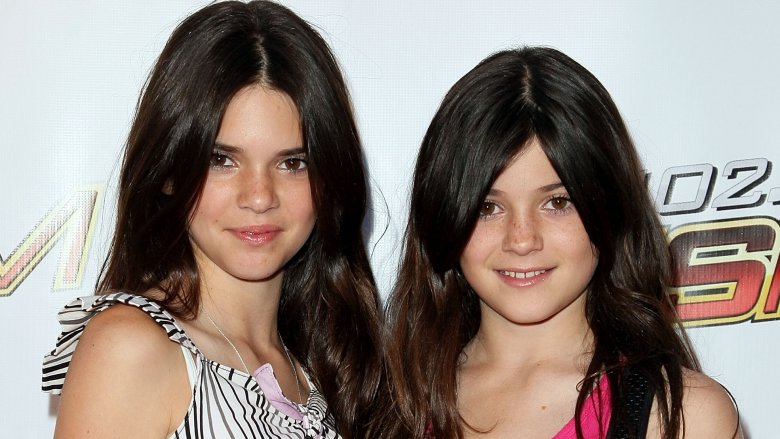 Getty Images
In May 2008, an 11-year-old Kylie looks bright-eyed and adorable with big sis Kendall Jenner at a Wango Tango concert. It looks like she may have started dabbling in subtle hair color by this time, as her ends are just slightly lighter than her dark brown roots. You can still see her adorable freckles, she hasn't had any orthodontic work yet, and her lips are, well, normal. She looks like your average cute tween who hasn't yet succumbed to the pressures of Hollywood...and perhaps her own sisters.
The big 1-2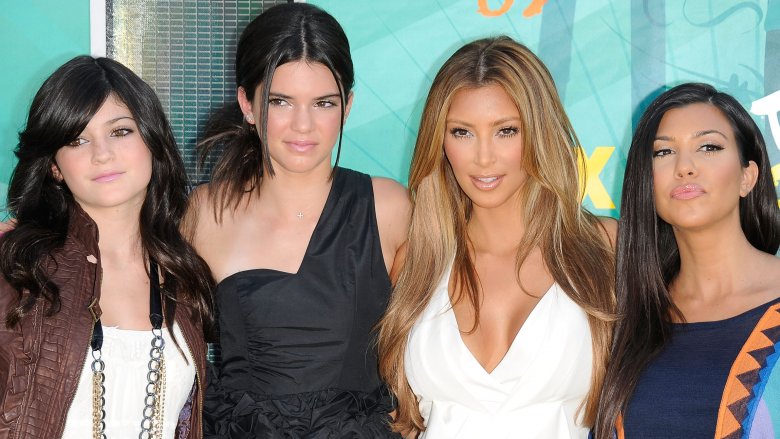 Getty Images
By August 2009, 12-year-old Kylie appears to be using makeup. It's subtle, but super cute: pink lip gloss, a bit of eyeliner, some highlight at the inner corners of her eyes, blush, and mascara. You can still see her freckles and her pretty much perfect skin. She's absolutely fresh-faced in comparison to her sisters, who appear to be rocking full faces of heavy foundation and contour.
Sweet side part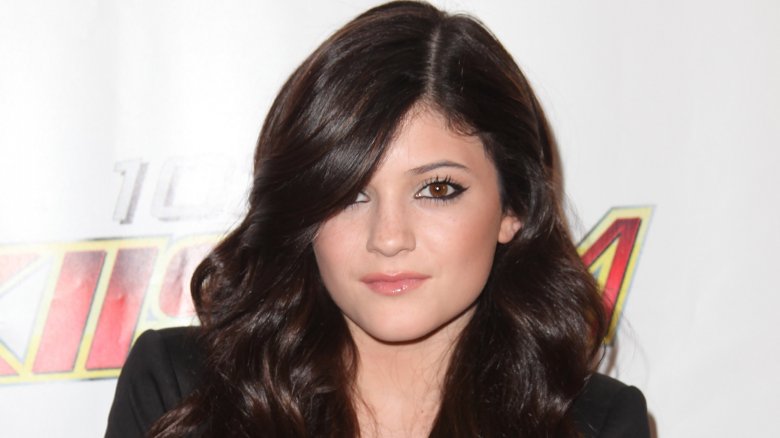 Getty Images
Kylie hints at her inner glamazon in May 2010 with a deep side-part, bouncy waves, and a sassy cat-eye look. Her freckles are in full view, and she still looks her age—just a few months shy of 13.
Lashing out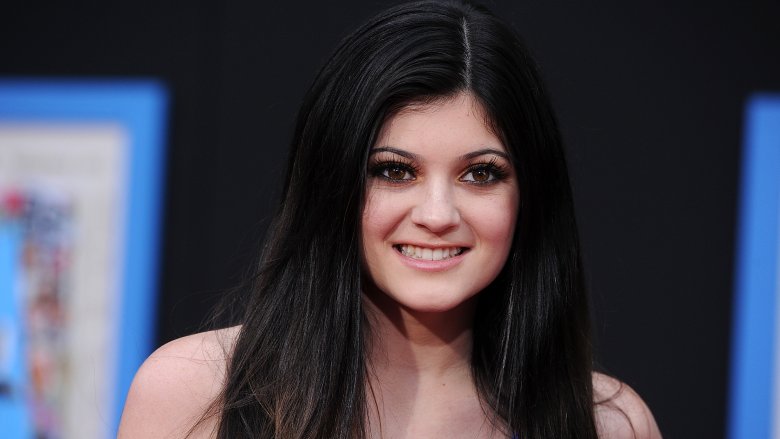 Getty Images
At a movie premiere in April 2011, Kylie sports a slightly darker shade in her hair, nearing jet black. She's filled in her brows just a bit, and her foundation looks a little heavier–you can only see a hint of her freckles, though she's also concealing a few tiny blemishes on her forehead. Her statement look here is her eyes. Kylie rocks false lashes and dark liner, possibly to draw attention away from her lips, which she would later admit (and physically prove) were a source of insecurity for her. She'll stick with this style for another two years.
Seeing red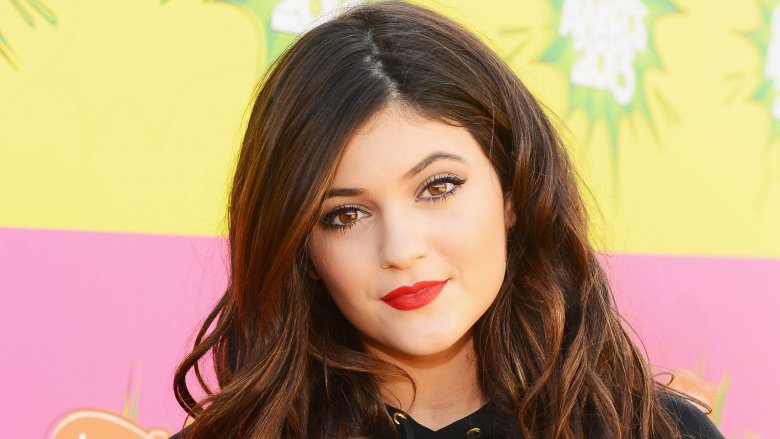 Getty Images
Kylie rocks a red lip on the red carpet at the Nickelodeon Kids' Choice Awards in March 2013, when she was 15 years old. She's sporting a classic Vargas-girl style here, with a subtle cat-eye, a crimson kisser, porcelain skin, and warm highlights in her long waves. Her lips look a bit fuller here than they have before, but it's debatable whether that's a result of strategic lip liner (which is pretty much always a must when rocking red) or lip injections.
Tickled pink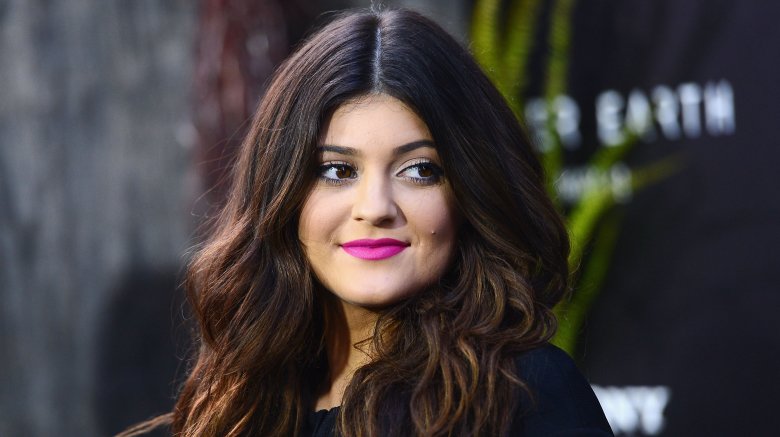 Getty Images
Two months later, Kylie models another bold lip look, this time with a flashy magenta hue at the May 2013 premiere of After Earth. She's wearing a full face of foundation, concealing both her freckles and a few pesky blemishes, and her long, subtle ombre extensions provide a flattering frame for her face.
Going dark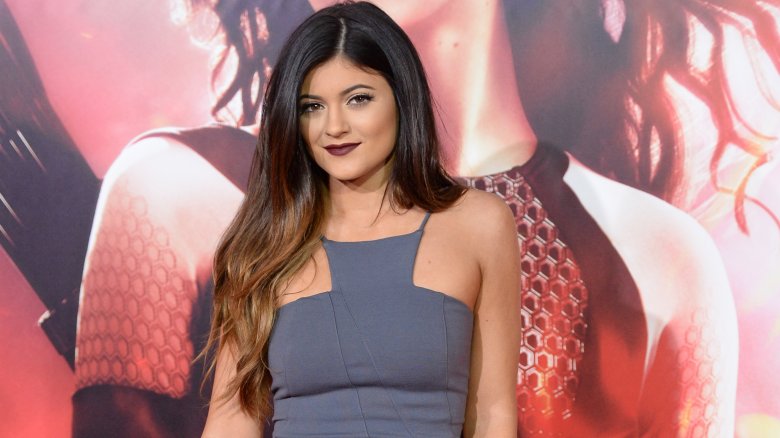 Getty Images
Kylie opts for a deep burgundy lipstick at the November 2013 premiere of The Hunger Games: Catching Fire. Once again, she sports a full face of foundation, long lashes, subtle black eyeliner on her top lids, lightly filled brows, and long ombre locks. By this time, Kylie has also started experimenting with her family's signature contouring, though it's subtle–see her delicately defined cheekbones?
Teal hair, don't care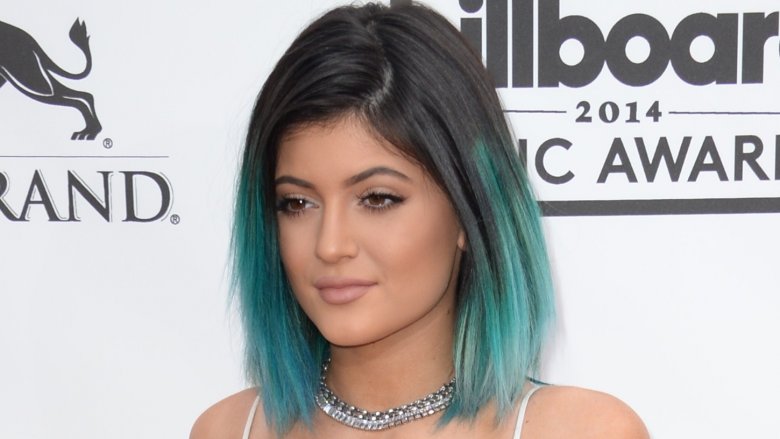 Getty Images
By May 2014, Kylie is owning what would become her signature look for this period. She's ditched the extensions in favor of a shoulder-length bob and rocks teal and blue ombre in favor of her previous brassy blond. She's wearing full-on foundation, brow filler, lashes, liner on top and bottom lids, bronzer, and contour. She's over-lined her lips in a nude shade, though she may be dabbling with fillers around this time as well.
Her new natural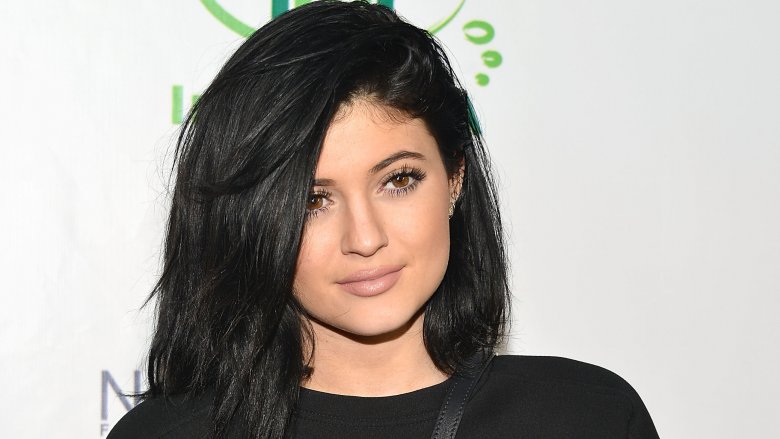 Getty Images
In August 2014, Kylie showcases what will become her equivalent of a fresh-faced look from hereon: a full face of foundation, overlined, pale pink lips, and long, curled lashes, all framed by a black lob haircut. It's a full face of makeup, but it's still a lot less than the world will get used to seeing on her.
Her big, bold lip statement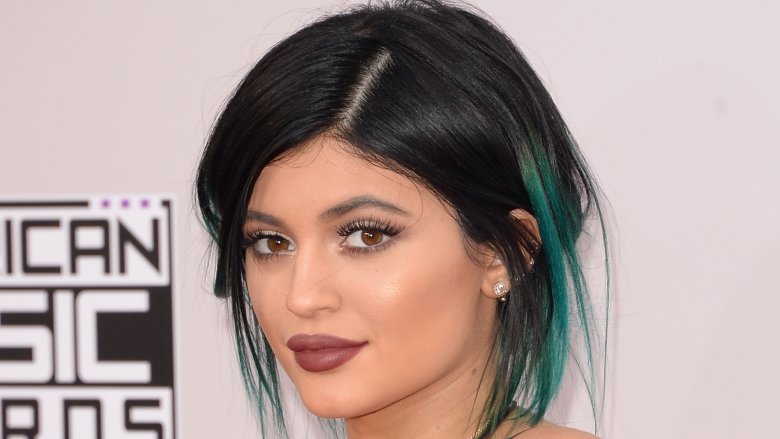 Getty Images
In November 2014, Kylie returns to teal tips in her hair, but that isn't what turns heads when she walks the red carpet at the American Music Awards. Her lips take center stage, looking much fuller than ever before, further accented by their dark wine shade, which matches her extra-revealing gown almost perfectly. The over-the-top pout inspires the disastrous Kylie Jenner Lip Challenge.
Slightly toned down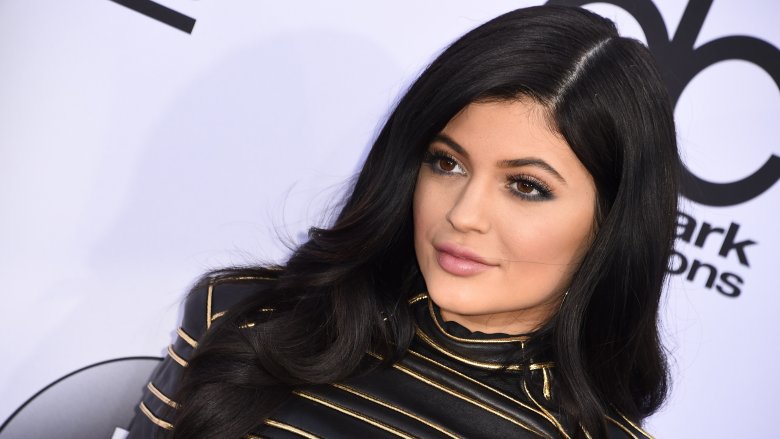 Getty Images
By May 2015, Kylie may have realized she went overboard with her alleged lip fillers. While her pout is still plumper here than it was prior to 2014, it's a far cry from the puffer she sported six months earlier. She complements her pale pink lips here with a soft smoky eye and dark waves. This month, she finally admits to getting lip injections.
During an episode of Keeping up With the Kardashians (via E! News), Kylie says she didn't confess earlier because "Everyone always picks us apart... I want to admit to the lips, but people are so quick to judge me on everything, so I might have tiptoed around the truth, but I didn't lie."
A month earlier, however, she outright denied ever having work done, telling Grazia magazine, "I'm like, 'Stop talking about my lips.' I haven't had plastic surgery. I've never been under the knife." She also noted to Cosmopolitan that January, "You guys have watched me grow up since I was 9. My face is going to get different. Now, I know how to do my makeup, contour, and everything."
Old habits die hard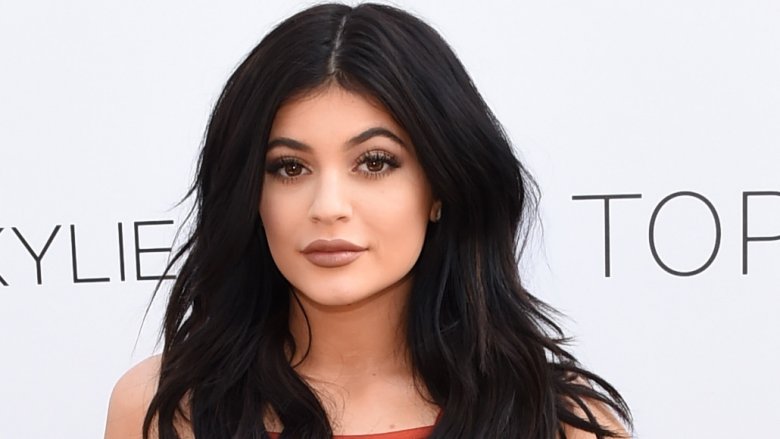 Getty Images
Though her lips seemed to deflate a bit in May 2015, a month later, they appear super-sized again. Whether the result of over-lining, fillers, or a combination of the two is up for debate, but everything in this look is heavy: the brows, the foundation, the lipstick, and even the hair.
Bangin'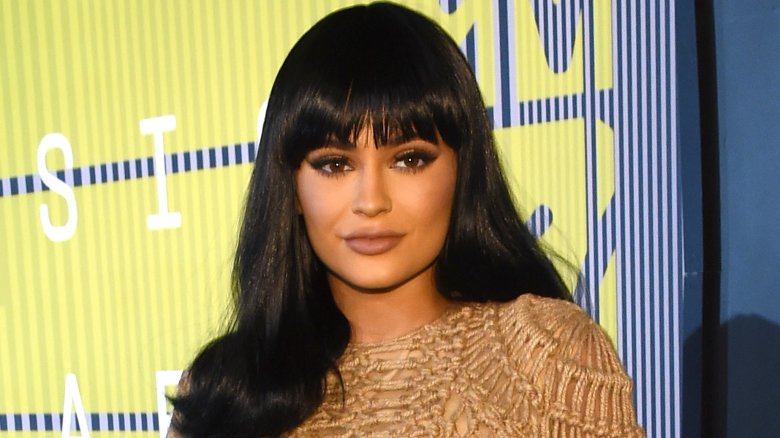 Getty Images
At the MTV Video Music Awards in August 2015, Kylie rocks full bangs, heavy lashes, bold lips, and heavy contouring, bronzer, and foundation, as well as shimmery bronze lids and heavy black eyeliner. The look evokes a combination of 1960s mod and, well, Real Doll. Her appearance prompts many to speculate that she's had more work done than just her lips, which she denies to Wonderland magazine (via The Sun).
"People think that I've had everything done. I thought it was going to chill down when I said, 'OK, I admit it, I got my lips done, I never lied, I just wasn't telling the whole truth,'" she says. "And then people took that and were like, 'Oh well, if she got her lips done she probably got everything done.' People don't realize I just turned 18, so there's no way my mom would ever let me undergo a nose job or boob job."
Blonde ambition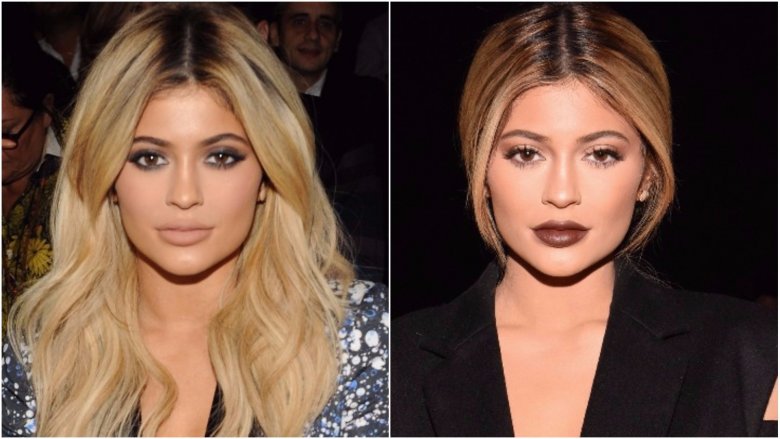 Getty Images
A month later, in September 2015, Kylie steps out with blonde hair and slightly darker roots for New York Fashion Week. Embracing warm tones, she opts for full matte foundation, bronzer, and contouring for this period, complemented by smoky eyes and nude lips that seem only slightly fuller than nature intended for her. The same week, she works a warm, honey tone to her hair as well as full-blown brown lips.
Going green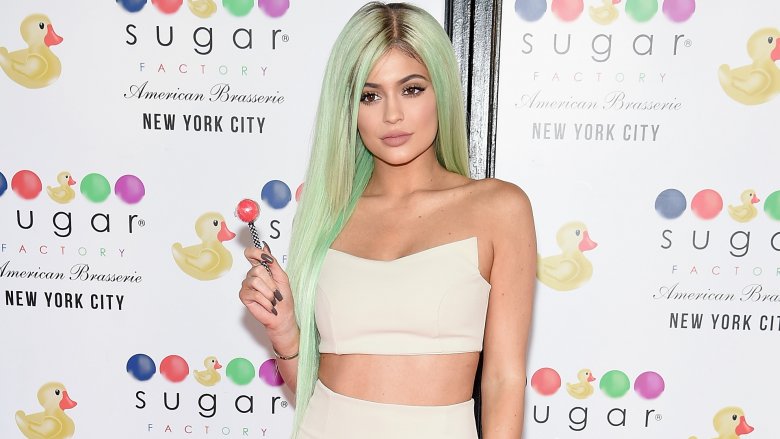 Getty Images
Just after New York Fashion Week in September 2015, Kylie debuts a green wig for the opening of a Sugar Factory shop in New York City. To complement the bold hairstyle, she keeps her makeup relatively low-key, opting for a matte look and a pinky-nude lip. 
The same month, Kylie confesses to The New York Times about previously going overboard with her lip injections, but toning down her look with a new surgeon. "I still do Juvéderm for my lips," she says. "[My new doctor is] the best, and he's super natural about it. I was going to somebody before, and it was just looking crazy. I would recommend that anyone who gets it done go for a filler that lasts only two to four months. It's annoying to keep going back, but you have the option of stopping it."
Pink lady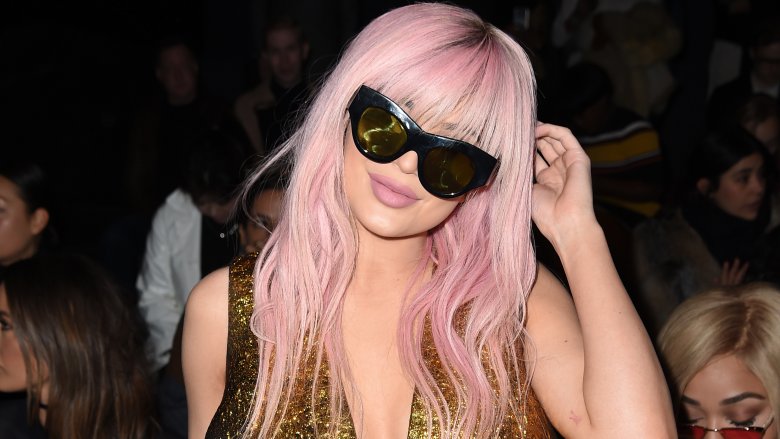 Getty Images
Continuing her colorful wig kick, Kylie sports a pink banged style in February 2016 at New York Fashion Week, matching her much-talked-about pucker to her hair color.
Her first Met Gala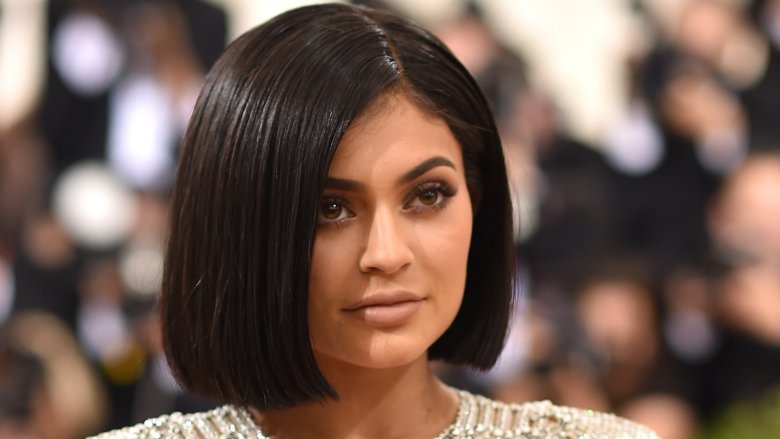 Getty Images
For Kylie's very first trip to the New York Met Gala in May 2016, she looks like her modern self: short black bob (perhaps inspired by the head honcho of the annual soiree, Anna Wintour,) as well as a heavy but not overwhelming makeup look, featuring a brown smoky eye, a nude lip, defined lashes, and filled brows.
Back to blonde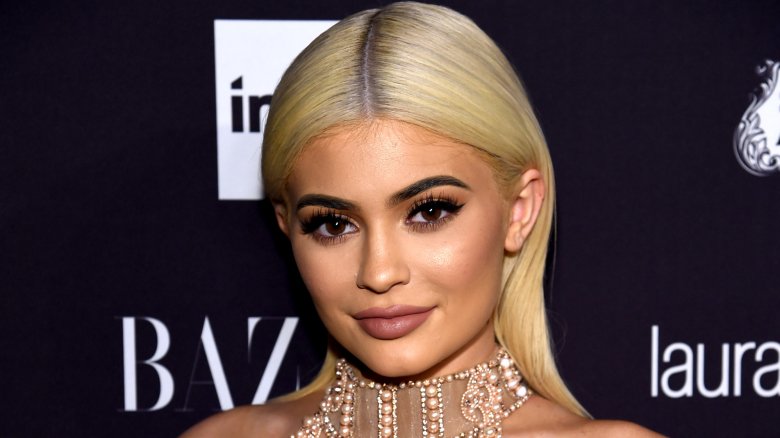 Getty Images
Kylie brings back the blonde for New York Fashion Week in September 2016 at the annual Harper's Bazaar Icons party. She combines her new hair color with her usual heavy makeup, this time opting for touches of highlighter instead of an all-over matte finish.
She opens up more about her lip procedures in a Complex cover story. "It has been an insecurity of mine all my life... This guy I kissed was like, 'Your lips are really small,'" she says. "From then on, I just felt like I saw guys staring at my lips. I felt like no one wanted to kiss me."
As for why she lied, she explains, "I wasn't even 17 yet. What if I came out and said, 'Oh, yeah, I got my lips done'? What are all those moms going to think about me? These kids, my fans, they're going to think I'm crazy. I didn't want to be a bad influence. I didn't want people to think you had to get your lips done to feel good about yourself. But they thought it was crazier that I was lying about it because it was so obvious. I wish I had just been honest and upfront."
She says, "When you first get them done, you're like, 'Oh, it could be a little bit bigger on that side.' I'd go back and be like, 'They went down' and think they could be bigger. But I went too far. It was very painful." She adds, "It's annoying to hear every day that you're just this fake, plastic person when you're not. Every single day there was a news story about me."
Cheeky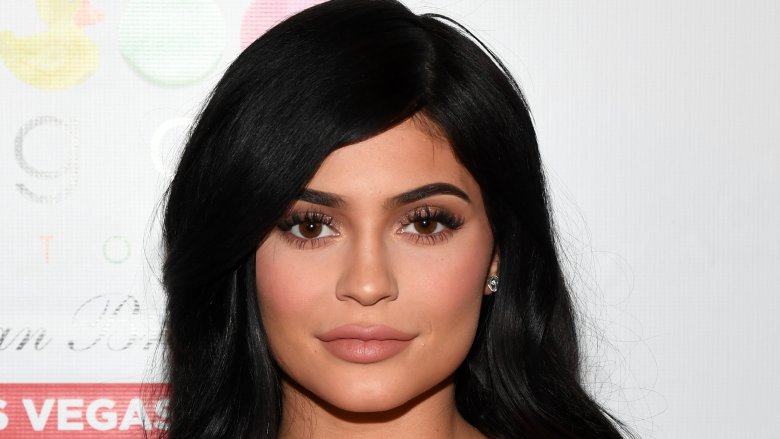 Getty Images
By April 2017, Kylie has returned to her signature black-brown bob, but her face appears a bit different: Notice how broad her mug looks? Her cheekbones are much more defined than they were previously, though it's unclear if this is the result of heavy contouring or if she's had some work done. Her lashes are ultra-curly and long, accentuated by a sparkly bronze eyeshadow and heavily filled brows.
Her second Met Gala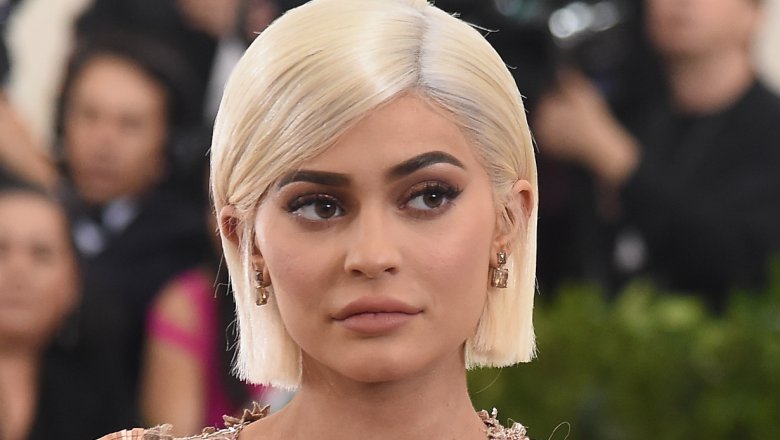 Getty Images
For Kylie's second trip to the Met Gala, this time in May 2017, she models a heavier style than her first. Her bob is now peroxide blond and slicked to a slight side part. Her makeup, especially her brows, are noticeably heavier, and she sports a brown smoky eye, slightly-darker-than-nude lip, and bright pink blush.
Hot mama to be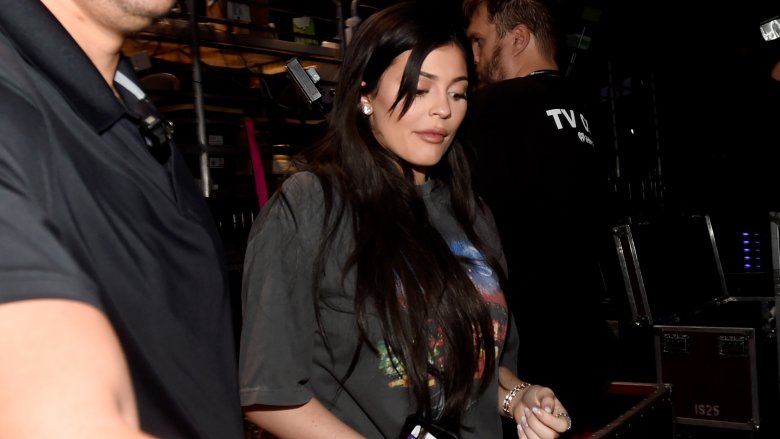 Getty Images
By September 2017, 20-year-old Kylie was keeper an uncharacteristically low profile. When she finally emerged, she was back to long, dark hair, as well as her signature heavy makeup, but she was also seen sporting unprecedented baggy outfits. 
This was likely an effort to conceal her baby bump. Jenner initially kept mum about her pregnancy with rapper Travis Scott, who she was on her way to see in this photo snapped at the iHeart Radio Music Festival.
On Feb. 4, 2018, Jenner finally went public about the reasons behind her quiet pregnancy and announced the birth of her daughter, Stormi Webster. The new mom told her millions of Instagram followers, "I understand you're used to me bringing you along on all my journeys. My pregnancy was one I chose not to do in front of the world," she said. "I knew for myself I needed to prepare for this role of a lifetime in the most positive, stress free, and healthy way I knew how."
Ten days later, Kylie was posting lux photos of herself again, so it looks like we can bank on her exciting style evolution resuming in the public eye.