Aaron Carter Opens Up About Estranged Relationship With Brother Nick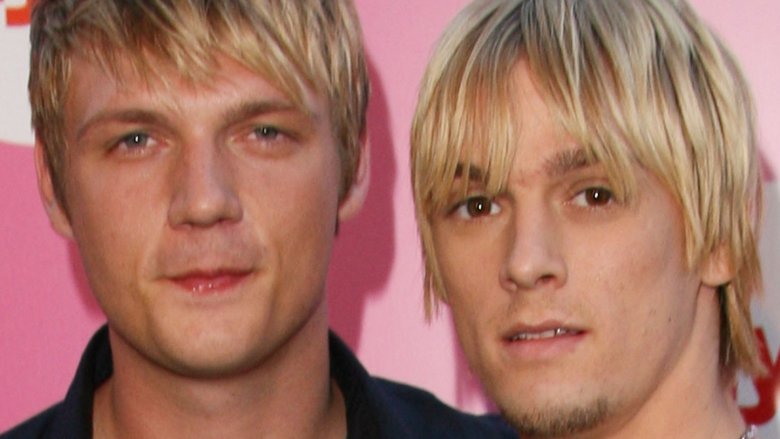 Getty Images
Following Aaron Carter's recent arrest in Georgia, his already strained relationship with his Backstreet Boy brother Nick has reached a breaking point.  
The former child star, who was arrested for allegedly driving under the influence and possession of marijuana on Saturday, July 15, 2017, explained his side of the story to Entertainment Tonight on Tuesday, July 18. During the exclusive interview, he addressed, well, one of the many elephants in his room — namely, the famous brothers' awkwardly heated Twitter standoff over the weekend.
"Nick made no efforts to call me, and he knows how to reach me," the 29-year-old began. "I don't need Nick's help. I don't need that. I don't need help," he argued. "What I need is for people to understand that I'm human and I make mistakes just like every other human in this world."
As for a possible reconciliation? Unfortunately, the younger Carter sibling isn't counting on it. "I think there's too much animosity," the "Sooner or Later" singer revealed. "There's too much conflict of interest."
But despite their tumultuous relationship, Aaron insisted he has nothing but love for his older brother. "I will always love you," he expressed. "And I will always have forgiveness in my heart for you. And before you read tabloids and you make assumptions, you should reach out to me."
As Nicki Swift previously reported, the elder Carter brother took to Twitter hours after Aaron's arrest. "To my brother," the 37-year-old wrote. "I love u no matter what & if u feel the need to reach for help, I am here and willing to help you get better."
To my brother: I love u no matter what & if u feel the need to reach for help, I am here and willing to help you get better.

— Nick Carter (@nickcarter) July 16, 2017
Nick then added, "Family isn't always easy, [but] we're all here for you."
However, Aaron did not take too kindly to this. In a statement released via Twitter, the "I Want Candy" singer addressed his brother's very public expression of concern. "If my own blood truly cared about my well-being, why wouldn't he call me directly and have a conversation instead of making this about him through a very public forum?" he wrote. "That's not cool at all to use me for his PR and kick me while I am down. I love my family despite it through thick and thin."
Thank you ALL for your prayers & well wishes. I am so sorry to all my fans that I missed. The truth will come out! Read my statement here: pic.twitter.com/XaiKqUeXxh

— Aaron Carter (@aaroncarter) July 17, 2017
We hate to see the "Not Too Young Not Too Old" Carter bros. feuding! Here's hoping the talented duo can work through their differences.