Sketchy Things Everyone Just Ignores About Jennifer Lawrence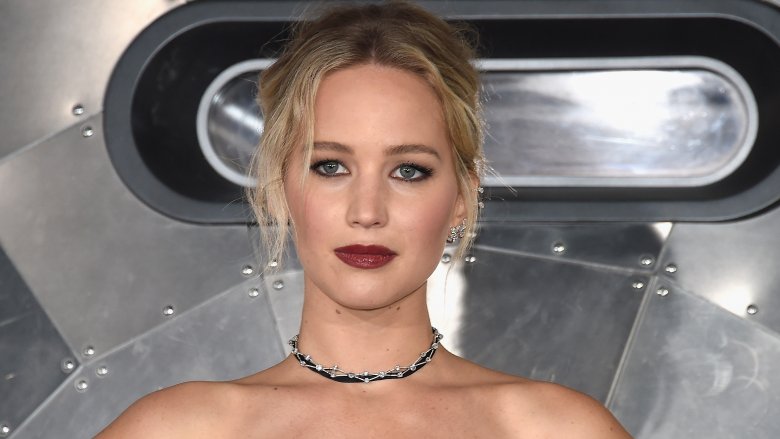 Getty Images
It seems like actress Jennifer Lawrence can do no wrong. She's beautiful, she's likable, she has an Oscar under her belt (and a slew of nominations)—she's pretty much perfect, right? Wrong. Even J-Law has a shady side. Here are some of her most side-eye worthy attributes, including potential transphobia, mockery of religions and cultures foreign to her own, and fibbing about her pay to make a supposedly empowering feminist statement.
She was insensitive to the trans community
In November 2012, Lawrence appeared on Ellen and talked about her female cat that she claims acts masculine. She blabbed, "I've never met a cat where you assume first that it's a boy. Because normally dogs are boys and cats are girls. But she has such a masculine energy that everybody always says 'he' and for the first week I thought it was a boy. I named her Oliver; she had a collar with Oliver. Oliver, Oliver, Oliver. And that's just weird for a cat. So we call her Chaz Bono."
Host Ellen DeGeneres was visibly uncomfortable and gently tried to educate Lawrence on the fact that tri-color cats are female before quickly changing the subject. If Lawrence's original comment wasn't ill-advised enough, the episode was taped on the national Transgender Day of Remembrance. Ouch!
She desecrated a sacred site, then laughed about it...
While filming one of The Hunger Games movies in Hawaii, Lawrence seriously disrespected a sacred site, then bragged about it on TV.
"We were filming in Hawaii, and there were these sacred rocks...and you're not supposed to sit on them because you're not supposed to expose your genitalia to them," she giggled to The Graham Norton Show in December 2016. "I, however, was in a wetsuit for this whole shoot...oh my God, they were so good for butt-itches! One rock that I was butt-scratching on ended up coming loose. It was a giant boulder and it rolled down this mountain and it almost killed our sound guy. His whole station got destroyed...and it was a huge dramatic deal, And all the Hawaiians were like, 'Oh my God, it's the curse!' and I was like, 'I'm your curse. I wedged it loose with my a**."
Lawrence's cultural insensitivity didn't go unnoticed. Many native Hawaiians were furious with the actress.
...even though she was warned about it in advance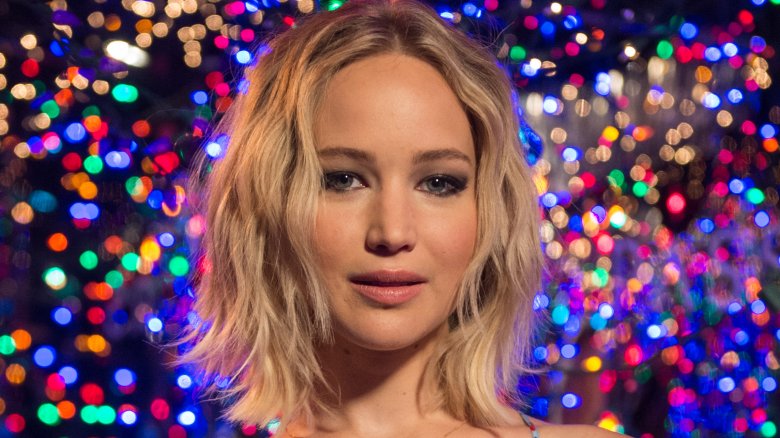 Getty Images
Hawaiian cultural expert Kahokule'a Haiku explained to People, "It's an ancient Hawaiian living site and there are several hundred burial caves right in that area. The caves contain the bones of our ancestors — but not just any ancestors. They are called Kahuna. These were the astronomers, navigators, and doctors of the time. They were the Einsteins and Marconis of Hawaiian culture. And they were filming just a few yards away."
Haiku added that the boulder Lawrence caused to fall was "maybe a little bigger than a basketball. It did go down a hill, and almost hit a sound guy and his cart, which freaked everybody out...I'm the one who did the cultural briefing on set and I told her and the whole production staff not to sit on the rocks. I did kind of scold everyone in the area to be more careful. I actually had them take the rock and put it back up the hill. We were pretty serious about it, but they seemed to think it was funny."
Her 'apology' wasn't legit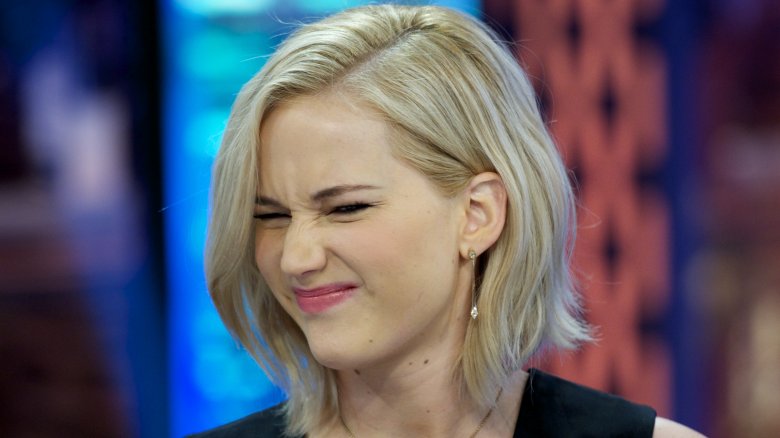 Getty Images
Lawrence issued an apology after she faced backlash for the Hawaii incident, but her wording was telling and even a bit flippant. "From Jen, to the internet: I meant absolutely no disrespect to the Hawaiian people," she wrote on Facebook. "I really thought that I was being self deprecating about the fact that I was 'the curse,' but I understand the way it was perceived was not funny and I apologize if I offended anyone."
She didn't say sorry for rubbing her behind all over a sacred site and disrespecting local culture and beliefs — she apologized for offending anyone. There's a big difference between the two.
She dissed Lindsay Lohan for no reason
Let's be honest: Lindsay Lohan is a pretty easy target, so when Lawrence dissed her in a December 2015 appearance on The Late Show With Stephen Colbert, the joke fell a bit flat.
She told Colbert, "I get like, Lindsay Lohan-grade exhaustion, but without any drugs or alcohol."
Lohan's sister, Ali, tweeted after the episode aired, "I never breathe life into negativity but I stand by my family. Disappointed in Jennifer Lawrence. You lost a fan." Lilo herself replied to her sis with a photo of the Maya Angelou quote "You may shoot me with your words, you may cut me with your eyes, you may kill me with your hatefulness, but still I rise," adding, "Thank you sister...Maybe who you're referring to should learn to support others like #mayaangelou."
Even Dina Lohan got in on the indignance, telling Entertainment Tonight, "We love Jennifer Lawrence, we have always been fans of hers. It was all unfortunate that she used Lindsay as a reference of not showing up to set, and that whole bit. It was disappointing that she didn't have her peers' back. You shouldn't trash anyone, it was just surprising. My family sticks together."
She talks a lot of smack about other stars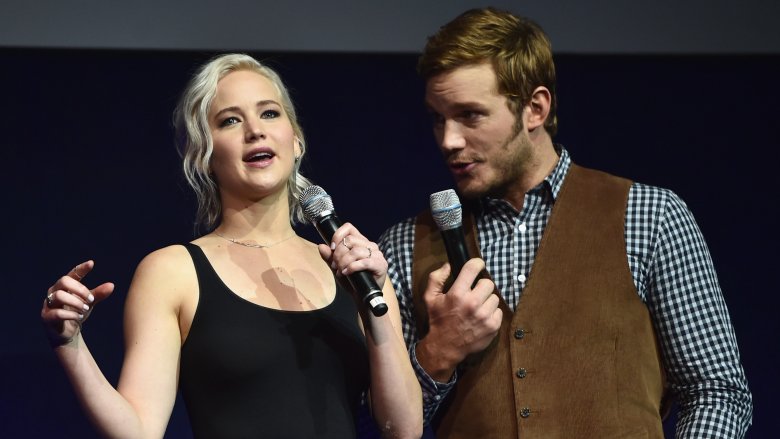 Getty Images
In a December 2016 appearance on Watch What Happens Live with Andy Cohen, Lawrence and her best friend, Laura Sampson, engaged in a game called "Shush You BFF Lush," in which Lawrence is asked to dish on the meanest thing she's ever said about another celebrity without actually revealing who that celebrity is. 
"There's somebody that we...there's a lot of nicknames for certain celebrities. There's the Lady, there's Pickle," Simpson revealed. Lawrence added, "Well, the Lady has different variations...the Raging Lady, the Lady in Red, the Lady in Waiting." Basically, it sounds like J-Law and her BFF have issues with other female stars.
Her wage gap argument had a lot of holes in it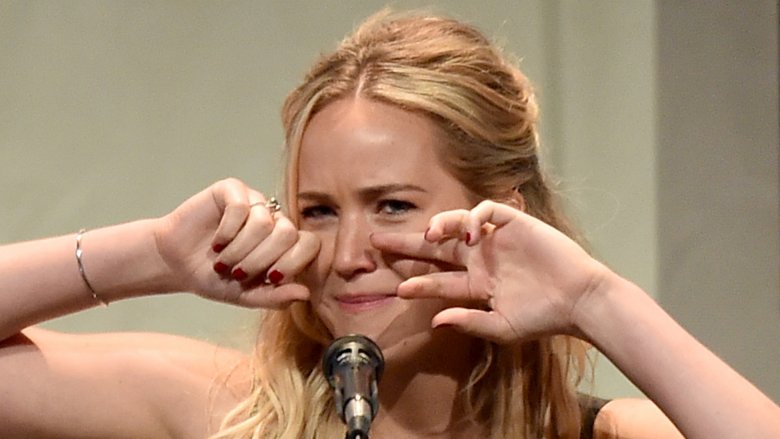 Getty Images
When Lawrence penned an essay for Lena Dunham's Lenny Letter newsletter about making less money than her male co-stars for American Hustle (2013), it was celebrated as an overdue call to end the gender wage gap. However, Lawrence admitted within the essay itself that she didn't try to negotiate her salary at all.
What's more, Deadline reported that Lawrence was paid $1.25 million for 19 days of work, $250,000 in deferred compensation, and 7 percent of the film's gross after it turned a profit. Co-star Bradley Cooper was paid $2.5 million for 46 days of work and got 9 percent of the post-profit gross. Christian Bale worked 45 days for $2.5 million and 9 percent of the post-profit gross. Cooper, Bale, and director David O. Russell took percentages off of their post-profit grosses for the film to bolster Lawrence's salary.
In fact, only Amy Adams, the film's actual female lead, had room to complain. She worked 45 days and got $1.25 million and 7 percent of the post-profit gross — the same pay as J-Law for more than twice the days on set.
Another reason Lawrence's complaints may not hold water? Deadline noted she was paid $20 million for Passengers (2016) — roughly $5 million to $7 million more than her male co-star Chris Pratt. While this doesn't mean there isn't a gender gap in Hollywood or elsewhere, it may mean that Lawrence, in particular, isn't exactly a victim of it.
She let herself be miscast
When critics pointed out that Lawrence was a little young to play a single mom in American Hustle (at 23 years old) and the then-40-year-old Joy Mangano in Joy (at 25 years old), she laughed it off on an episode of Live! with Kelly and Michael. "David [O Russell] is making something right now and the plan, so far, is for me to play Bob De Niro's mother...I think that the more people give him crap about me being too young for his parts, he's like, 'Oh yeah, watch this' — so we'll see." 
This wouldn't be as big of a deal if Lawrence hadn't just come out against sexism in the entertainment industry. Ageism and sexism go hand in hand when it comes to casting females in movies, but that doesn't seem to bother J-Law because it hasn't directly affected her yet. We'll see if she changes her tune when she hits 50.
She loves working with an alleged abuser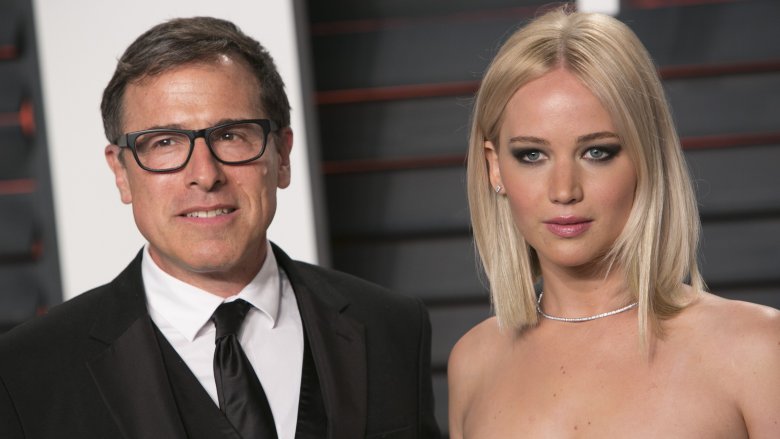 Getty Images
Lawrence told Entertainment Weekly she loves David O. Russell so much that she "tears up" whenever she talks about him. That may be because she has a better relationship with him than most actors do. The New York Daily News reported that leaked Sony executive emails revealed that Russell "abused" Lawrence's American Hustle (2013) co-star Amy Adams so much that co-star Christian Bale had to intervene. Actor George Clooney admitted to punching Russell in the face after he was "abusive" to his castmates and crew on the set of Three Kings (2009), and video footage surfaced of Russell screaming at actress Lily Tomlin while filming I Heart Huckabees (2004).
Russell's rumored bad behavior isn't limited to movie sets, either. TMZ reported that Russell was under investigation in 2012 for allegedly groping his transgender niece. 
Russell isn't the only controversial director for whom Lawrence has deep affection. She told Vanity Fair in 2014 that she "worships Woody Allen"—the same Woody Allen who was accused of sexually abusing his stepdaughter and married his ex-girlfriend's adopted daughter.
She may lie a lot
When trying to be relatable, Lawrence sometimes has a hard time telling the truth. For example, when she told a story on Late Night with Seth Meyers about getting drunk and vomiting at Madonna's 2014 Oscars after-party, she said Miley Cyrus told her to "get it together." It would be a somewhat amusing anecdote if it were true, but Cyrus herself tweeted that the incident never happened.
That wasn't the only time Lawrence used another celebrity's name in a fictionalized account. She also claimed to have followed John Stamos around at a party. "I started really freaking out," she told late night host Conan O'Brien. "And he asked me if I was on mushrooms and I said, 'No. I'm dead sober. This is just me'...I just kept smiling and being like, 'Dude...Uncle Jesse.'" When the Full House star was asked about the incident, he was diplomatic, tweeting that he was "totally oblivious."
She talks about drinking like it's new
Rarely an opportunity goes by that Lawrence isn't reminding the world of how much she likes booze, because she's like, so edgy and relatable you guys! She announced to USA Today that Budweiser is usually her drink of choice. During a Vanity Fair interview, she asked for a Corona. She announced at the 2013 Oscars that she took a shot backstage before doing the press line. She even took two shots on the red carpet at the premiere for The Hunger Games: Mockingjay Part 2 (2015). We get it, J-Law. You drink. That stopped being edgy or interesting once you graduated high school.
She may be racially insensitive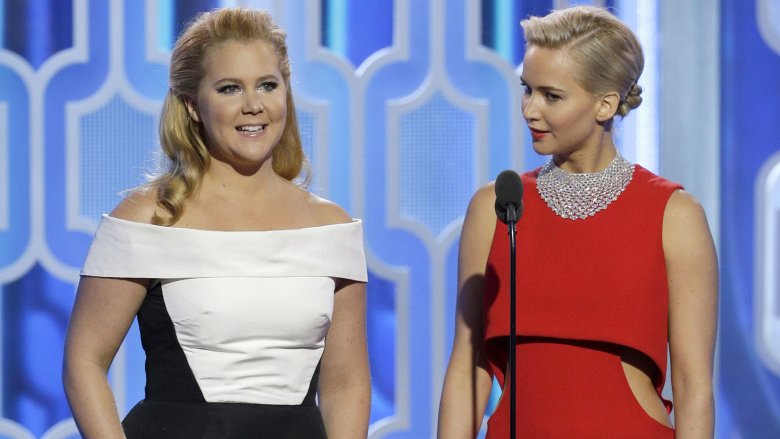 Getty Images
In an interview with Entertainment Weekly, Lawrence revealed that she and BFF Amy Schumer are working on a screenplay together, and, well, it sounds less than promising. "Amy and I play sisters, and we go on a roadtrip to reconnect with our brother and...there's a twist. It's really hilarious, and it's incredibly offensive. I've already come up with the tagline for the movie that can go on posters: 'Minorities will be offended, and so will all white people.'" Believe it or not, it's possible to be funny without being racist. Unfortunately, with Lawrence's shadiness and Schumer's penchant for shocking and often tasteless jokes, it's probably safe to assume J-Law wasn't exaggerating her description.
She has poor taste in TV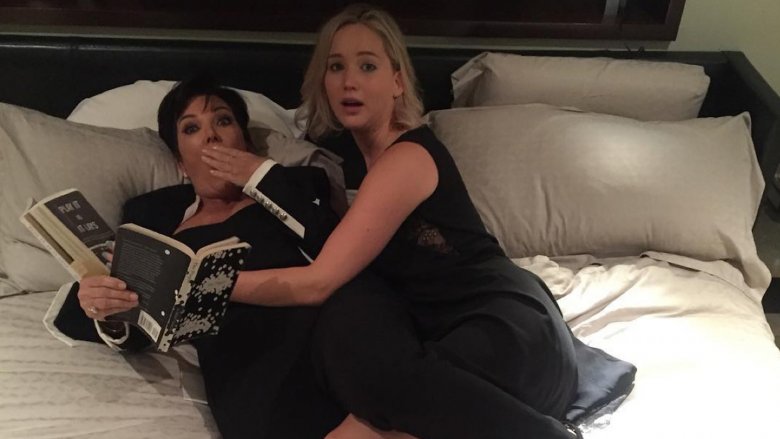 Instagram.com/krisjenner
It's not the most egregious offense, but Lawrence is an outspoken fan of Keeping Up with the Kardashians — it hurts for us to even write that. In summer 2015, the Oscar winner was photographed in bed (jokingly) with matriarch Kris Jenner. In 2012, Lawrence told Marie Claire South Africa, "When I'm out, I think about my couch. Am I missing a new episode of Keeping Up with the Kardashians? I'm just stressed by the idea of missing them."
Her falls may be fake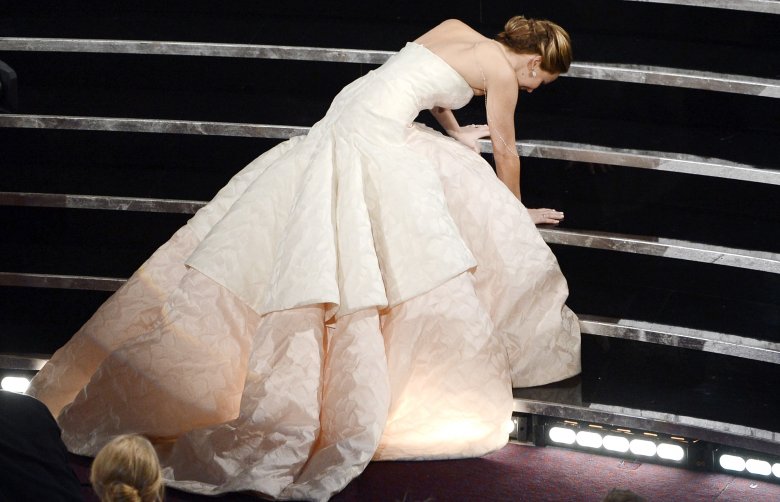 Getty Images
When Lawrence tripped on her way up the stairs to accept her Oscar in 2013, it was endearing and adorable...and then it just kept happening. At the 2014 Oscars, she fell on the red carpet, leading even Jared Leto to ponder, "I wonder if it's all an act." There may even be evidence that it is.
For her part, Lawrence may be the lady that doth protest too much. When asked about her allegedly deliberate clumsiness, she told Marie Claire, "I'm trying to do the right thing, waving to the fans, trying to be nice, and there's a traffic cone. The second I hit it, I was laughing, but on the inside I was like, 'You're f**ked. They're totally going to think this is an act.' If I were Jared Leto, I would completely agree. But trust me, if I was going to plan it, I would have done it at the Golden Globes or the SAGs. I would have never done it at two Oscars in a row. I watch Homeland — I'm craftier than that!"