Who Is Cooper Kupp's Wife, Anna?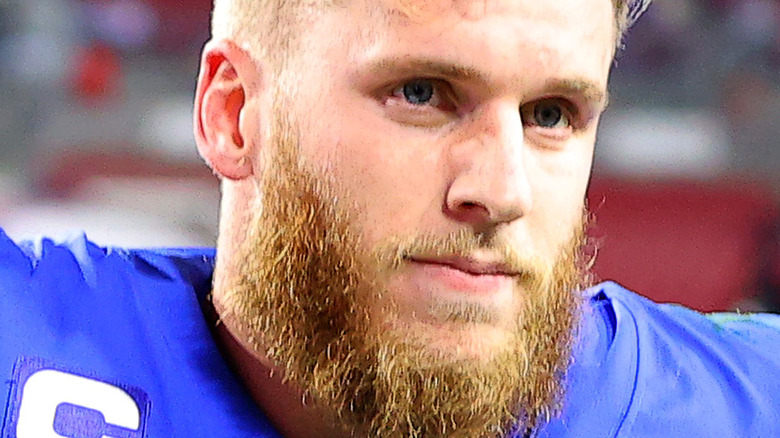 Kevin C. Cox/Getty Images
With Super Bowl Sunday on the horizon, all eyes are on the Los Angeles Rams and the Cincinnati Bengals. Both teams are stacked with superstars — from the Bengals' Joe Burrow and Ja'Marr Chase, to the Rams' Matthew Stafford and Cooper Kupp — but it's Cooper that's truly having a season for the history books. According to Bleacher Report, the wide receiver had over 90 receiving yards in his ninth consecutive game as of December 2021, tying with the likes of Odell Beckham Jr. "for the longest streak in 70 years." Following that game (against the Arizona Cardinals), quarterback Stafford called him "fantastic" in a postgame interview. "Great player, great teammate for us. Does a lot of the dirty work for us," he added (via NFL.com).
Since then, Cooper has shown no signs of slowing down — and if anything, he's kicked his game into high gear. His already record-breaking season reached historic proportions in the postseason when CBS reported that he became the first wide receiver to reach 2,000 receiving yards in an NFL season. Cooper also joined an elite roster of talent after clinching the coveted "triple crown" — meaning that he is first in the league in receptions, receiving yards, and receiving touchdowns. In the words of head coach Sean McVay, per USA Today, "He's incredible. He really is." However, Cooper has been adamant that he wouldn't have achieved such meteoric success without his better half, wife Anna Kupp.
Anna Kupp supported her husband financially in college
Plenty of NFL stars have been with their wives since high school, but Anna Kupp has sacrificed for her partner in ways that few couples do. "I supported us monetarily through college," Anna told ESPN, explaining that then-boyfriend Cooper Kupp needed to focus all of his free time on playing football. "I was working full time so that he didn't have to worry about that, so that he could focus," she added. Per New York Post, she also watched film with Cooper, and even slipped game-day goodie bags into his teammates' lockers ahead of their games.
Cooper didn't take her hard work lightly. "Without a doubt, there's no doubt in my mind, not only would I not be here where I am today without her or accomplishing the things that I would be doing," he gushed, per ESPN. "[But] I may not be in the NFL if it wasn't for her and what she has inspired in me and pushed me to do."
Clearly, Anna is his biggest fan and Cooper is hers. On the day that her husband was drafted to the Los Angeles Rams in 2017, she shared a boomerang of the two of them kissing, headlined by the simple caption: #18. More recently, Cooper hasn't been shy to share affection for his love on social media. "Happy anniversary to my journey woman," he captioned an Instagram photo of Anna in June 2021. "To infinite steps taken side by side. I love you!!"
Cooper Kupp always knew that Anna was the one
According to ESPN, Cooper and Anna Kupp (née Croskrey) met at a high-school track meet, and Cooper knew instantly he'd met his future wife. "I told my mom the day I met her, 'I'm going to marry this girl," Cooper told ESPN of their meet-cute. The couple weathered a brief long-distance spell in college, before reuniting at Eastern Washington and tying the knot in 2015. Though they were just 21 and 22 years old at the time, the wedding wasn't a surprise to their friends. "They were a team," Cooper's former college teammate, Zach Wimberly, told ESPN. "No matter what they did, they're doing it together."
Now, nearly seven years after marrying, the two retain this spirit of partnership. In fact, they seem more in love than ever. "I was telling him the other day," Anna gushed to ESPN in January, "I was saying I'm proud of you in all the moments." It's this pride and love that sustains Cooper. "I don't think there's a Cooper without what Anna's done for him," his high school friend Austin Wagner told the same outlet. "She's a person that really expects a lot out of the people around her and has kind of a high threshold for excellence ... Cooper works harder because of that."
The couple shares two young sons, and Cooper told the NFL Network in 2018 that becoming a dad was an "absolutely incredible experience" and "life-changing." He often posts on Instagram about his family, once describing them as "Blessings on Blessings on Blessings."