What's The Real Meaning Of Lose Yourself By Eminem? Here's What We Think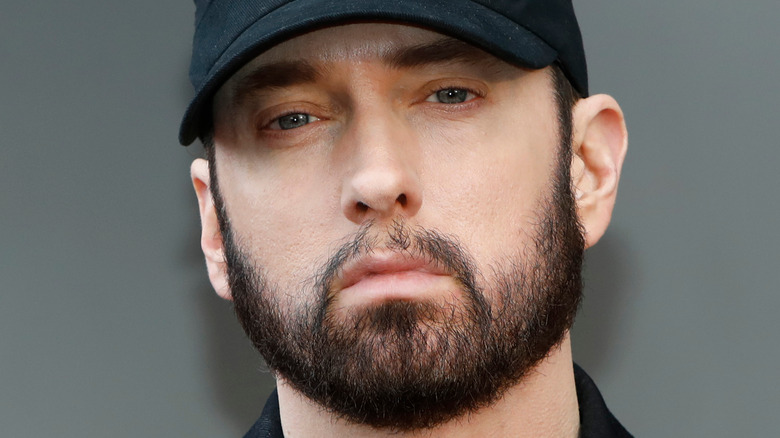 Kathy Hutchins/Shutterstock
Eminem took his traumatic experiences as a child and turned them into song lyrics, which has resulted in making him one of the most successful rappers of his time. The chart topper, whose real name is Marshall Mathers III, however was inspired to take up rap after listening to the movie soundtrack for the 1984 film "Breakin." He told Rolling Stone in 1999, "As soon as my mom would leave to go play bingo, I would blast the stereo. I just loved hip-hop growing up as a kid ... It spoke to me more than any other music I had ever heard before."
Even though Eminem has a long list of successful singles and albums along with accolades to his name, there's one song that seems to stand out the most: "Lose Yourself," which was released in October 2002 and was featured in his film "8 Mile." Although it's been so many years since the song was released, a lot of Eminem's fans still can't help but wonder what the meaning is behind the song.
Behind the meaning of Eminem's lyrics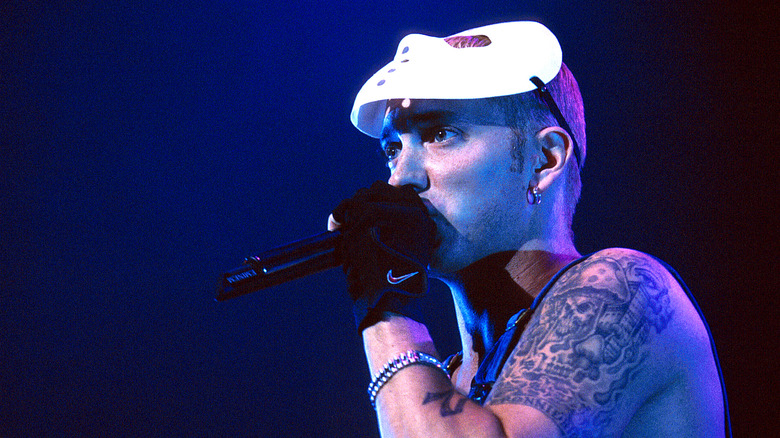 Martin Philbey/Getty Images
The 2002 hit "Lose Yourself" is perhaps one of Eminem's most inspirational songs to date. However, the song's lyrics are actually about the fictional character Jimmy "B-Rabbit" Smith Jr., whom Eminem happened to play in the 2002 movie "8 Mile," per Song Meanings + Facts. The song won an Oscar for best original song, making it the first hip-hop song to receive the honor. The song's lyrics highlight some of B-Rabbit's struggles as a white rapper as he goes against all odds to gain the respect of his fellow peers, with some similar parallel's to Eminem's own life, as he told Rolling Stone in 1999. "As soon as I grabbed the mike, I'd get booed," he said. "Once motherf***ers heard me rhyme, though, they'd shut up."
Explaining his own writing process, the rapper told Detroit Metro Times in 2009, "When I put it down on paper, and when I say it in the studio, it's always been therapy for me. You know? It's like this is what I'm feeling. This is what I wanna say. And this is how I'm gonna get it out. And, you know, you put it out there to the world and whoever listens, listens. And if nobody listens, that's fine too."
While "Lose Yourself" might be two decades old, the song has gotten a reboot of sorts and for this reason, too.
Lose Yourself has a whole new meaning for 2022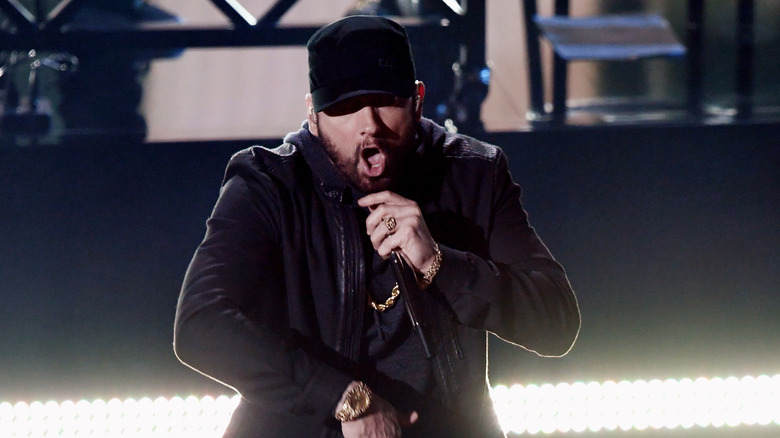 Kevin Winter/Getty Images
"Lose Yourself" might have gotten fans pumped up back in 2002, but the song has proven itself to be a timeless classic. That's because Eminem stunned the audience during the 2020 Oscars with a surprise performance that left half of Hollywood — and perhaps even the world — speechless. Eminem will prove to the younger generation once again how rap is really done, as he is set to perform with Dr. Dre and other legends such as Snoop Dogg, Kendrick Lamar, and Mary J. Blige for the 2022 Super Bowl Halftime Show, according to Billboard. 
When asked why he decided to perform "Lose Yourself" at the 2020 Oscars, Eminem told Variety, "I kinda figured maybe since I didn't get a chance to do it at the time, maybe it would be cool. Back then, I never even thought that I had a chance to win, and we had just performed 'Lose Yourself' on the Grammys with the Roots a couple of weeks before the Oscars, so we didn't think it was a good idea." But in true Marshall Mathers fashion, Eminem also tweeted that he's never one to lose "another shot, another opportunity," to perform one of the most iconic rap songs of all time. But then again, this is the same Marshall Mathers who also brought a Diet Coke to rehearsal for the Pepsi-sponsored halftime show. Never change, Em.