The Truth About Jake Gyllenhaal And Kirsten Dunst's Relationship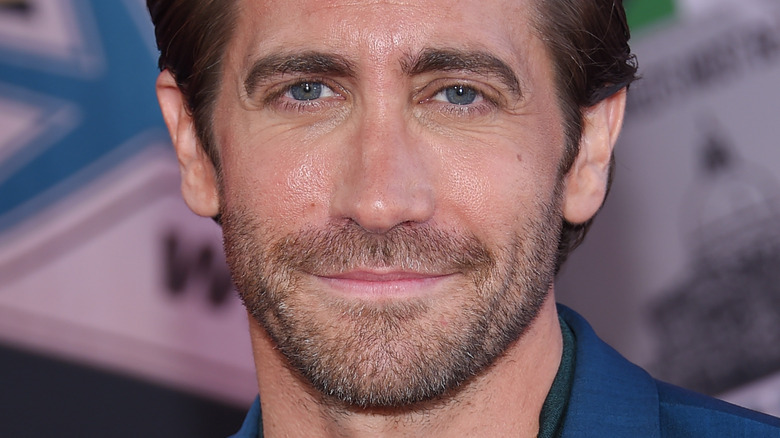 DFree/Shutterstock
Jake Gyllenhaal and Kristen Dunst were the It Couple of the 2000s when Dunst was reveling in her fame from "Bring It On" and "Spider-Man," while Gyllenhaal's career was gaining traction after "Donnie Darko." That, however, was two decades ago. Today, Durst is in a stable relationship with Jesse Plemons, whom she met while filming Season 2 of FX's "Fargo" in 2015. "We fell in love as creative friends first," Dunst told IndieWire in January.
Dunst and Plemons's strong work chemistry, which earned each of them an Emmy nomination, eventually turned into a spark. "We had a creative connection that bonded us. There was a lot of freedom whenever we did scenes together. It's like a magic, magical feeling," she said. Two years after starring in the acclaimed series, Dunst and Plemons announced their engagement, per Us Weekly. They have yet to tie the knot, but the couple has two sons, Ennis, born in May 2018, and James, born in May 2021. 
Gyllenhaal has also moved on with his life after his days as Dunst's cool beau. The "Brokeback Mountain" has been with French model Jeanne Cadieu since 2018, according to Us Weekly. While they have mainly kept their relationship on the down-low, Gyllenhaal and Cadieu made their red-carpet debut in September 2021, when they attended Maggie Gyllenhaal's "The Lost Daughter" screening in New York together, according to People. Still, 2000s movie buffs remember the Dunst-Gyllenhaal days with the fondness the early aughts deserve.
Kirsten Dunst and Jake Gyllenhaal met through his sister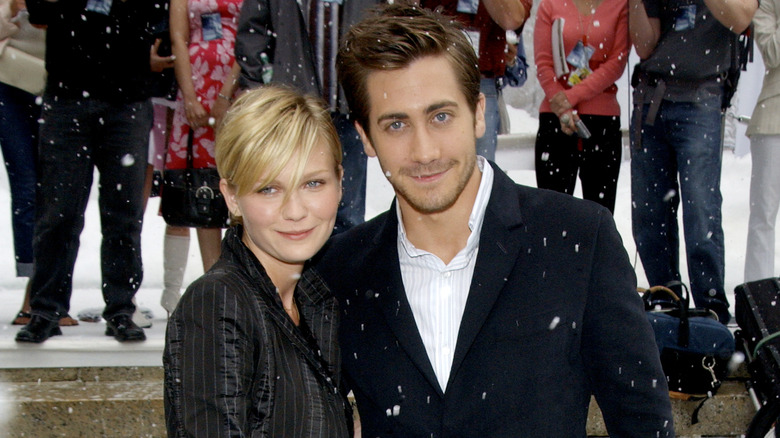 Everett Collection/Shutterstock
Kirsten Dunst was working with Maggie Gyllenhaal on "Mona Lisa Smile" in 2002 when her co-star introduced her to her handsome brother. Dunst, then 20, and Jake Gyllenhaal, then 21, were soon an item, per InStyle. As the hot couple they were, the paparazzi never failed to follow them around town. It is thanks to one of those photogs that we now have the infamous snap of Gyllenhaal starring at Dunst as she ate a salad with her fingers at a London eatery.
Even though they were young, Dunst and Gyllenhaal soon moved in together, sharing a $1.7 million home in Los Angeles, according to People. The move may have seemed fast, but Dunst knew what she was ready for and what she wasn't. "Oh, I'm too young to get married," Dunst told the outlet. "Seriously, I'm 22 years old. It's so annoying that they put pressure on you."
Instead of proposing and thinking about children, Dunst and Gyllenhaal adopted a German Shepherd named Atticus. No one was more relieved about Dunst's resolution to not marry Gyllenhaal than her mother, Inez — at least that's what a source told Radar Online in 2014. Inez reportedly wanted her daughter to settle down with someone who wasn't part of a "rich, snobby Hollywood family." As the son of a film producer and a director, Gyllenhaal notably hails from Tinseltown royalty. The insider dished, "Inez never really got along with the Gyllenhaals."
Kirsten Dunst and Jake Gyllenhaal aren't close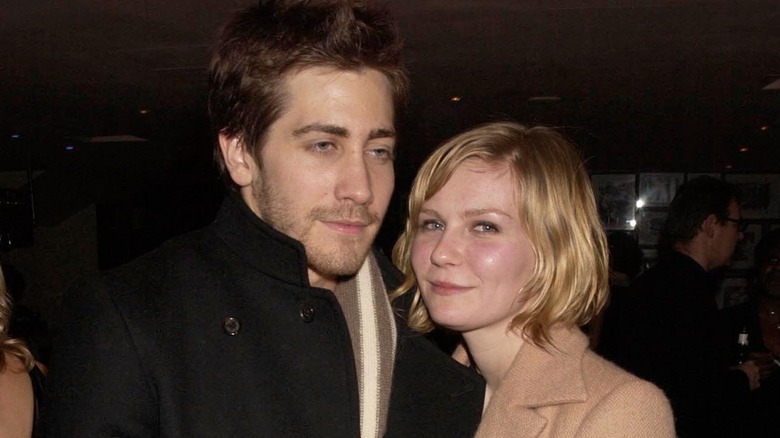 Dave Benett/Getty Images
Kirsten Dunst and Jake Gyllenhaal announced their split in July 2004, with Gyllenhaal's rep revealing they had been apart for "some time," People reported. The news caught everyone by surprise, as Dunst told People the previous month everything was fine between then. "I am really happy and in love," she said. In the months that followed, Dunst and Gyllenhaal continued to get along. "Kirsten and Jake remain the best of friends," the rep told the outlet, refusing to share the motives behind the breakup. 
But in 2006, Dunst hinted the reason was their differing lifestyles. "Jake and I couldn't last," she told the now-defunct News of the World (via Sunday Times). "He's a stay-at-home boy and I'm an out-on-the-town girl." As time passed, Dunst and Gyllenhaal lost touch, she told Allure (via Us Weekly) in 2009. "It would be nice to see him ... But we're not good friends," she said. But Dunst remembered their time together with fondness, even making a bold claim about her love for Gyllenhaal. "Jake was the love of my life," she told News of the World. "He was, is and always will be."
Gyllenhaal has been less open about his relationship with Dunst, though he said on Sirius XM's "The Howard Stern Show" in 2015 that he had been in love three times in his life. He didn't name names, but Dunst and Reese Witherspoon marked Gyllenhaal's two longest-lasting relationships before his current girlfriend, Jeanne Cadieu.