Who Is Andrew Whitworth's Wife, Melissa?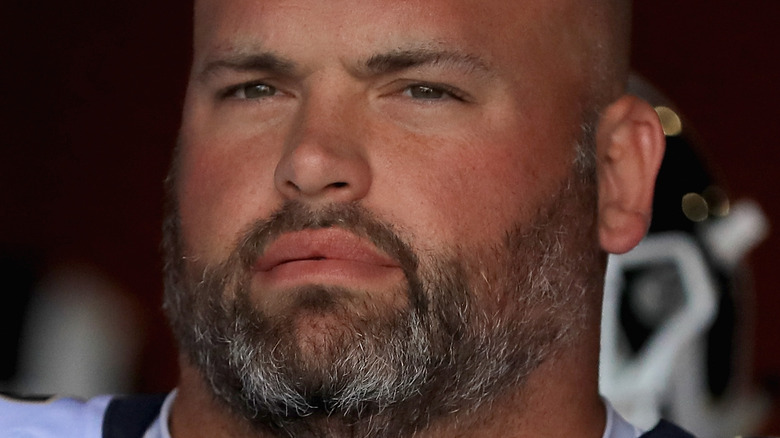 Sean M. Haffey/Getty Images
Game day is almost here, and with it comes the frenzied buzz around the Halftime Show, Super Bowl commercials, and the players taking to the field. The Los Angeles Rams and Cincinnati Bengals are facing off at Super Bowl LVI on February 13, and there is one football player who is in a unique position. Andrew Whitworth plays left tackle for the Rams but previously played 11 seasons with the Bengals, per the New York Post.
Emotions are surely going to be high regardless of who wins with that amount of history and connection between both teams. However, the football player's wife Melissa is feeling pure excitement. "We're going to the Super Bowl, we're playing the Bengals," she told WCPO. "How does it get any better than that?" Andrew agreed with the sentiment: "Both places have my heart and both places have people I believe in. Really special and cool moment for me to be able to play in this game." 
Andrew is now the oldest active member in the NFL at 40 since the recent announcement of Tom Brady's retirement. That marks a huge moment for a chance at a Super Bowl ring and the whole family, especially Melissa, will be cheering him on.
Melissa Whitworth has had serious winning streaks
Football fans are drawn to the big personalities on the field, which can also lead to an interest in the football player's partners. Born in Louisiana, Melissa Whitworth has worn many hats over the years — a few of them being a journalist, pageant contestant, mother, and leader in charity work. She also holds Masters degrees in Sociology and Industrial/Organizational Psychology. Melissa is recognized for her award-winning journalism in the north Louisiana area, having worked for NBC10/Fox14 News in the city of Monroe, per ABTC.
Winning the Miss Teen Louisiana pageant in 1998, she went on to participate two years in the National Sweetheart Pageant and later became Miss Louisiana in 2003. She even won the mirrored ball in Cincinnati's local version of "Dancing with the Stars" in 2016. Melissa married Andrew Whitworth in 2006 and they have four children together. Andrew took to Instagram to celebrate his wife turning 40 in 2020 and praised her in the caption as, "My Queen, a leader, tone setter, the energy bus, amazing momma, best friend, hot mess and my ride or die!"
To top it all off, the couple founded the Big Whit 77 Foundation in 2009 "to invest back into their community by creating a non-profit organization that would impact area youth and families." Despite running several programs through the foundation, the Whitworth's charity work does not stop there.
The Whitworths love to give back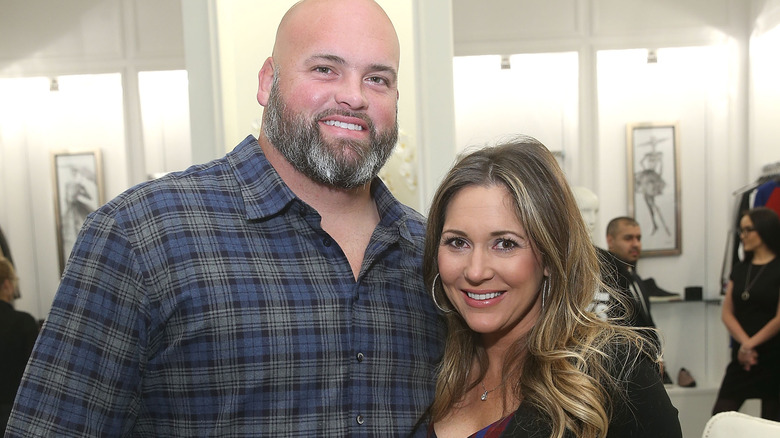 Jesse Grant/Getty Images
Andrew Whitworth shared with CNN that giving back is similar to his work on the field: "I look at community the same way, when it can put a smile on somebody's face," he said. "When I can make them appreciate that someone cares about them, when I can just let them feel more confident in themselves because of something I'm able to do. I feel that same feeling." Andrew and Melissa Whitworth have shared their generosity in a variety of ways such as donating to the Los Angeles Food Bank, setting up scholarships and providing school supplies for children, raising money for children battling terminal illnesses, and gifting Christmas dinner and gifts for the homeless and families in shelters. 
Andrew and Melissa participated in United Way's HomeWalk as a family in 2019 and introduced opportunities for their kids to "learn more about the humanitarian crisis of housing insecurity." Focusing on giving aid to those struggling with homelessness, they partnered with the Los Angeles Rams during the 2021 season. After each home game, Andrew made a $20,000 donation for home repairs in Louisiana and to move Los Angeles residents in need into homes. 
The Whitworth's strong ties with community will be huge on game day as they celebrate both teams. Melissa told WCPO they will be rooting for Bengals quarterback Joe Burrow "every day except for the day we play him." This relationship will surely raise the stakes for Super Bowl LVI on February 13.