The One 'Nice' Thing 50 Cent Had To Say About Ja Rule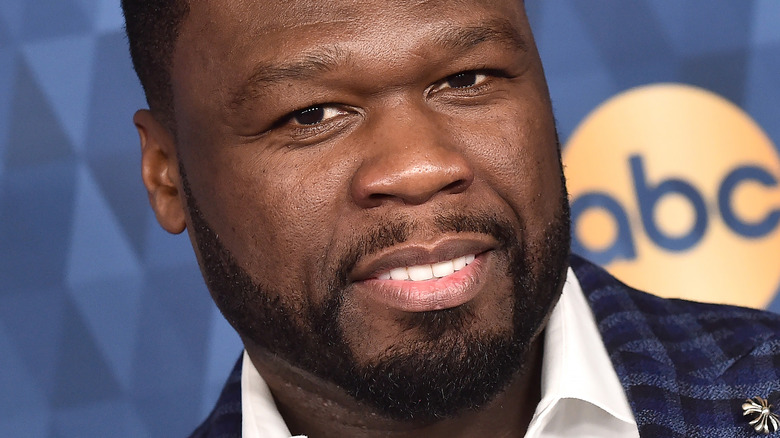 DFree/Shutterstock
The rap game is full of beef. Kanye West and Drake only appeared to bury the hatchet in 2021 when the two performed together at the "Free Larry Hoover" benefit concert. Eminem and Machine Gun Kelly also have a strained history, but one of the longest-running rap feuds is between 50 Cent and Ja Rule.
The bad blood between the two started in 1999 when Ja Rule claimed one of 50 Cent's associates robbed him at gunpoint and stole his chain, XXL recapped. The next year, 50 Cent was stabbed by rapper Black Child outside the New York recording studio Hit Factory, per Complex. The attack was allegedly a retaliation on behalf of Ja Rule, though Black Child claimed he acted in self-defense.
At the time, Ja Rule was part of the greatest rap band that never reached its potential. Joining Jay-Z and DMX, the trio called themselves Murder Inc., announcing their name on a cover of XXL magazine, MTV reported. The group folded after recording two songs together and all three went on to have successful solo careers. On the other hand, 50 Cent didn't officially blow up until 2003 with the release of his debut album "Get Rich or Die Tryin'." The album skyrocketed the rapper to fame after it became the best-selling debut album ever on a major record label, The New York Times reported. Both guys could have easily cruised on the success of their own careers, but instead became entwined as enemies for decades.
50 Cent keeps his praise for Ja Rule short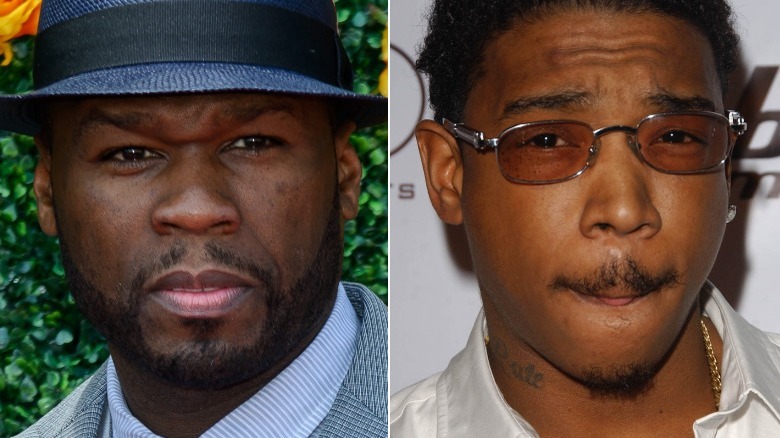 Sky Cinema & s_bukley/Shutterstock
When 50 Cent stopped by "The Late Show with Stephen Colbert" in 2019 to promote his champagne brand, Le Chemin Du Roi, he toasted with the host and spilled some tea (or maybe champagne). In a segment of rapid-fire answers, Colbert dared Jackson to "say one nice thing about Ja Rule." Holding his flute of bubbles and with a smirk, Jackson responded, "Well, he's alive."
Other than these three words, 50 Cent has only had negative things to say and rap about Ja Rule. Starting with 50 Cent's 1999 song "Life's on the Line," the rapper began recording diss tracks aimed at Ja Rule. To counter, Ja Rule released the song "Loose Change" in 2003, and later "Guess Who Shot Ya," XXL recapped.
Surprisingly, the beef seemed to be over in 2013 when Ja Rule tweeted that he sat in the same row, on the same plane, with 50 Cent with no drama to report. Later, 50 Cent took the rivalry to a different level. In 2018, 50 Cent posted a photo on Instagram with the headline, "50 Cent buys 200 front row seats to Ja Rule concert off Groupon so it will be empty." In the caption, the rapper said, "at $15 a pop you can't lose, I got 200 tickets for 3 bands." He also posted a photo of himself photoshopped into a mostly empty section of stands. "What a show" he captioned next to a clapping emoji.
Don't expect a rap battle between Ja Rule and 50 Cent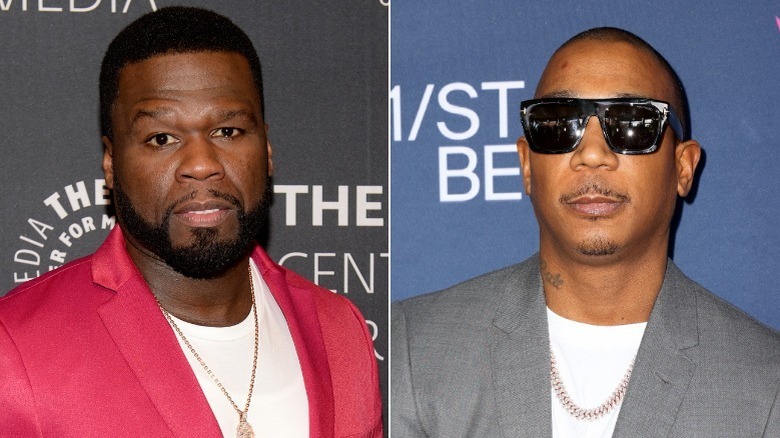 Brad Barket, Alexander Tamargo/Getty Images
In 2021, 50 Cent continued his barbs directed at Ja Rule. After a "Verzuz" battle between Fat Joe and Ja Rule, 50 Cent took aim at his rival the morning after the special aired. He posted a dapper photo on Instagram looking at his cell phone. "Wtf am i trending for, I said i ain't doing whatever that s**t is they doing," he wrote in the caption. Fans were quick to note the timing of the post and connected the fact that 50 Cent once said he would probably never participate in a "Verzuz" battle. 
After The Knockturnal asked the rapper about a potential "Verzuz" appearance in the future, 50 Cent said, "Now that we're back outside, there's other things to do. We're supposed to be creating new history, not being back there," he said alluding to the peak of his rap career.
The year before, Ja Rule actually said he would be down to challenge 50 Cent in "Verzuz" when Fat Joe called him up. In response, 50 Cent posted a meme of Ja Rule on social media. The photoshopped image shows Ja Rule begging for money with a cardboard sign that reads, "I will battle 50 Cent for [attention]." In the caption, 50 Cent wrote "Stupid #fyrefestival" in reference to Ja Rule's famous, failed music festival. With two decades of beef under their belt, 50 Cent and Ja Rule's feud seemingly has no end in sight.