How Tall Is Kate Middleton?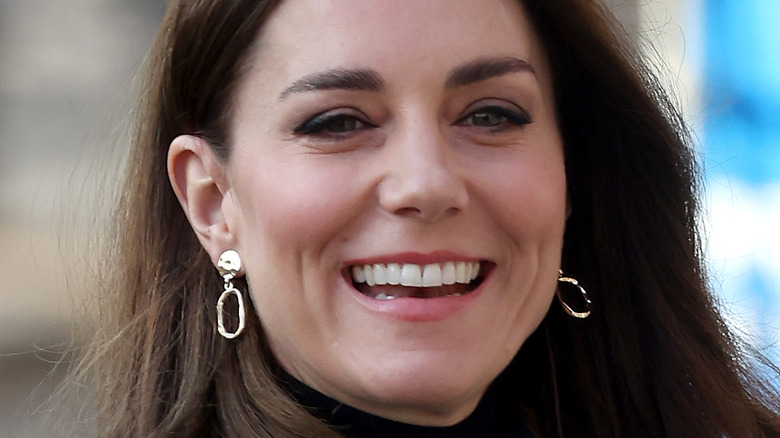 Chris Jackson/Getty Images
When it comes to the British royal family, much has been said and speculated about each member's height. After all, brothers Prince William and Prince Harry often tower everyone else during their royal engagements and public appearances. Harry stands a little over 6-foot-2, while William inches a little taller at 6-foot-3, according to PureWow. A lot has also been said about their mother Princess Diana, who stood tall at 5-foot-10 inches, according to Express. The outlet notes because Diana was the same height as Prince Charles, she was supposedly banned from wearing heels in public. This was so she wouldn't stand taller than her husband.
And while she was a huge fan of heels, designer Jayson Brundson said that Diana would never wear Chanel heels because the interlinked C's reminded her of Charles and his mistress, Camilla Parker Bowles. Recalling a conversation Brundson had with Diana, he told Harper's Bazaar Australia (via Insider), "I found a pair of Chanel shoes, and I said, 'Well, these would look great with the Versace,' and she said, 'No, I can't wear linked Cs, the double C... 'It's Camilla and Charles.'"
That said, if there's one person who loves wearing heels — with or without her husband by her side — it's Kate Middleton. The Duchess always gets a lot of attention for her public appearances, especially when it comes to her clothes and her shoes. That's probably why a lot of people can't help but wonder what her height is, too.
Kate Middleton is always standing tall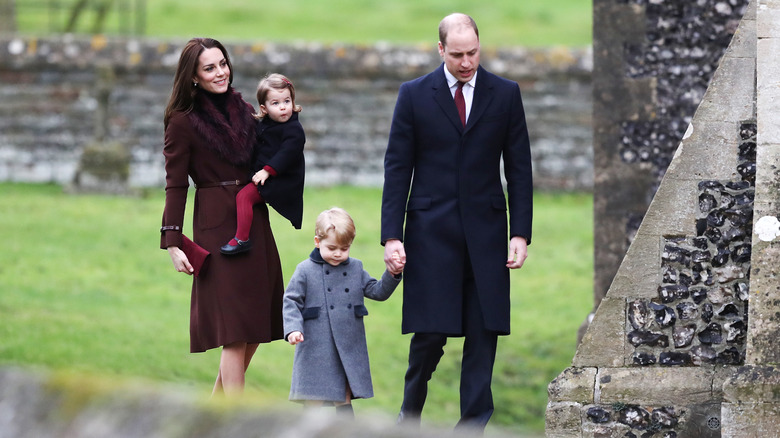 Andrew Matthews - WPA Pool/Getty Images
While Kate Middleton might not be as tall as her late mother-in-law Princess Diana, she still stands rather statuesque at 5-foot-8, according to Express. This gives her about a three-inch advantage over her sister-in-law Meghan Markle, who is reportedly 5-foot-5, per the outlet. And while Kate's shoe style ranges from cheap to chic — from the affordable Superga sneakers to a classic pair of Jimmy Choo pumps, according to Town and Country — she also loves a nice comfortable pair of wedges, too. 
Of course, the Duchess has long been a favorite from head to toe among the fashion world's elite as well. The late Karl Lagerfeld once said about her, "Kate Middleton has a nice silhouette and she is the right girl for that boy. I like that kind of woman, I like romantic beauties," in an interview with The Sun (via PopSugar). And when asked about Kate, designer Roberto Cavalli told British Vogue in 2013, "Just because you are a queen or princess, it doesn't mean you can't be sexy." So how has Kate become such a style favorite? Although that's up for debate, what's clear is she appreciates comfort, which is important for someone tall like herself.
Kate is selective about how she supports her tall frame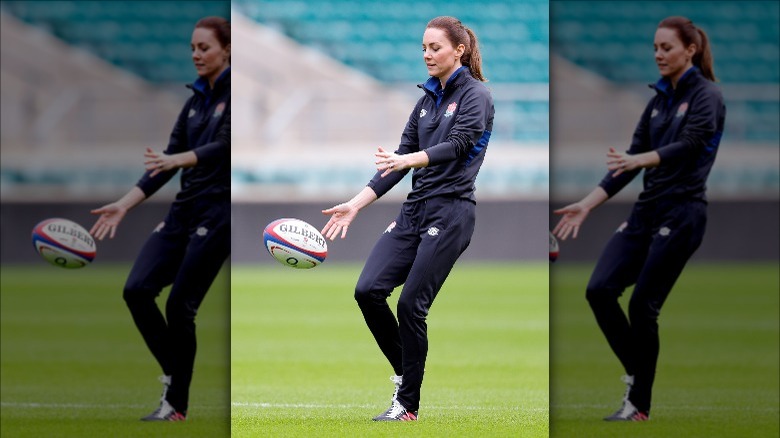 Max Mumby/indigo
Royal etiquette expert Myka Meier says that Kate Middleton apparently uses non-slip John Lewis tights to help get that grip that's needed at the sole of your shoes, per Insider. If that weren't enough, Vanity Fair's longtime royal correspondent Katie Nicholl claims that the Duchess of Cambridge has a few packets of Alice Bow insoles, which are slip-in leather soles that are designed to cushion your feet, regardless of what shoe you are wearing. 
One spokesperson for the company even told Royal Watch (via Insider) that they've reaped the rewards of the great "Kate Effect," stating, "There has been talk of the Duchess wearing the insoles, but we cannot comment either way. We have seen a massive surge in site visits however." It's without a doubt that Kate's favorite brand of soles would sell out just as quickly as everything else she's worn over the years. Now that's something to stand tall and be proud of, right?