Jennifer Aydin's V-Day Note To Husband Amid Affair Drama Has Fans Saying The Same Thing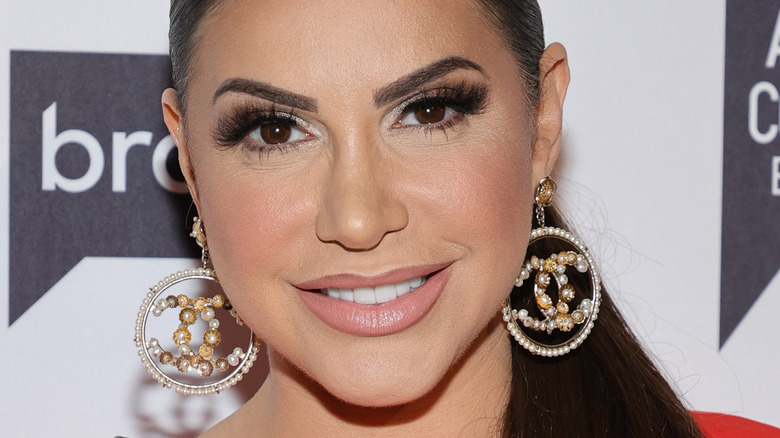 Jamie Mccarthy/Getty Images
MENTION IT ALL!
The "Real Housewives of New Jersey" Season 12 premiere episode went off with a bang when cast member Margaret Josephs let a pool party full of people and basically the entire world know that Jennifer Aydin's longtime plastic surgeon husband, Bill Aydin, cheated on her. Alas, in true "Real Housewives" fashion the devil is in the details. "She's not an office manager. She was a f****** pharmaceutical rep you f****** idiot. Get the facts straight," Jennifer snapped back. And, scene!
On the heels of the bombshell episode, Jennifer took to her social media to discuss how Margaret's on-air revelation affected the couple's five children, including their 14-year-old daughter, Gabby. "Gabby's guidance counselor called her into the office today to see if she was OK," Jennifer tweeted on February 11. "I think she felt more embarrassed than anything. My kids are OK as long as they know their parents are OK. So, Please don't ask them about this. Makes it easier." And now it appears Jennifer wants to continue to let her children know that their parents are doing just fine — with sweet public notes that fans are eating up as well!
Fans are happy that Jennifer and Bill Aydin are sticking it out
Love is not dead — at least not in the Aydin family household!
On February 14, reality star Jennifer Aydin took to her Instagram account to let her children and everyone else (ahem, Margaret Josephs) know that she and her husband Bill Aydin are doing better than ever! "From our honeymoon, to our first Valentine's as a married couple where I crashed his room while he was on call at Metropolitan hospital-chillin some days and living it up on others- it'll always be me and you. Happy Valentine's Day Lovey!!" she penned in a sentimental Instagram post along with throwback photos of the couple. 
Fortunately, Jennifer's mushy gushy tribute to her husband was (for the most part) well received with many fans giving well wishes to the couple for sticking it out. "Happy Valentines Day to you both!! God bless," one fan penned. Meanwhile, another wrote, "Happy Valentine's day Jennifer and Bill, here's to making it work now that takes love and courage." The couple's daughter, Gabriella, also couldn't help but get in on the action as well. "Omg you guys look so tan in the first and last photos," she wrote. Clearly, the kids and Mr. and Mrs. Aydin are alright!