The Odd Way Donald Trump Supposedly Acted After The Stormy Daniels Story Came Out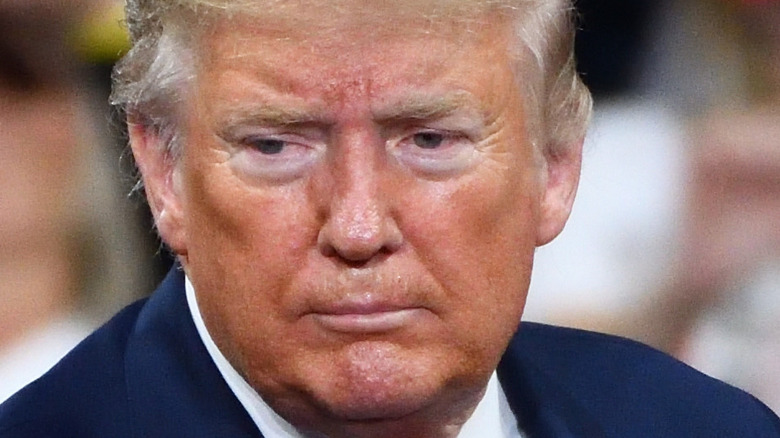 Evan El-Amin/Shutterstock
In the first few weeks of 2022, there have been many headlines about former president Donald Trump's odd behavior. Trump's longtime accountants want nothing to do with him, saying they can't trust his financial statements. The Washington Post reported on February 7 that Trump took 15 boxes of documents to Mar-a-Lago when he left the White House. Days later, the Post reported that Trump's White House documents included classified, and even top-secret, information. For context, former NSA employee and whistleblower Reality Winner got a five-year prison sentence for taking one classified document, per Rolling Stone.
Then a former aide alleged that Trump regularly tore up documents, and even saw the 45th president eat a piece of paper after meeting with his fixer Michael Cohen. Axios further reported that Trump flushed documents down the toilet. Peter Strok, former deputy assistant director of the FBI's counter-intelligence division, weighed in on the former president's habit of destroying documents, tweeting that it was "Tradecraft shared by the Trump administration and hostile intelligence officers, organized criminals, drug cartels, terrorists, and pedophiles to avoid law enforcement." 
In 2019, the Associated Press reported Michael Cohen testified Trump ran his operation "much like a mobster would do." Now, the way that Trump reportedly reacted to the Stormy Daniels news breaking is earning similar comparisons.
Donald Trump's habit of using other people's phones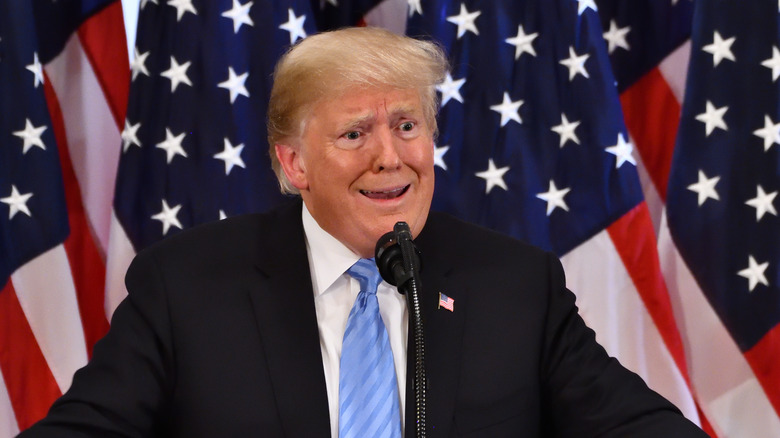 Evan El-Amin/Shutterstock
Donald Trump used a Secret Service agent's phone to call Melania after the Stormy Daniels news first broke, according to CNN.  In 2018, the Wall Street Journal initially broke the news that Trump had arranged a $130,000 hush-money payment to stop adult-film actor Stormy Daniels from disclosing their affair before the 2016 presidential election. After first lady Melania Trump wouldn't answer her husband's calls, the former president used one of his Secret Service agents' phones to get in contact with her, which he reportedly did on other occasions. 
Trump's phone use patterns are impacting the investigation into the January 6 insurrection. According to a New York Times report, the January 6 House select committee reviewed Trump's phone records and found gaps in official White House call logs. CNN reported that sources say there is difficulty tracking down who Trump spoke to and when he spoke to them on that day because of his habit of using other people's phones. 
Gene Lyons of the Chicago Sun-Times has another name for the 45th president's odd communication habits; Lyons said Trump's tactics are "straight out of the mob boss handbook." The Chicago newspaperman wrote, "Rule One is: Never write anything down. ... Rule Two in the mob boss handbook is this: Never talk about it over the phone." Maybe an exception can be made for someone else's phone.