Stormy Daniels: The Untold Truth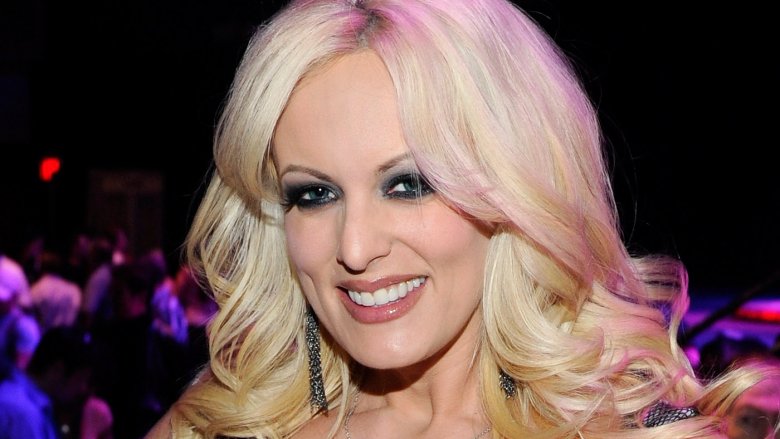 Getty Images
Stephanie Clifford — better known as Stormy Daniels — is famous for being the woman in the midst of President Donald Trump's alleged cheating scandal. The adult film star first opened up to InTouch in 2011, claiming she met the businessman at a July 2006 celebrity golf tournament before the two allegedly engaged in an affair. Once Trump had his sights set on running for president, his lawyer, Michael Cohen, allegedly sent Daniels $130,000 in hush money and reportedly asked her to sign a nondisclosure agreement to keep her quiet, according to The Wall Street Journal. 
What followed next included Daniels suing Trump, claiming their agreement should be voided because he never bothered to sign it, and Trump's lawyer obtaining a temporary restraining order against Daniels to stop her from disclosing "confidential information" regarding their agreement, reported NBC News. Messy, messy.
A sitting president being involved in a cheating scandal is nothing new, but that doesn't make Daniels and her story any less fascinating. So who exactly is this blonde bombshell that has the White House in a frenzy? Let's take a closer look at the untold truth of Stormy Daniels.  
She's more than just a performer
Most news headlines refer to Daniels as an adult film star, but she's far more involved in the industry than people give her credit for. 
According to The Sun, Daniels signed her acting contract with Wicked Pictures in 2002. Two years later, she was hopping behind the scenes to make her directorial debut, and she has since gone on to write screenplays for the company, as well. Due to all of her titillating work behind and in front of the cameras, she was inducted into the Adult Video News Hall of Fame in 2014 — one of the highest honors for those who've achieved great success in the industry.
She isn't pigeonholed to this industry either. Daniels has managed to get involved in other mainstream projects, such as directing music videos, according to her Instagram account, and acting in major motion picture films, including The 40-Year-Old Virgin and Knocked Up. 
Let's just call her a quadruple threat: actor, writer, director, and badass!
She's a mom
Daniels shocked her fans when she revealed that she's the mother of a little girl. According to a 2012 interview with the Daily Beast, Daniels and her now-husband, drummer and part-time adult film star Glendon Crain, didn't think they wanted to have children, but after a few months of dating, the urge to have a baby kicked in. 
Her journey to motherhood wasn't easy. "I had to work really hard and prepare a lot to have a baby because I'm not like a normal mom," she said. "I can't work while I'm pregnant. I did two years of work in one year."
All of the planning paid off, and after the birth of their daughter, Crain and Daniels settled into quite a normal family life. "We have this smart, amazing, beautiful daughter that is awesome," she said. "The three of us go to Gymboree class for music."
She allegedly went nuts over laundry
Daniels found herself at the center of some major drama in July 2009 when she was arrested for domestic violence, according to the New York Post. Her then-husband, Michael Mosny, told police Daniels was furious "about the way the clothes had been done" and started lashing out at him over unpaid bills. She allegedly grabbed a "potted plant at the kitchen sink" in their Tampa, Fla. home and threw it at him before allegedly hitting him in the head and flinging their wedding album onto the floor.
That incident was just the start of Daniels and Mosny's high-profile issues. Following their breakup, TMZ reported that Daniels was requesting an order of protection against Mosny, claiming he attacked her and her then-fiancé at a red carpet event and was wreaking havoc on their lives. According to the tab, "Mosny also got her new fiancé fired from his job ... after threatening the man's employer. Stormy claims Mosny even tried to have a friend steal her car."
She performed well in school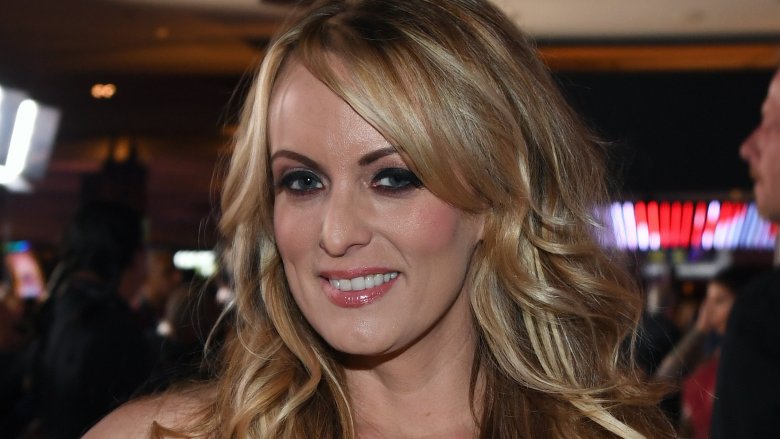 Getty Images
Don't let her occupation fool you. Stormy Daniels claimed to be quite the intellectual in an interview with Adult DVD Talk. The entertainer chatted about her upbringing and what it was like to attend a Magnet School. "In Louisiana you actually have to be accepted, you have to have a certain grade point average or they kick you out," she said. Thankfully, that wasn't a problem for her.
"I also graduated in the top 10% in the country of all high school students and I had several college acceptances," she said. Even though her grades were on point, Daniels admitted: "I was smart but I hated school though that was the weird thing. I wonder how well I would have done if I had actually tried because I had really good grades without even trying."
She claimed various universities offered her scholarships, including Texas A&M and Mississippi State, but Daniels had other plans.
She started dancing when she was underage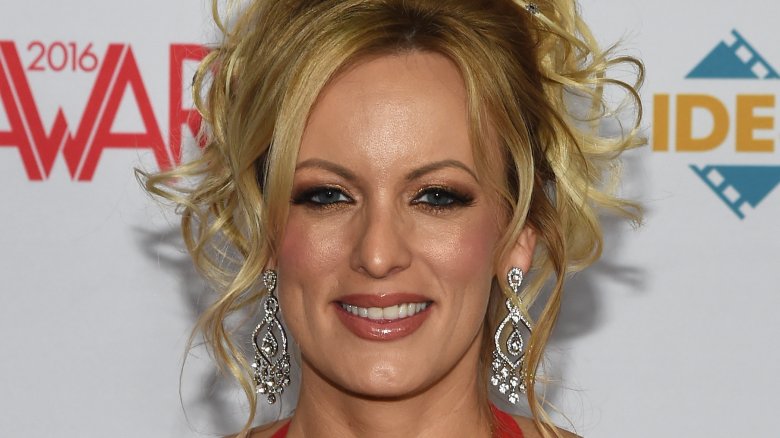 Getty Images
When she was just 17, Daniels made the decision to leave her family home behind and move in with her then-boyfriend to embark on a new life. It was then that she made the leap into the adult entertainment business as an exotic dancer.
Adult DVD Talk asked Daniels if stripping while underage was a mistake. Her response: "For me personally I don't think it was a mistake because I never took it to a bad place. But I think it is very, VERY easy for a stripper especially one who is young to take it to a bad place."
Although her first job was less than ideal, Daniels was able to use her tips to create a wonderful life for herself. "I own my own house, I own my own car, I own my own business. My credit is excellent." she said. 
Her implants are bigger than she anticipated
It's not uncommon for an adult entertainer to go under the knife for a breast augmentation, but Daniels never intended to go so big.
Initially a size 36 B, Daniels reportedly wanted to become a full D cup. "When I awoke from my surgery they were triple this size since they were swollen," she told Adult DVD Talk. Six weeks after the surgery, Daniels said she was trying on D cup bras at Victoria's Secret, but none of them would fit. Darn.
She headed back to the doctor, and that's when he revealed the news: "He was very reluctant to inform that instead of the 450 CC's I had asked for he gave me 575 CC's. And I was like, 'Why did you do that to me?' and he said, 'Because I know you are the type of girl that would come back in six months to a year and say make me bigger and I didn't want to cut you twice.'"
Well, it turns out he was right. Although Daniels thought her girls were "really big," she did acknowledge that "I like them so I guess it all turned out okay." 
Doctor knows best!
What's in a stage name?
Don't expect Daniels to make a mad dash to gulp down a glass of her signature drink because she's not a big drinker, though her name does pay homage to some hard partiers.
According to Metro. her stage name was inspired by her love for the rock group Mötley Crüe and its bassist, Nikki Sixx, whose daughter shares the same first name. As for Daniels, she reportedly saw a billboard of Jack Daniel's whiskey and thought that would be the perfect last name. It does have a nice ring to it, don't you think?
Fun fact: Her life came full circle when she was finally able to meet Mötley Crüe's drummer, Tommy Lee, early in her career. She described him as "very nice" to her but "rude to other people." Yikes.
She's been married three times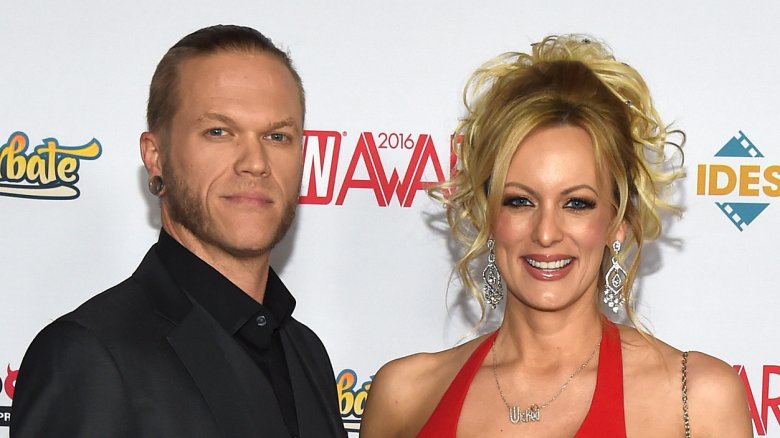 Getty Images
It seems Stormy Daniels did pick the perfect stage name because "stormy" is the best way to describe her love life. She was briefly married to adult entertainer Pat Myne from 2003 to 2005, according to InTouch. When that relationship imploded, she married the aforementioned Michael Mosny, who goes by the stage name Mike Moz, in 2007. The couple divorced in 2009 — the same year Daniels was arrested for allegedly assaulting him over his lackluster laundry skills.
It's unclear when she officially tied the knot with her third husband and baby daddy, Glendon Crain (pictured), but they certainly appear smitten on social media. Daniels has gushed about how great of a dad Crain is. "He is great with our daughter because he has no problems doing anything with her that I do," she told the Daily Beast. "He will take her to the bathroom in a restaurant and change a dirty diaper." 
She's taking advantage of the publicity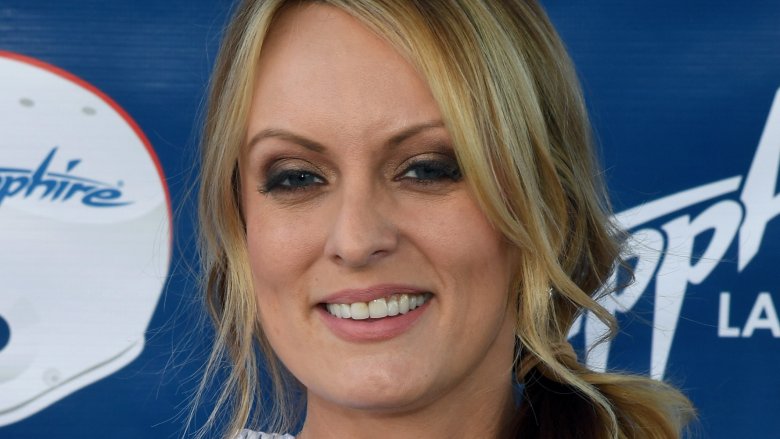 Getty Images
Her name is flooding the headlines, and Daniels is more than happy to soak up all the attention. She even made an appearance on Jimmy Kimmel Live!, although she dodged most of Kimmel's questions pertaining to Trump. Bummer.
She also embarked on a nationwide tour to shake her groove thang at various strip clubs. According to TMZ, while in town for the AVN Awards Show, she made a brief appearance at Little Darlings Strip Club in Las Vegas. She later popped up at a gig to entertain eager patrons at the Solid Gold club in Fort Lauderdale, Fla. 
It's unclear how much Daniels gets paid per appearance, but considering she's become now one of the most talked about people in the media, we're sure she's charging a pretty penny just to make a public appearance. Hey, we can't blame her for striking while the iron's hot. 
She was this close to becoming Senator Daniels
In her home state of Louisiana, Stormy Daniels had her eye on a U.S. Senate seat. A website called Draft Stormy (via CNN) was reportedly created by an adoring fan named Zack Hudson, who believed she was the right woman to "work tirelessly" and "challenge the status quo." 
Maybe Daniels didn't have political aspirations before, but with many of her fans lending their support, she decided to give politics a shot. But not everyone was happy about her decision to run. A spokesperson for the Louisiana GOP told CNN that voters were "concerned with real issues that affect their everyday lives and not with political or publicity stunts." Ouch.
According to The Washington Post, Daniels declared herself a Republican in 2010 but backed out of the race that same year. "I am not running for the US Senate for the same reason that so many dedicated patriots do not run–I can't afford it," she said in a statement (via Politico).
It's too bad she didn't have the funds to keep her campaign afloat, but now that she allegedly has an extra $130,000 in her pocket, maybe her dream of running for office will finally come true.