What We Know About Stormy Daniels' Husband Barrett Blade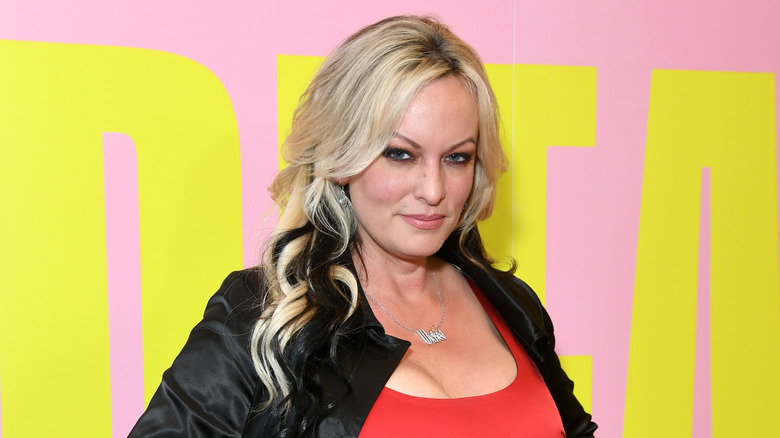 Jc Olivera/Getty Images
Stormy Daniels learned that the media isn't going to let her fade into obscurity anytime soon when the news broke that a Manhattan grand jury had indicted Donald Trump, per NBC News. Thankfully, she'll have someone to lean on as she continues to endure the endless online attacks of angry Trump supporters: her husband, Barrett Blade. He even has the perfect name for the partner of a fearless internet troll slayer like Daniels.
Daniels has become a target of the right-wing because an alleged hush money payment she received from Michael Cohen, a former attorney for Trump, is what triggered Manhattan District Attorney Alvin Bragg's investigation of the ex-president. The payment was meant to keep Daniels' lips sealed about an alleged sexual encounter she had with Trump in 2006. Before she met Trump, she'd been married once to fellow adult film star and director Pat Myne. Then, in 2007, she married publicist Michael Mosny, aka Mike Moz. They divorced in 2009, and the third time definitely was not the charm for Daniels. She married drummer Glendon Crain in 2015, and when he filed for divorce in 2018, he also obtained a temporary restraining order that limited Daniels' contact with their daughter, Caden Crain, per The Independent.
Daniels gave marriage yet another shot when she tied the knot with Blade. But by the time they became husband and wife, they'd known each other for well over two decades.
Stormy Daniels and Barrett Blade appeared in adult films together
Like Stormy Daniels, Barrett Blade is an adult film actor. In fact, the couple has worked together in some titles, including "Forever Stormy" and "In Your Dreams." But according to Daniels, she and Blade actually met before her adult film career began in the early aughts. "I've been in love with him since I was 19, before either of us did porn, and he didn't ask me out until last year," Daniels told the Guardian in 2023.
On Instagram, Daniels revealed that their first meeting took place at a bar in Baton Rouge. Blade was the bass player in a band that performed there, and at the time, Daniels was likely working as a stripper — she told Vogue that she got her first gig performing at a strip club when she was in high school. Daniels and Blade also posed together for a steamy photoshoot two decades before they tied the knot. In an Instagram post, Daniels revealed that the photographer, Suze Randall, advised them to start dating way back then. "Lesson here: always do what Suze tells you! A lot has changed. The way I look at him has not," she wrote.
Daniels and Blade got married in December 2022, per the Daily Mail, and Daniels soon shared an update on her marital bliss. "When you marry your best friend, life is always going to be good ... even on the days it's hard," she wrote on Instagram. 
Barrett Blade supports Stormy Daniels' horse hobby
According to the Daily Mail, Stormy Daniels and Barrett Blade settled down together on a horse farm in Florida. Daniels is an avid equestrian who has participated in cross-country riding competitions, per The Hollywood Reporter, and Blade is apparently supportive of her passion for horses. In March 2023, Daniels revealed that he bought her a handsome-looking steed named Starship Redemption for her birthday. "I'm totally smitten already," Daniels wrote on Instagram.
When Daniels started working on a feature titled "Lawless" in 2023, the writer-director decided to incorporate her love of horses into the film, and she took Blade along for the ride — literally. On Instagram, she revealed that, in addition to asking him to be her cinematographer, she cast Blade as a cowboy in the movie. She shared a video of her husband learning to ride a horse under her close supervision. "I think he's looking pretty good," she wrote. She also revealed that Blade likes to spoil her horses by feeding them sweets. On top of that, he started educating himself about all things equestrian. "He also finally knows the difference between bays and chestnuts and not to call grays 'white,'" Daniels wrote. "He still doesn't understand dressage but I'd say the assimilation is coming along nicely."
Daniels and Blade went through so much together over their decades-long journey to the altar, and in the end, they proved that true love really does trump all.