Victoria Beckham's Throwback Photo With Husband David Is An Absolute Hit With Fans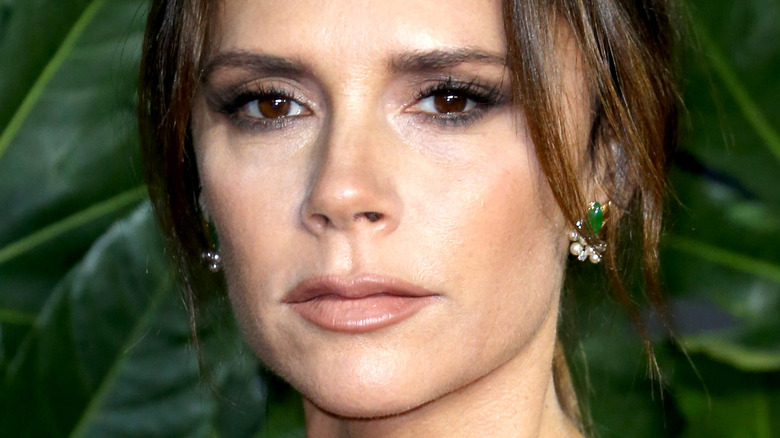 Cubankite/Shutterstock
We gotta say, seeing celebrity couples posting their old throwback photos together is one of our favorite things about Valentine's Day. This year, we got a peek at an absolutely adorable snapshot Victoria Beckham posted to her Instagram of good ole Posh and Becks: The Early Years. The former Spice Girl captioned the photo of herself and husband David Beckham, "1998 in NYC! And still my Valentine 24 years later." She added that this photo was taken the day the couple found out they were pregnant with their first son, Brooklyn. Posh has a spiky '90s pixie cut, while David has paired a Yankees cap with a Chicago Bulls jersey. Everything about it is perfect. 
As we all know, the comment section of a celebrity Instagram post can be a brutal place, especially when the celebs are as hugely famous as the Beckhams. But the comments below this particular photo are overwhelmingly gushing, which we think proves that the world wants, no needs, more heartwarming content — please! 
Fans love Victoria Beckham's Valentine's Day throwback
The first thing you'll notice when scrolling through the comments on Victoria Beckham's lovey-dovey Valentine's Day Instagram post is a whole lot of red heart emojis, including from the couple's son Romeo Beckham, who added, "Love you both," to his comment, and fellow former Spice Girl Mel C who commented, "The memories. Have a gorgeous day." Commenters who know the couple a little less personally seemed to agree that the duo are #RelationshipGoals. "Honestly a truly inspirational couple and family," wrote one person. Others said the Beckhams were their "favorite couple." A lot of people commented on Victoria's gorgeous grin in the pic, a change from her usual high-fashion pout. 
But the throwback pic isn't entirely out of character for the fashion designer. While, yes, most of her Instagram is devoted to promoting her fashion empire, she can always be counted on to throw in a sweet family pic or a snap from back in the day, like a slideshow of old photos with Emma Bunton (AKA Baby Spice) from the good old days for her birthday. She may seem imposing, but we know Victoria Beckham is just a lover at heart.