What We Know About Laurence Fishburne And Gina Torres' Divorce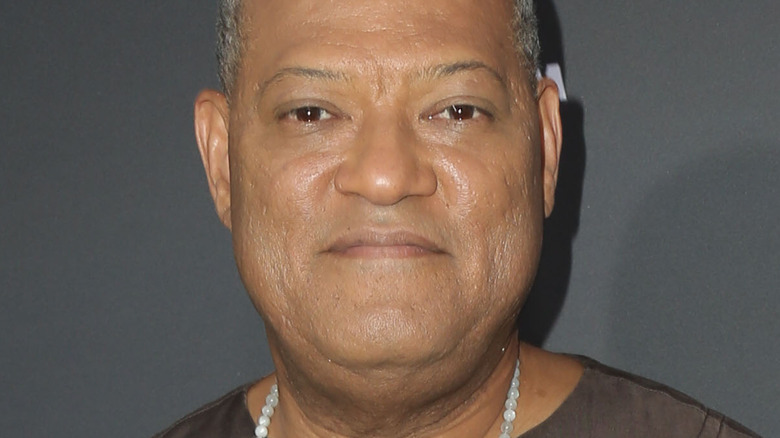 Kathy Hutchins/Shutterstock
In another edition of "Celebs You May Not Have Known Were Married to Each Other," who woulda thunk that Zoë Washburne from "Firefly" was married to Pops Johnson from "black-ish?" But it's true: while Zoë is married to Alan Tudyk's Hoban Washburne, Gina Torres, the actor who played her, was married to megastar Laurence Fishburne. Then again, if you're a fan of "Hannibal" it's probably not that surprising, as Fishburne and Torres played married couple Jack and Bella Crawford on the cult murder show.
Yep, Fishburne and Torres married and lived together happily for 14 years, giving birth to a daughter, Delilah, in 2007. Just as their relationship had apparently been hush-hush at the beginning, so was its end. The former couple married in September 2002 — the same time "Firefly" first premiered on Fox — at the Cloisters museum, per Queens Divorce Lawyers. The outlet also noted that Fishburne let it slip to Jay Leno in 2001 that they planned to marry — and they'd already been engaged for 8 months by that point.
The couple kept their divorce under wraps too, quietly separating on October 14, 2016, according to court documents obtained by Radar Online. In September 2017, Torres issued a statement to People — officially announcing she and Fishburne's amicable split almost a year after separating. But why?
Gina Torres and Laurence Fishburne remained friends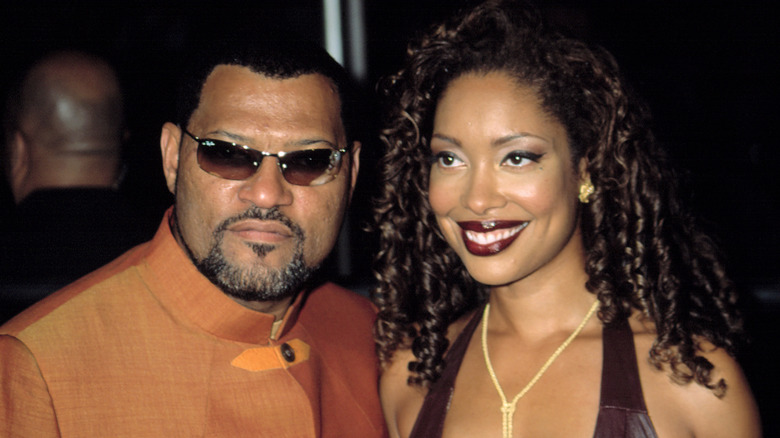 Everett Collection/Shutterstock
When Gina Torres and Laurence Fishburne finally announced their divorce, they were very amicable about it and came to a settlement easily. Court documents obtained by Radar Online cited irreconcilable differences and said the two "entered in an agreement on disposition of property." They also agreed to share custody of their daughter Delilah, who was 10 at the time.
Torres also told People that the two were committed to caring for their daughter. "There are no bad guys here. Only a love story with a different ending than either one of us had expected," she said. "Happily, however, our family remains intact and we will continue to raise our daughter together with love and joy and awe, as well as raise each other up with respect and love and the continued understanding that we're in this together, if not side by side."
Perhaps it was necessary for the couple to come clean to the press about their marriage, as if it were anyone's business. Page Six had already reported a sighting of Torres kissing another man — a "cowboy type," according to a source, by the name of Kevin Wright. Wright is an entrepreneur and former real estate executive who also was divorced after a long marriage, something he and Torres apparently bonded over.
Laurence Fishburne and Gina Torres are both in new private relationships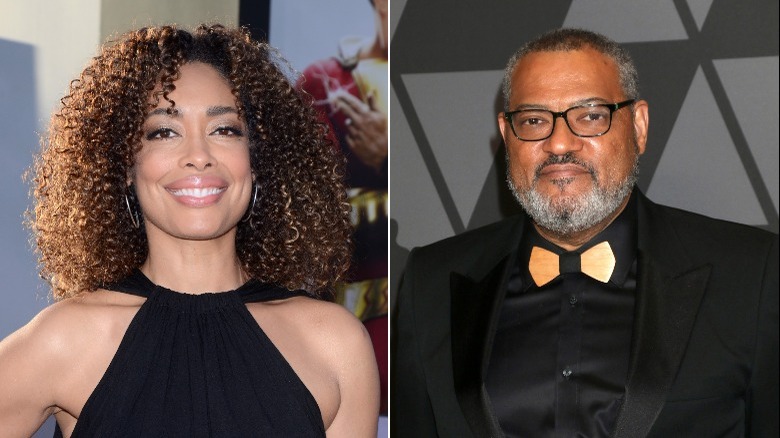 Kathy Hutchins & Kathy Hutchins/Shutterstock
Laurence Fishburne and Gina Torres are both geek heroes, he with his starring turn as Morpheus in the "Matrix" trilogy, and she for her role as Zoë Washburne in "Firefly," the hugely beloved, canceled-too-soon TV show that fans still want to bring back. The two met during filming when Torres joined the cast of "The Matrix Revolutions," according to USA Today. They continued sharing the screen in "The Matrix Reloaded."
Just as the couple kept their engagement and their divorce mostly under wraps, they were quite private about their marriage too. Torres, however, did admit to USA Today that she enjoys being a wife and mom when she's at home. "I keep my house. I cook. I iron, as odd as that sounds," she said. "[I like] Spending time just being Gina because I spend so much time being other people." The classically-trained singer and dancer also watched musicals with her daughter Delilah.  
Since their split in 2017, Torres moved on with entrepreneur Kevin Wright. Fishburne was also seen in a new relationship in 2018, per TV One, when he attended the Marrakech International Film Festival with Bronwyn Anne Moylan. It's not the cleanest situation, however, as Moylan was married to 81-year-old minister, Reverend Richard Dannenfelser, per Radar Online. Apparently, Moylan planned to divorce Dannenfelser, but it wasn't finalized yet. If Fishburne is still with Moylan, they're keeping the relationship, you guessed it, private.