Inside Pamela Anderson's Surprising History With Vladimir Putin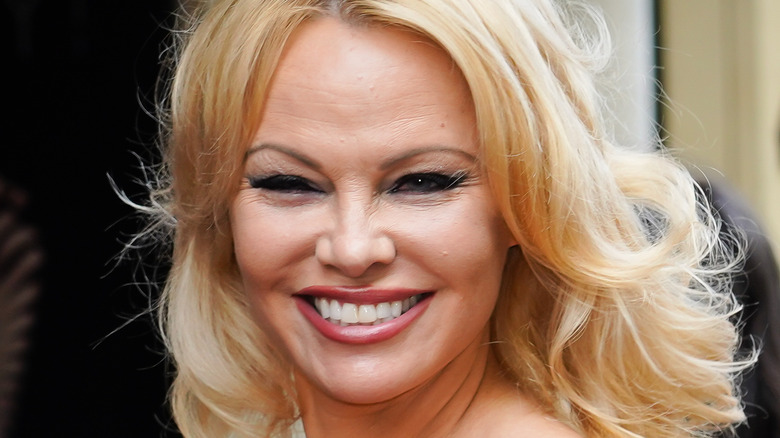 Edward Berthelot/Getty Images
While Pamela Anderson is more synonymous with Hollywood than the world of Washington, D.C. politics, she has been linked to some figures outside of the entertainment realm. There has been speculation surrounding the nature of her relationship with WikiLeaks co-founder Julian Assange, who has been in a London maximum-security prison since April 2019. Anderson cleared up a few rumors about their relationship by telling People in 2017 that what she loved the most about him were the conversations they shared. "We talk about the world. He's a very good teacher. Julian is one of my favorite people. He is a refugee. He might be the most famous refugee of our time — famous for being persecuted" In 2019, she also defended Assange as "the world's most innocent man," per ABC News, despite ongoing investigations into WikiLeaks and accusations of sexual assault.
But Julian Assange isn't the only high-profile man that Anderson has been linked to during her tumultuous years in the spotlight. She also has a history with another controversial international figure.
Pamela Anderson reached out to Vladimir Putin first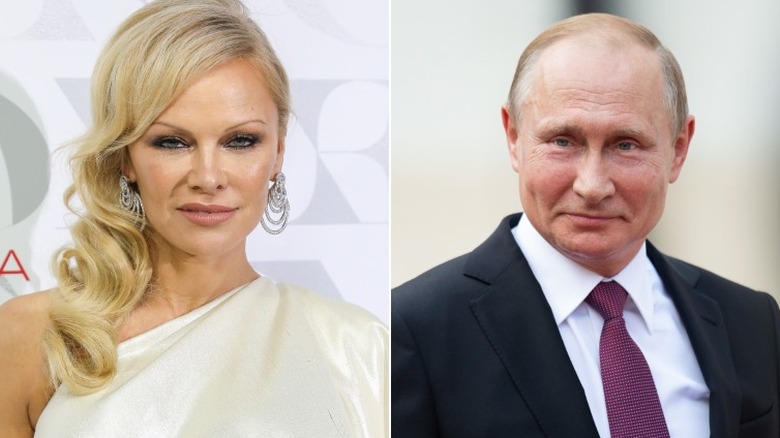 Marc Piasecki, Thomas Kronsteiner/Getty Images
Pamela Anderson revealed all — on an emotional level at least — during an interview on "Piers Morgan's Life Stories" back in 2018. The Canadian beauty talked about an interesting connection that she shared with Russian president Vladimir Putin. According to Page Six, the "Baywatch" alum first reached out to Putin in 2015 with a specific motivation. "I wrote to him and asked him to stop the importation of seal products because this was 95 percent of the market and that could potentially shut down the Canadian seal hunt, which is one of my big goals, and he did. He made it actually illegal to import seal products into the country," she said.
Lo and behold, the Russian president was intrigued enough by Anderson's correspondence that he didn't want it to end the conversation. It seems he wanted to spend more time with the Hollywood star. Putin also had a specific request for Anderson that left her pretty stunned.
Pamela Anderon isn't one to kiss and Russian tell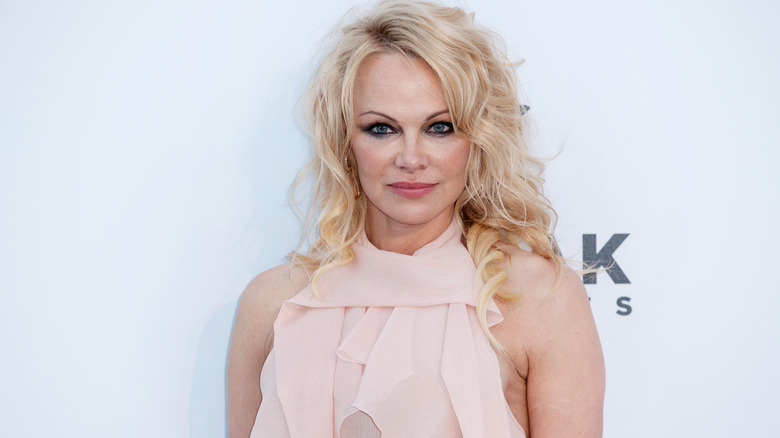 Andrea Raffin/Shutterstock
When Pamela Anderson was asked on "Piers Morgan Life Stories" if she was ever romantically involved with Vladimir Putin, she made it clear that she's not one to kiss and tell. "He wanted me to come to his inauguration and give him flowers ... I didn't do that. Obviously, we have been in the same place together sometimes ... I had a great relationship with Russia, yes," according to Page Six. 
But Putin isn't the only top Russian official that Anderson reached out to in 2015. She also met with Putin's top aide Sergei Ivanov, per the Independent, to discuss Russia's policy on protecting wildlife along with the belugas, orcas, and dolphins held in captivity at sea aquariums. During their meeting, Anderson told Ivanov, "I think Russia could really win over some hearts and minds in the West if Russia were to take a leadership position on defending wildlife and the rights of animals." In response, Ivanov said that his meeting with Anderson was "unusual and interesting," as he wasn't used to discussing "very beautiful animals with beautiful women."
Clearly, Anderson is someone who can bring countries together, no matter where she is.