Pamela Anderson's Transformation Is Really A Sight To Behold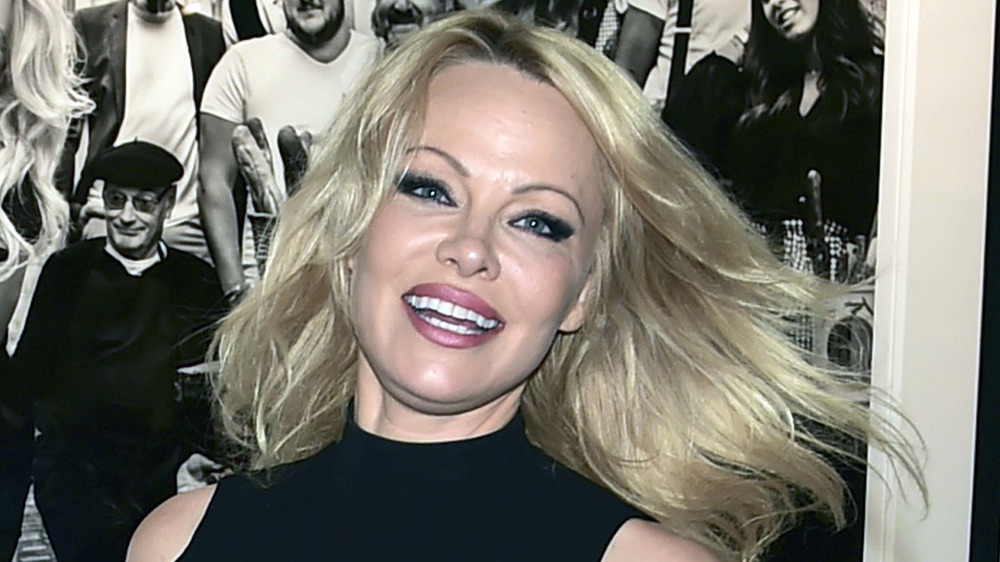 Michael Bezjian/Getty Images
Pamela Anderson is one of the most famous names in Hollywood history. She's known for her talents as a model, actress, and TV personality, having started her career in showbiz in 1989. From the moment she skyrocketed to fame and superstardom, Anderson has completely captivated fans with her bright blonde locks and striking blue eyes.
So how has Anderson maintained her superstar status? Aside from her roles in hit films and TV shows, including Baywatch and Home Improvement, fans fell in love with Anderson thanks to her "I don't give a f**k" attitude. The bombshell not only embraced her most controversial moments, but she has candidly opened up about all the highs and lows throughout her life.
It's hard to believe Anderson has been appearing on-screen for more than 30 years considering she still looks as youthful as she did at the start of her career. But we are here to remind you of how effortless of a transformation Anderson truly has had. Keep scrolling to see her stunning evolution throughout the years.
Pamela Anderson is a little girl from Canada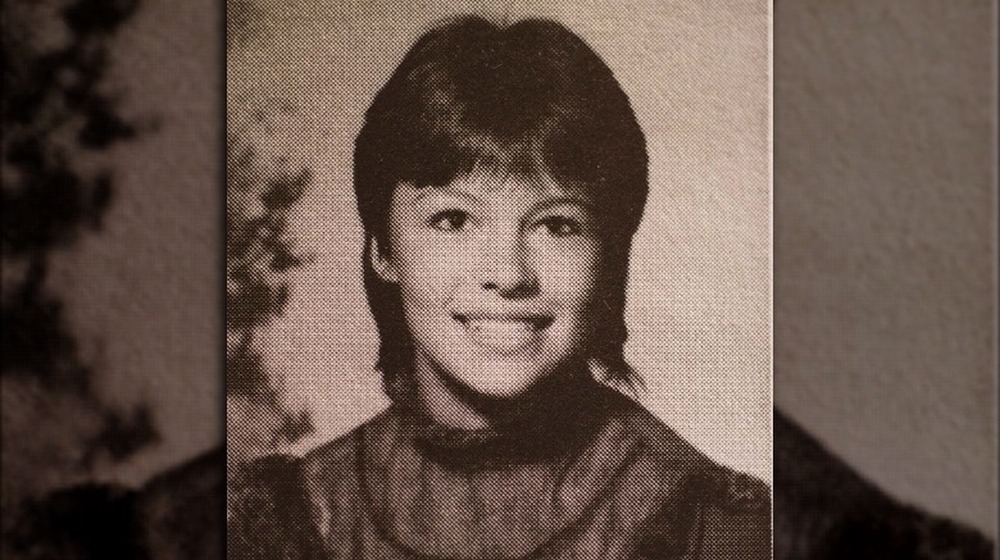 Getty Images/Getty Images
Long before Pamela Anderson was a household name, she was a little girl from Canada. Anderson was born on July 1, 1967, in British Columbia, and was raised by her mom Carol and her dad Barry. 
Anderson feels lucky to have had such amazing parents, but that does not mean she had the best childhood. Anderson experienced plenty of trauma as a kid, a topic that took decades for her to talk about. However, in 2014, Anderson commented on her arduous upbringing during the Cannes Film Festival that year (via L.A. Times). 
"I did not have an easy childhood ... despite loving parents, I was molested from age 6 to 10 by my female babysitter," she admitted, noting the destructive behavior also occurred in her teenage years. "I went to a friend's boyfriend's house ... while she was busy, the boyfriend's older brother decided he would teach me backgammon, which led into a back massage, which led into rape — my first heterosexual experience." 
It took years for her to overcome the struggles, but Anderson came out stronger than ever. 
Pamela Anderson rises to fame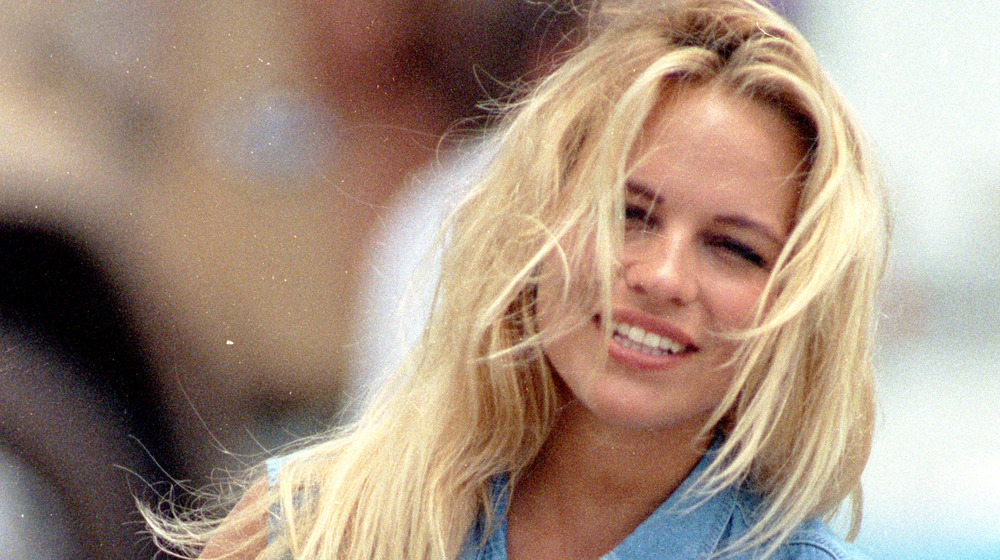 Kypros/Getty Images
Pamela Anderson turned heads during her iconic role on Baywatch, but the actress actually made her claim to fame before she portrayed the sexy and provocative role of C. J. Parker. In fact, it was her talents as a model that garnered a ton of attention. Anderson became quite the celebrity when she started posing for Playboy.
Anderson's Playboy career kicked off when she appeared on the magazine's cover in October 1989. The star left little to the imagination as she posed on the front page in a blue and red striped blazer and a matching tie. Anderson also covered her groin with a straw hat (via Us Weekly).
Less than two years later, Anderson — who had now moved from her native Canada to Los Angeles — posed for her second Playboy cover in February 1991. During her chat with the magazine at the time, Anderson opened up about pursuing her goals of becoming a star. "Hollywood people are dreamers, always grabbing for something big," she marveled. "I'm a dreamer too, so I guess I belong here."
Pamela Anderson dabbles in acting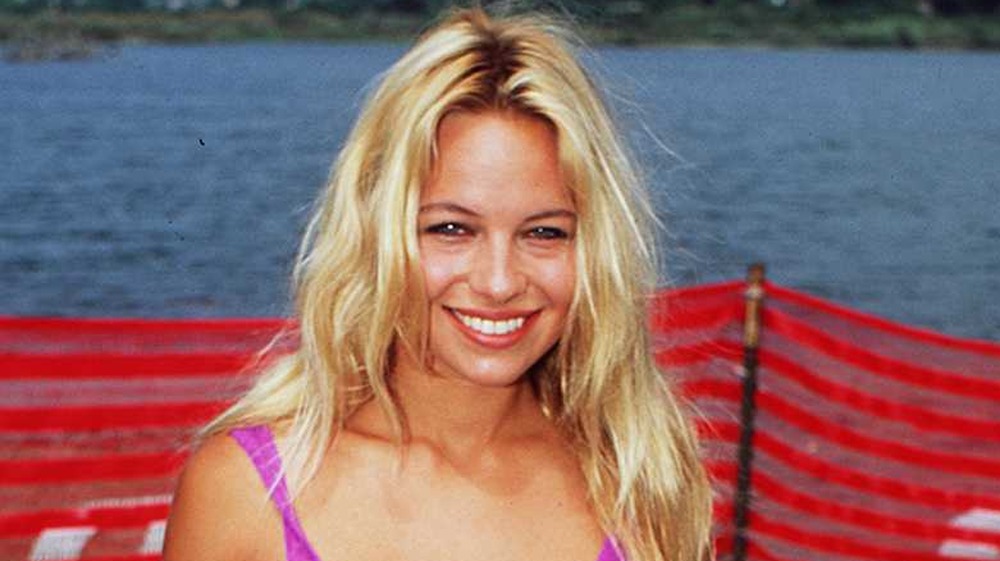 Brad Elterman/Getty Images
After finding much success as a model, Pamela Anderson tried her hand in acting. She made her debut in an episode of Charles in Charge in 1990, and she went on to appear in her first major TV show alongside Tim Allen in Home Improvement in 1991 (via IMDb). Anderson starred in Home Improvement for two seasons until being cast in Baywatch in 1992.
Baywatch is still considered to be one of the most iconic action dramas in TV history, but landing the gig of C.J. Parker was not a difficult task for Anderson. During an interview with Elle in March 2014, the beauty revealed she did not have to do much for her audition. "They were just like, 'Are you Pamela Anderson? You have the job,'" she recalled.
Anderson appeared on the award-winning series for five seasons, making her one of the most popular and longest-serving actresses in the show's history (via Baywatch.Fandom.com). Yet, while Baywatch might have led to one of Anderson's most famous roles of her career, it certainly was not her last. 
Pamela Anderson switches her focus to her personal life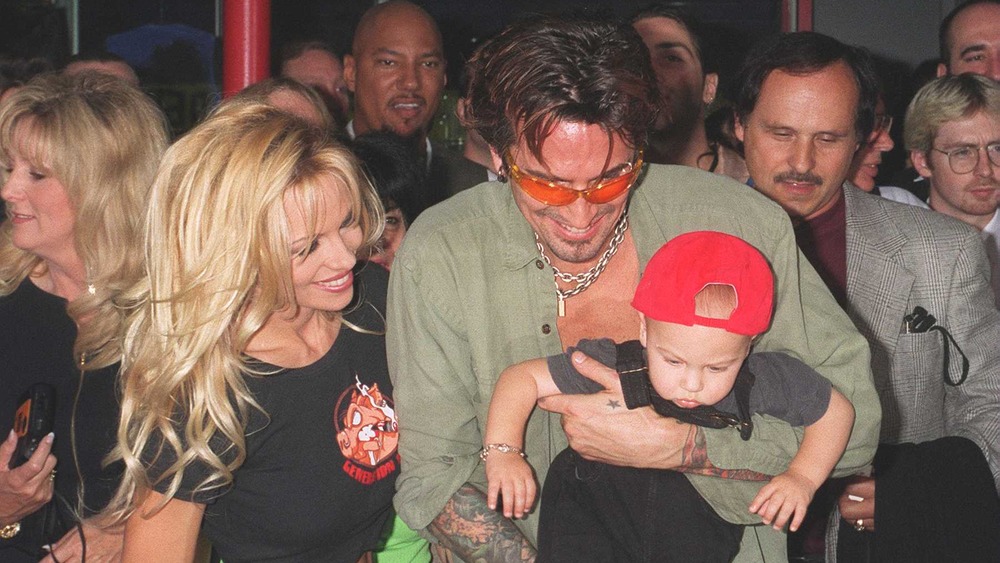 Albert Ortega/Getty Images
When Pamela Anderson was rising in the Hollywood ranks, her acting and modeling abilities were not the only things thrust into the spotlight. Fans were very much interested in her personal life, and that only escalated when she married her first husband, Tommy Lee.
The Days of Our Lives alum and the Mötley Crüe rocker tied the knot in 1995 after knowing each other for only four days (via Billboard). Their rollercoaster relationship began with a bumpy start when a sex tape from their honeymoon was released and distributed online. The former couple took the case to court and ultimately reached a settlement (via Us Weekly).
The actress and the drummer experienced plenty of other struggles throughout their marriage, including Lee's arrest for assaulting Anderson in February 1998. According to the Associated Press, he was arrested for felony spousal abuse and was sentenced to six months in jail, which he began serving in May 1998. Anderson and Lee divorced that same year.
Anderson's romance with Lee may be memorable for the wrong reasons, but the actress still has a lot to be grateful for when it comes to their time together. During their tumultuous five-year relationship, Anderson became the loving mom of their two kids, Brandon Thomas Lee and Dylan Jagger Lee.
Pamela Anderson gets back into the spotlight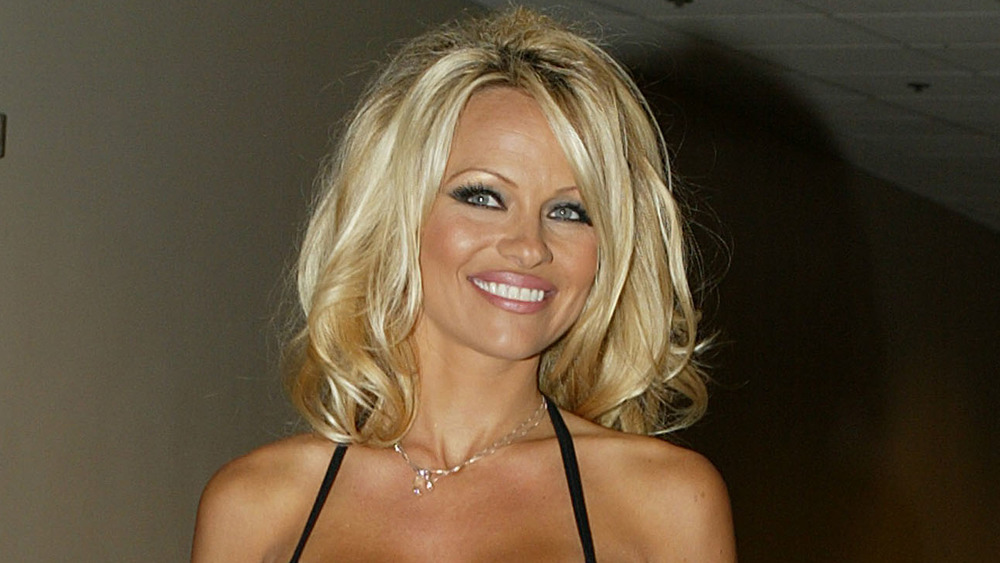 Mark Mainz/Getty Images
After holding off on her Hollywood career to raise her kiddos, Pamela Anderson bounced back into the spotlight as an actress on V.I.P. in 1998. The comedy series ran for four seasons until 2002, but her role as Vallery Irons led to many future gigs. Throughout the late 1990s and into the 2000s, Anderson appeared in countless TV shows and films, including Futurama, Baywatch: Hawaiian Wedding, Scooby-Doo, Just Shoot Me!, King of the Hill, Scary Movie 3, and Less Than Perfect. 
While dominating the television and modeling scene, she also started writing. In 2004, Anderson made her debut as an author when she released her book titled Star. The following year, in 2005, she authored a second book titled Star Struck. Since then, she has released two other books: Raw in 2015 and Lust for Love, which she co-authored with Shmuley Boteach, in 2018. It just goes to show that Anderson's talents are truly limitless. 
Pamela Anderson gives love another shot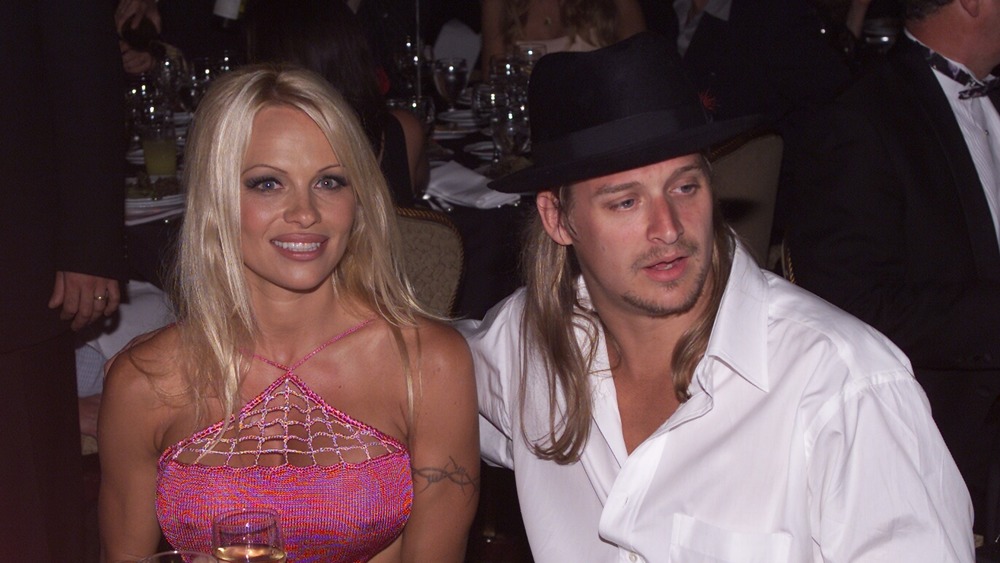 Dave Hogan/Getty Images
Pamela Anderson's first marriage ended in turmoil, but she was not afraid to give love with Kid Rock a shot. The Nanny actress and the musician dated on and off for a handful of years, but their union only lasted one year from 2006 to 2007. 
Anderson's marriage with Kid Rock was not her last, though. Just months after splitting with the "All Summer Long" crooner, she exchanged vows with Rick Salomon in Las Vegas in October 2007. However, their marriage was annulled four months later. By this time, Anderson's love life was incredibly complicated as Tommy Lee announced the two were working on their relationship in 2008.
Anderson shut those claims down while appearing on The Ellen DeGeneres Show in 2013 (via E!). At the time, Anderson revealed she and Salomon were still hooking up, but did not have a label. They eventually remarried in 2014, but Anderson and the famed poker player split for the second and final time in 2015.
Pamela Anderson proves she's Hollywood royalty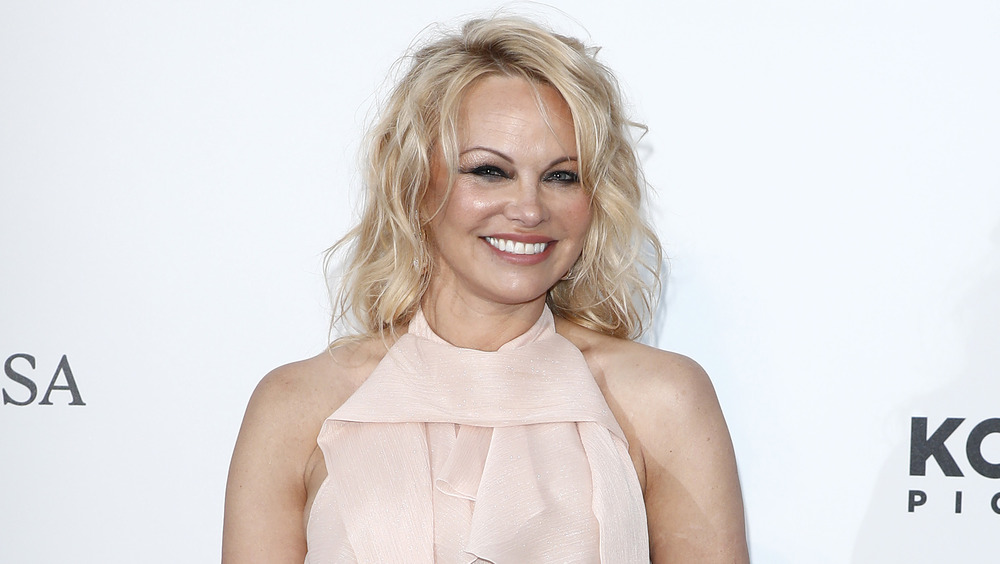 John Phillips/amfar/Getty Images
Pamela Anderson has made incredible memories as a celebrity, but she is also extremely passionate about being an activist. Throughout the decades, Anderson has also helped raise awareness for "human, animal and environmental rights" with the help of her Pamela Anderson Foundation, the website states.
In 2017, she told W magazine she is "on the board of directors" for PETA (People for the Ethical Treatment of Animals). She is also "on the Russian council" for IFAW (International Fund for Animal Welfare). 
Nowadays, the multi-talented star still focuses on her life as an actress and model. In addition to her work as an activist, she's accomplishing so much while also having her hands full with her now-adult sons, Brandon and Dylan.
In 2020, she married for the fifth time with her fourth husband, Jon Peters. Anderson and the film producer quietly tied the knot on Jan. 20, but they split 12 days later (via The Hollywood Reporter). 
Despite the split, Anderson is living her best life in her 50s. Aside from her lengthy acting résumé, as well as her 14 Playboy covers, Anderson has established herself as Hollywood royalty. Looking back on her iconic run in showbiz, it's crazy to think the blonde bombshell radiates just as much beauty from the very first day she pursued her career.