The Real Reason Why Pam Anderson And Tommy Lee Split Up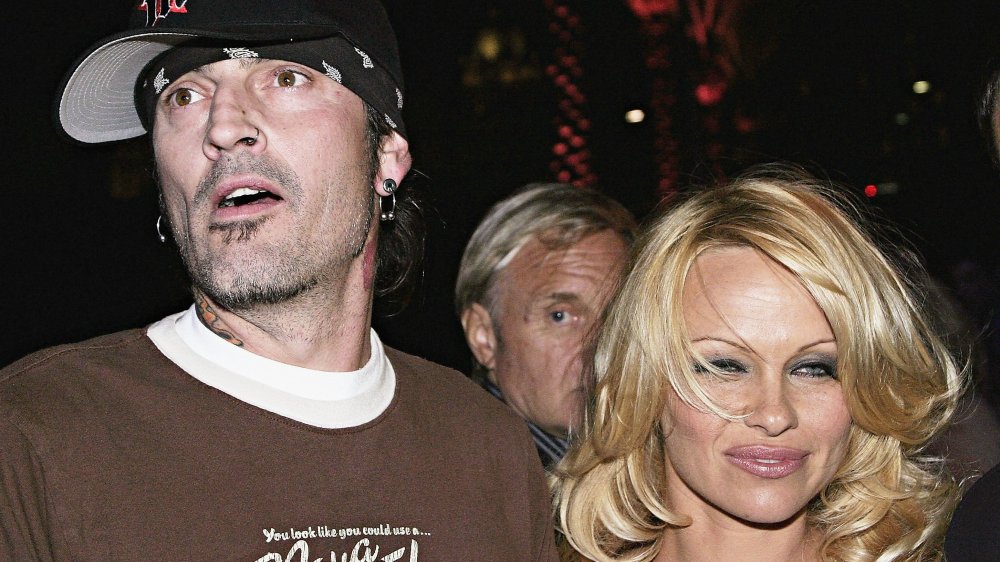 Giulio Marcocchi/Getty Images
Pamela Anderson and Tommy Lee were a rock and roll love story for the ages: The blonde bombshell and the tattooed bad boy experienced what they called "love at first sight" and embarked on a dramatic, whirlwind, roller coaster romance. Unfortunately, the Baywatch alum and the Mötley Crüe drummer couldn't make it work, despite numerous attempts, a ton of drama, and sharing two now-grown sons. 
As Anderson told People of her rocky relationship with Lee in 2015, "I had beautiful children with him. My kids are grateful to be born out of true love. Everything else I was trying to piece together." Indeed, their relationship went from steamy to stalled to healthy co-parenting to contentious. In March 2018, Lee and Anderson's then-21-year-old son, Brandon, allegedly punched Lee in the face and knocked him unconscious, reportedly over a derogatory tweet the rocker wrote about Anderson, according to The Blast.
While it seems like things have calmed down somewhat since then, it's safe to say these two are most likely done for good (especially since Lee has since married Brittany Furlan). Here are all the ways that Anderson and Lee went so horribly wrong.
Tommy Lee admitted to 'stalking' Pamela Anderson into submission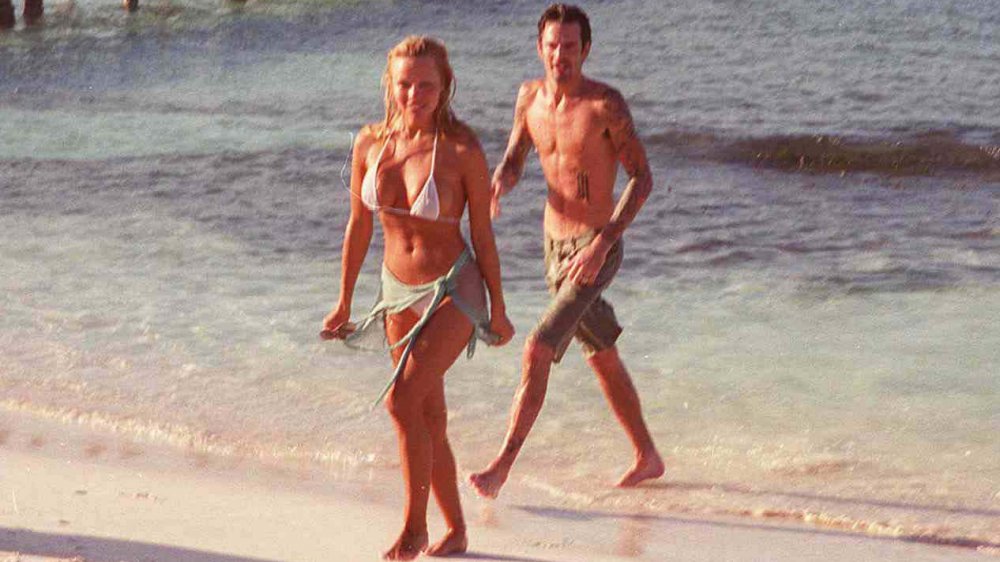 Getty Images
Tommy Lee first met Pamela Anderson at a club called Sanctuary on New Year's Eve in 1994. Anderson, a co-owner of the club, sent Lee a shot. By his own recollection in Mötley Crüe's 2001 autobiography The Dirt, the rocker was already "popping [ecstasy], drinking champagne," and acting like a "f**king [maniac]" (via Rolling Stone). He chased the shot with more champagne, then approached Anderson, who was sitting at a table with friends. The two chatted for hours, and while Anderson left with a pal at 1:30 a.m., she eventually gave Lee her phone number. 
However, the TV star was too busy to see Lee for nearly another six weeks, when she invited him to visit with her at Hotel Nikko ... but was MIA when he arrived. In an era pre-cellphones, Lee wrote, "[I called] the hotel every five minutes until they began to pity me ... I left messages at her pad, at her friends' houses, everywhere. I was hunting her down like a little f**king stalker." He finally got a hold of Anderson, who'd forgotten about their plans, about five hours later. She told him she was on her way out the door to Cancun for work. Against her wishes, the sometimes shady rocker followed her there.
They moved way too fast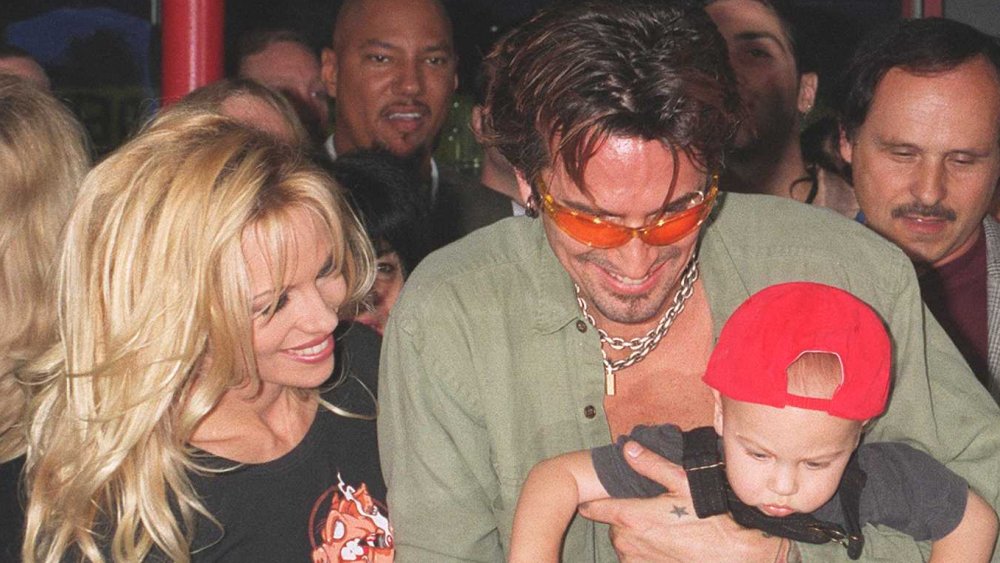 Albert Ortega/Getty Images
Despite Pamela Anderson telling Tommy Lee not to visit her in Cancun, he did and she was furious. "Evidently, she wasn't even going to return my call," Lee recalled in The Dirt (via Rolling Stone). "[But her friends] saw how hard I was working and begged her: 'Go out with him for one drink. It couldn't hurt.' Well, it did hurt, because four days later we were married."
Yup, Lee and Anderson famously spent the next few days together, drinking and hooking up. Just 96 hours after their first official date, they tied the knot on the beach in February 1995. "Instead of wedding bands, we went for something more permanent: Tattoos of each other's names around our fingers," Lee wrote, adding that it wasn't until they were flying home from paradise that it sunk in: "This was real. We were married." At the time, Anderson told People, "It was just instant, mind-blowing animal attraction. He's everything I've ever wanted in somebody."
Anderson got pregnant almost immediately afterward, but sadly suffered a miscarriage that left Lee "depressed for months." When the two welcomed their eldest son, Brandon, in June 1996, a dark realization hit Lee. "Pamela and I got busy having kids so quickly that we never gave ourselves a chance to build a solid relationship. I asked her much later, 'Why didn't we work on our relationship more?'" he wrote. "'We couldn't,' she replied. 'I was pregnant the whole time.'"
Pamela Anderson's family and friends didn't like Tommy Lee at first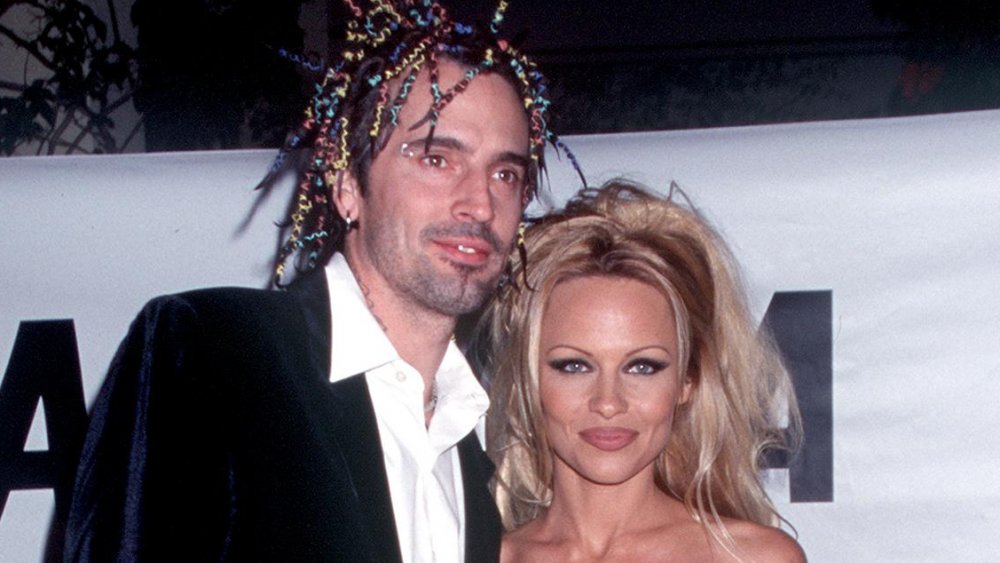 Brenda Chase/Getty Images
For most people, it's a red flag when their loved ones don't have a good feeling about their significant other. For other people — including Pamela Anderson — outside opinions were irrelevant. In The Dirt (via Rolling Stone), Lee recalled how Anderson's friend, Melanie, warned her not to get involved with Lee on the first night they met. He later complained about Anderson's pals making her leave earlier than he'd have liked: "Her friends were tired and wanted to go home. In all my years of experience, I have yet to devise a way of separating a woman I want from her f**king friends who are bored because they aren't getting any attention." Charming.
While his persistence in pursuing the actress in Cancun eventually won over her friends, that persistence (or stalking, as he'd previously put it) didn't pay off with Anderson's family. "Her mother f**king flipped out and told her to file for divorce immediately," Lee wrote, "while her brother asked for my address so he could come over and personally kick my a**." Still, they eventually apologized and gave their blessing. 
He was jealous of the attention she paid to their sons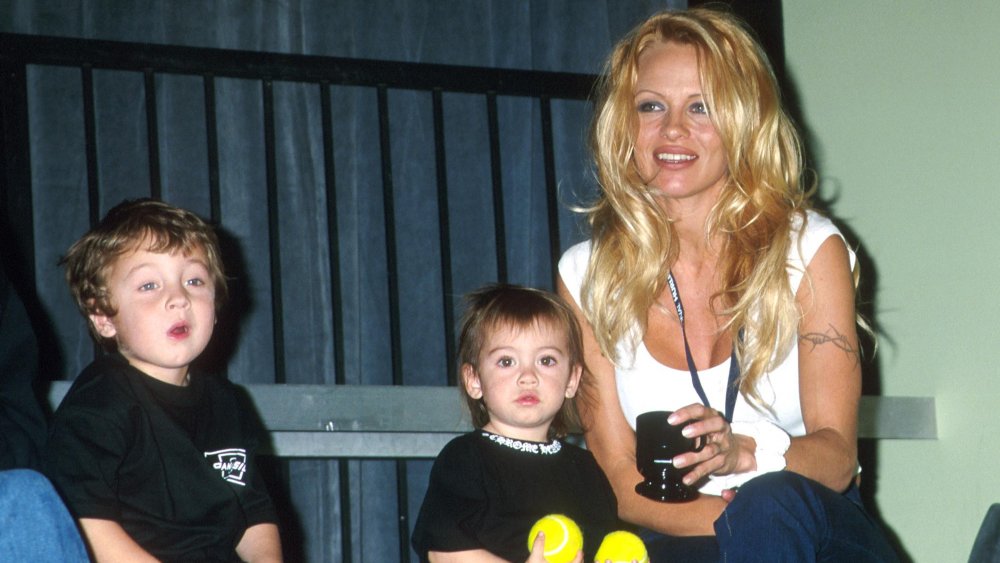 Brenda Chase/Getty Images
After welcoming son Brandon, Tommy Lee grew resentful of Pamela Anderson, explaining in The Dirt (via Rolling Stone) that he walked around "like an invisible man" while she cared for their baby. It only got worse for Lee when Dylan was born in December 1997. "Now I was full-on nonexistent," he wrote, adding, "Unable to step back and see the situation from any reasonable perspective, I turned into a whiny, needy little brat."
Lee went on to reveal that they started arguing constantly, including during what was supposed to be a romantic trip to Las Vegas for Valentine's Day. Later that month, on Feb. 24, 1998, Lee wanted to cook but couldn't find a pan he needed, and — in his own words — threw a tantrum "like a little baby crying for attention, hoping Mommy would come and solve all his problems." Anderson told him to calm down and called her mom to come over, because Lee was scaring her, and he lashed out. 
"Her therapist had given her the stupid advice of ignoring me when I was angry, because, according to him, I received enough attention as a rock star," Lee wrote. "But what he didn't know was that I was a rock star because I needed the attention. Silence equals death. So when Pamela started giving me the silent treatment — just like my parents used to — it only drove me further over the brink."
Tommy Lee admittedly committed spousal abuse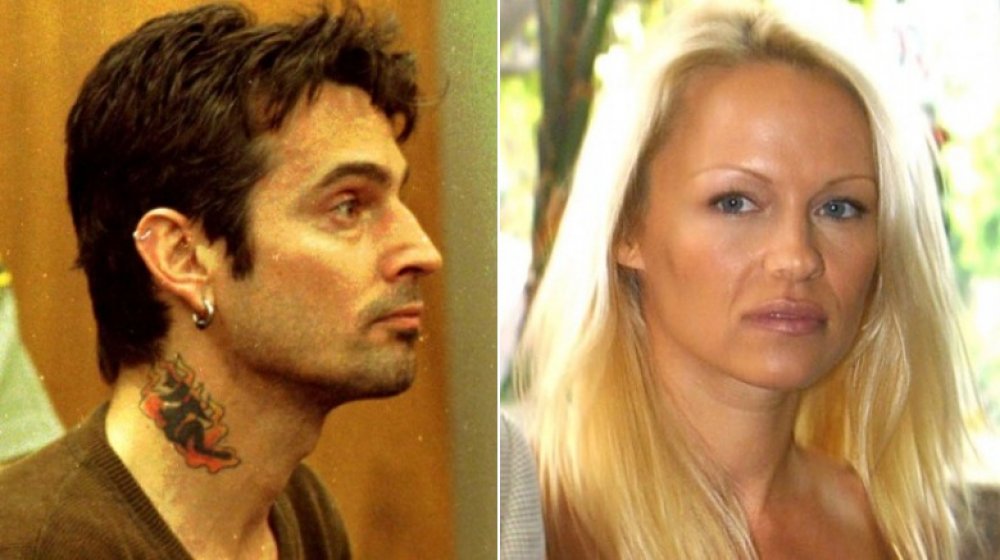 Frederick M. Brown, Pool/Getty Images
By his own account in The Dirt (via Rolling Stone), Tommy Lee's kitchen nightmare in February 1998 spiraled into domestic violence. During their argument, Lee claimed, Pamela Anderson struck him and he grabbed her as their sons cried. When she tried running away from him, he admittedly he kicked her in her rear. Later, he tried wrestling their son, Brandon, from her arms, causing her to fall down and break a nail. Lee says he went outside to cool off after the blowup and that when he came back inside, police were waiting. He was arrested and charged with felony spousal abuse. 
In May of that year, the Los Angeles Times reported that Lee pleaded no contest to spousal battery and was sentenced to six months behind bars, as well as mandatory counseling and community service. Because Lee had a 15-year record of previous violent incidents, he was warned that any probation violations would result in three years in prison.
During a custody battle years later, Anderson accused Lee of physical and emotional abuse and cited this particular incident (via the Evening Standard): "Tommy physically attacked me with complete disregard for my safety and, more importantly, for the safety of our children. Tommy kicked me violently in the back several times and in the buttocks. He was completely out of control."
Does Tommy Lee have a drinking problem?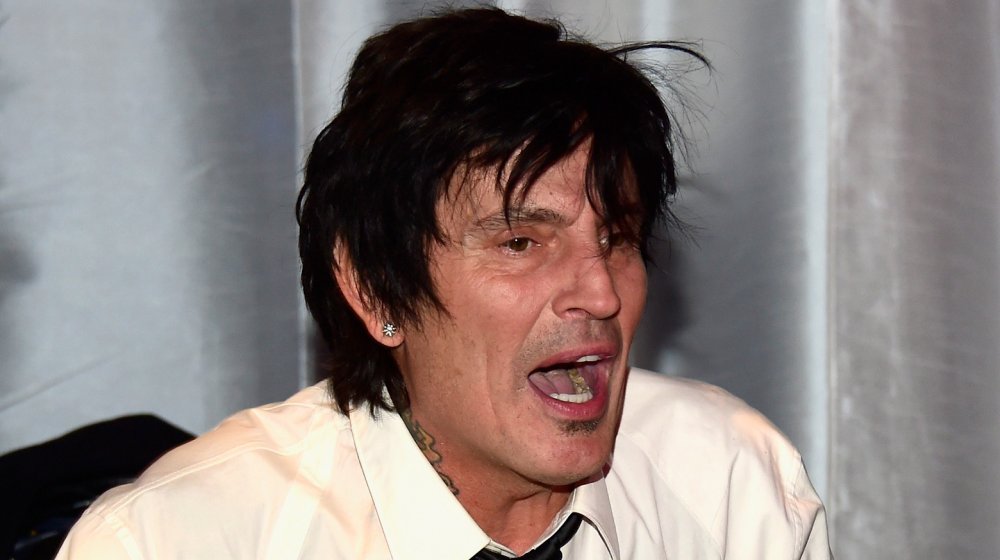 Frazer Harrison/Getty Images
Tommy Lee was released from prison after serving four months of his sentence — but in May 2000, Rolling Stone reported that Pamela Anderson was a witness to Lee's alleged drinking, which violated his probation. While he could have spent another three years behind bars, Lee was sentenced to just five days. With his probation extended to May 2003, he was ordered to undergo random drug testing and attend Alcoholics Anonymous meetings.
Lee, who previously documented his exploits with alcohol in The Dirt (via The Guardian), was later accused of abusing alcohol during his 2018 altercation with son Brandon. Brandon later released a statement to People, alleging that Lee's alcoholism was the true root cause of the incident and that he'd tried to organize an intervention. According to sources cited by TMZ, "Brandon claims Tommy was drunk and lunged at him and he punched his dad in self-defense." Lee denied this, alleging that he and future wife Brittany Furlan were in bed when Brandon attacked him. "I'm happier than I've been in my entire life," he tweeted. "I have a few drinks here & there because I'm f**kin' retired and enjoying my life. I worked 30+ f**kin' years I deserve it. You didn't arrange any intervention, you barely spoke to me while u were here." 
While Brandon was not charged, Anderson slammed her ex as an alcoholic, "the definition of narcissist/sociopath," and "a disaster spinning out of control" in a statement to TMZ.
Tommy Lee blamed Pamela Anderson for their issues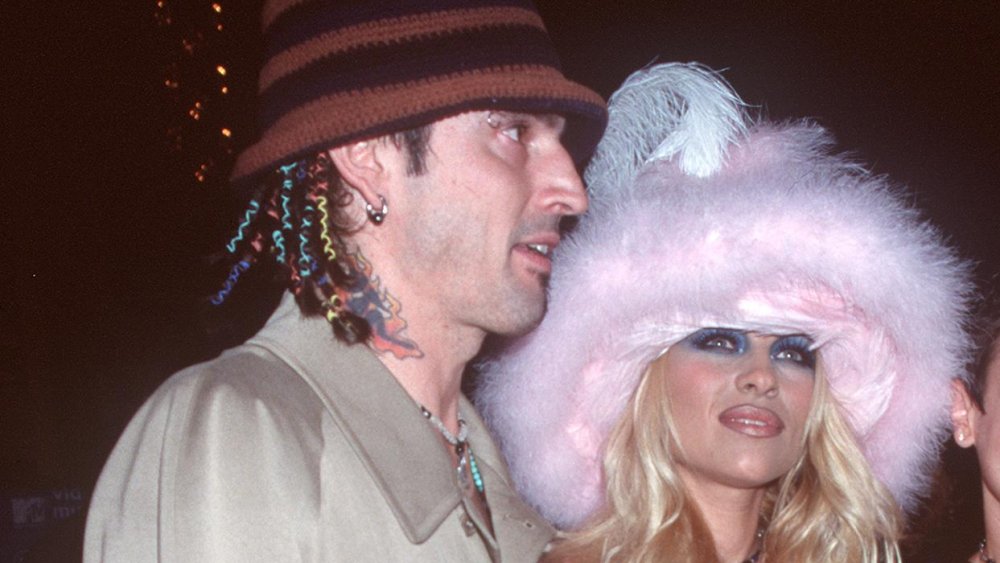 Brenda Chase/Getty Images
Tommy Lee took some accountability for committing spousal abuse against Pamela Anderson, but still blamed her for the bulk of their relationship problems. Writing in The Dirt (via Rolling Stone) that he couldn't fathom why Anderson pressed charges against him back in 1998, he claimed that "she probably wanted an easy way out of a difficult situation." Lee added, "As much as I loved Pamela, she had a problem dealing with things. If something wasn't right in her life, she'd rather get rid of it than take the time to work on it or fix it ... So the way I understood it, what Pamela did to me was, basically, fire me."
The problems started before they had kids, however, as the two were "extrasensitive" leading up to son Brandon's birth. After one particularly nasty fight, Anderson called Lee "selfish" and left him at home while she spent the night in her own condo. One of the actress' friends later found her unconscious: she'd reportedly taken half a bottle of aspirin. "I rushed to the hospital to see her, though the overdose was probably less a suicide attempt than a plea for attention," Lee wrote. "But it worked, because I had no idea how much our disagreements were affecting her."
If you or someone you know is having suicidal thoughts, please call the National Suicide Prevention Lifeline at 1-800-273-TALK (8255) or text HOME to the Crisis Text Line at 741741.
Their sex tape exacerbated all of their other problems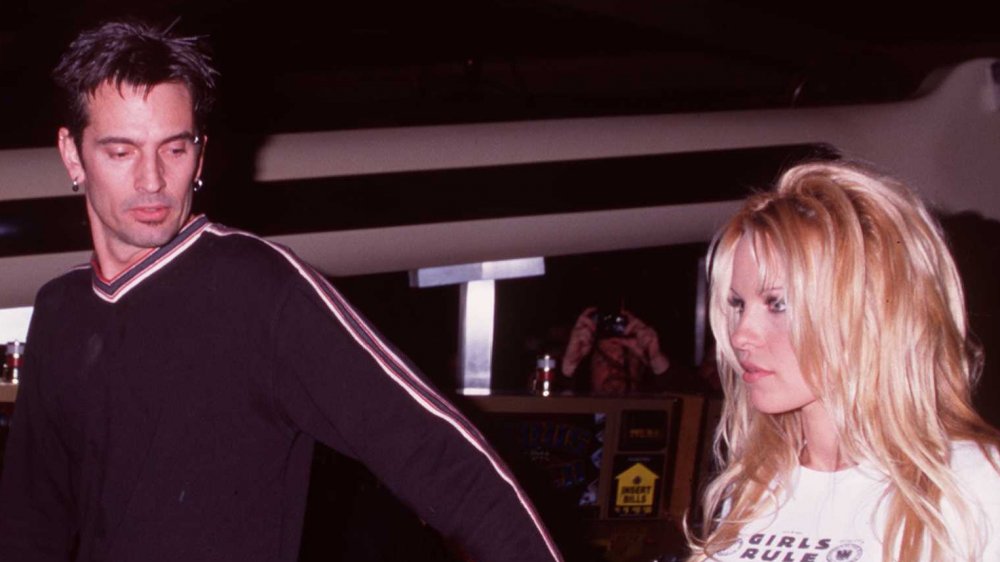 Brenda Chase/Getty Images
Pamela Anderson and Tommy Lee made what may be the very first viral celebrity sex tape. According to Rolling Stone, the tape was stolen from their Malibu home in 1995 by a "disgruntled electrician," who took an entire safe after allegedly being held at gunpoint by Lee to get off the property during renovations — not even realizing its contents. It ended up in the hands of a pornography peddler. 
Lee wrote in The Dirt (via Rolling Stone) that his and Anderson's attorneys advised them to sign off on a one-time webcast of the video to maintain some control over its use. It didn't matter: The peddler reneged on the deal and mass-produced copies of the tape. The video was reportedly mostly just of Lee and Anderson on vacation with a few minutes of explicit content sprinkled in, but those few minutes made about $77 million in pure sales in less than a year. 
That was little comfort to Lee and Anderson. Lee admitted that the stress from the tape's sale and release exacerbated all of the problems they'd already had in their marriage. "Pamela and I were fighting all the time," he wrote. "Trying to raise our children, continue the careers that consumed us, make a new relationship work and deal with the nonstop barrage of bulls**t in the press was more of a challenge than we ever could have expected."
Like the Goonies, Pamela Anderson and Tommy Lee may never say die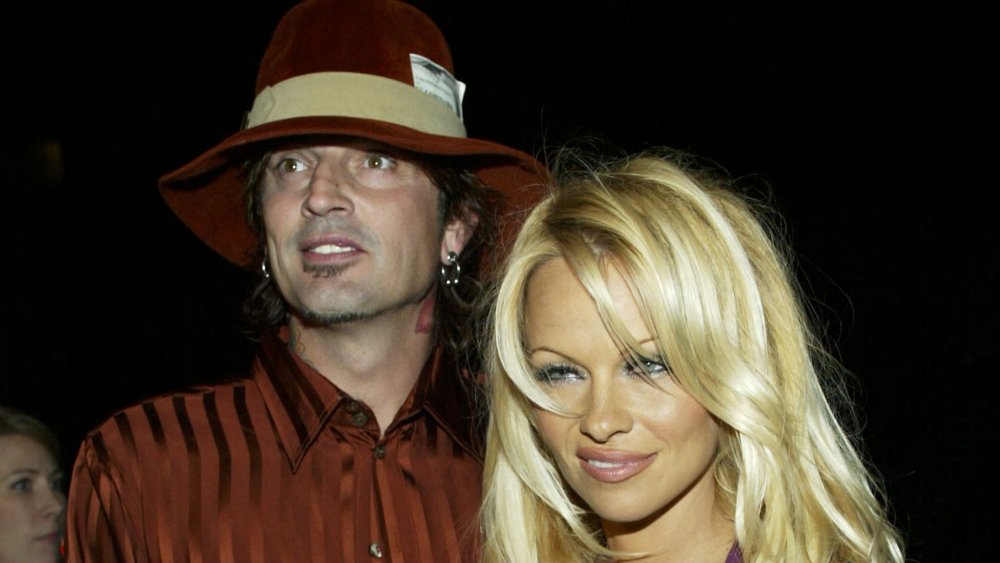 Frederick M. Brown/Getty Images
Pamela Anderson and Tommy Lee's relationship was anything but stable. E! News reports that Anderson first filed for divorce in November 1996. After reconciling and welcoming son Dylan in December 1997, she filed for divorce again following Lee's arrest in February 1998. Lee recalled his hopes for a reconciliation in The Dirt (via Rolling Stone) when Anderson began writing him "awesome letters" in prison. Indeed, they reconciled briefly following his release, with Entertainment Weekly reporting that they considered remarrying in 1999. "I picture Tommy and me," Anderson said, "...old, toothless, on a bench somewhere with our tattoos." 
Five years after splitting again in 2000, Lee told People he was "crazy in love" with Anderson and that they were taking things slow ... for once. But in 2006, Anderson shacked up with Kid Rock and tried to get sole custody of her and Lee's sons. She and Kid Rock divorced the following January, and Anderson married Rick Salomon in October 2007, before annulling that on-and-off marriage two months later. In 2008, Lee told Rolling Stone (via People) that he and Anderson were giving their relationship try No. "801" — but they officially called it quits in 2010.
"There was Tommy and then there was nobody else," Anderson told later People. "He was the love of my life. We had a wild and crazy beginnings that was too much for both of us."