Why Drew Barrymore Doesn't Show Her Kids On Social Media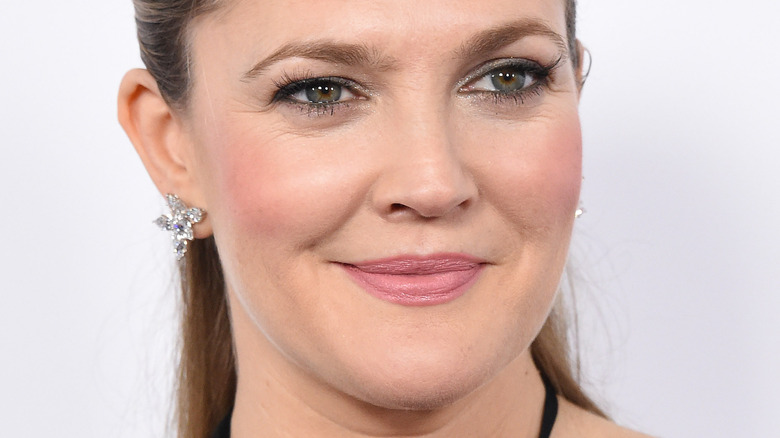 DFree/Shutterstock
Drew Barrymore became a household name at just 6 years old after starring in Steven Spielberg's "E.T.," but childhood fame came at a heavy price. Not only did Barrymore's celebrity status deny her a normal childhood, but her troubled home life meant that she was introduced to drugs and alcohol at a young age. Per The Sun, her mother took her to nightclubs before she was a teenager, and Barrymore branded herself a "party girl" long before high school. At 12, the actor was already taking drugs, and she later spent time in a mental institution for drug and alcohol addiction. "When I was 13, that was probably the lowest," Barrymore told The Guardian in 2015. "Just knowing that I really was alone. And it felt ... terrible. It was a really rebellious time. I would run off. I was very, very angry."
Over the years, the actor has rehabbed her image and experienced quite the second act, despite revealing that she was once "blacklisted" in Hollywood due to her drug addiction, according to The Sun. In December 2021, the "Ever After" actor appeared on "CBS Mornings" to speak about her sobriety journey. "I'm going to say something for the first time in a long time, I have not had a drink of alcohol in two and a half years," Barrymore shared. And because she experienced firsthand the pitfalls of child stardom, it makes sense that Barrymore is protective of her own children.
Drew Barrymore wants her kids to have traditional childhood experiences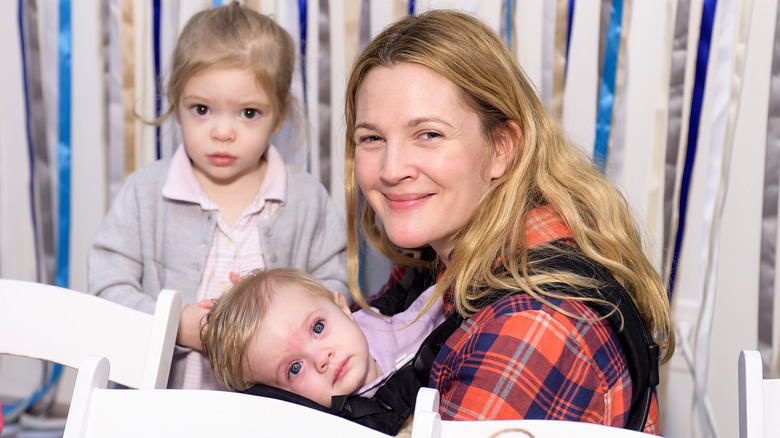 Stefanie Keenan/Getty Images
Unlike her own upbringing, Drew Barrymore wants her daughters Olive and Frankie to stay kids for as long as possible. This means keeping them off social media for the time being, as she said on the "Armchair Expert" podcast in 2021. "I want them to be kids. And I don't put my kids on social media," the actor explained. "They watch TikTok, they love social media," she continued. "They get in a bad mood when they realize they won't be put on camera, but they know ... why, because I'm like, 'I want you to be kids!'" Barrymore also gave director Steven Spielberg a shoutout on the podcast, noting that she looks to him when it comes to parenting cues. "By the way, my girls can't get their ears pierced until they're 10, because [Spielberg] made me wait until I was 10!" she shared.
It's not the first time Barrymore has expressed she wants to parent differently than the way she was raised. In June 2021, Barrymore appeared on "4D with Demi Lovato" and revealed that she and her mother "were friends ... not parent and child" growing up. As a result, she has learned the importance of boundaries. "Like, I'm your parent, I'm not your friend," Barrymore said. Even so, "You can be friendly and do activities [together], it's not that it has to be this strict relationship."
Director Steven Spielberg was like a father to Drew Barrymore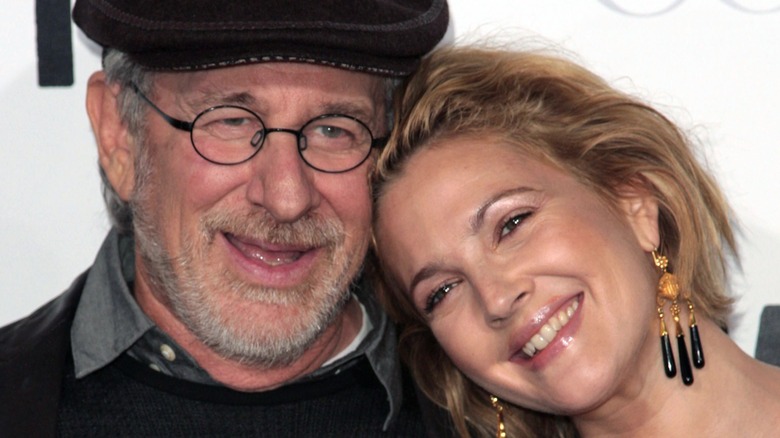 Everett Collection/Shutterstock
Despite the fact that Drew Barrymore had a rocky upbringing, she did have at least one notable father figure in her life in the form of Steven Spielberg. The two met when Barrymore was just six years old, as he directed "E.T." — her breakout film. "[Spielberg] single-handedly changed my life. He was also someone who I didn't realize until I was older was also very fatherly," Barrymore told host Dax Shepard on the "Armchair Expert" podcast in 2021. "He didn't like me acting older than my age," she added, speaking of how Spielberg remained protective of her in her teenage years. "And that is how a parent is supposed to make you feel ... I'm like God, you really were the only fatherly person in my life."
Now that Barrymore has two daughters of her own whom she shares with ex-husband Will Kopelman, Spielberg continues to play a huge role in Barrymore's life. In September 2021, the "Never Been Kissed" star appeared on an episode of "Jimmy Kimmel Live!" to share where her relationship with the director stands today. "We actually had dinner with Steven Spielberg the other night ... who is ... the first father figure I ever had and remained in my life as such," she said, adding that Spielberg had a special bonding moment with her kids, Olive and Frankie. Clearly, Spielberg's influence in Barrymore's life has prompted her to shield her children from the limelight.