Mary J. Blige Leaves Fans Devastated At Last Minute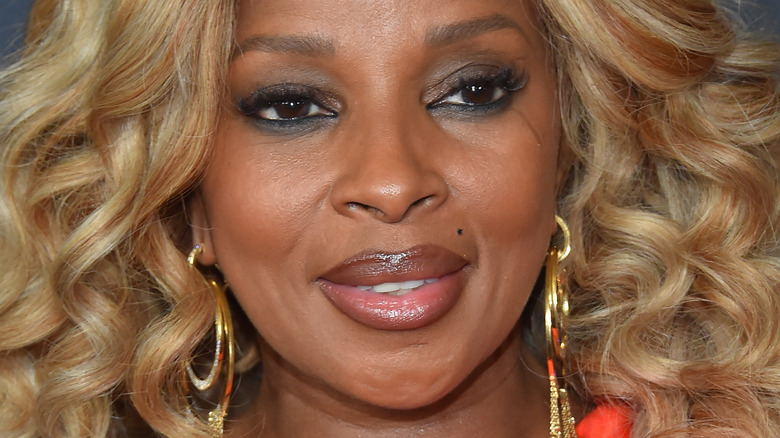 DFree/Shutterstock
Mary J. Blige accomplished a personal career highlight on February 13 when she performed during Super Bowl LVI's halftime show alongside Dr. Dre, Snoop Dogg, Eminem, Kendrick Lamar, and surprise guest 50 Cent. Performing two of her most iconic hits, "A Family Affair" and "No More Drama," Blige likened the opportunity to performing at former President Barack Obama's inauguration, according to Complex, calling it "a huge moment." Giving her performance her all, Blige quickly entered the annals of meme-dom, too, when she fell (deliberately) to her knees before collapsing onto her back at the end of her medley. "You can just end the game now. @maryjblige really done did that," a satisfied fan tweeted. 
Blige's fit was not to be overlooked, either. Sheathed in a sparkling sequined lace top with matching pants and thigh-high boots, Blige also rocked earrings dripping with 33 carats of diamonds, which Page Six estimated to be worth $1,500 alone. Blige had previously talked about not receiving any pay for the gig, telling "The Cruz Show" on February 9, "Listen, you're gonna be paid for the rest of your life off of this. People are gonna be knocking at your doors."
Given the singer's (metaphorical and literal) shine coming off Super Bowl LVI, many fans are feeling let down by a shocking last-minute cancellation of hers.
Mary J. Blige's meet-and-greet postponement becomes a PR nightmare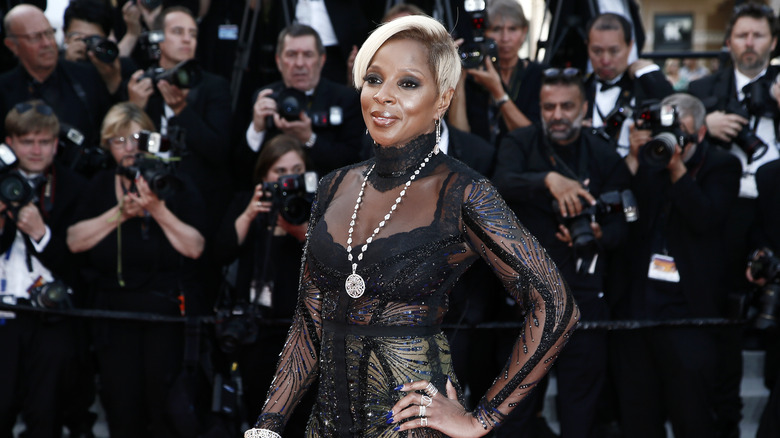 Andrea Raffin/Shutterstock
Well, there's some fresh drama in Mary J. Blige's life. In a February 17 Instagram Story video, the "Mary Jane" singer told followers she could not make it to a meet-and-greet that evening — only two hours before the event began, per Page Six. "Hey, everyone. Sorry I had to postpone the in-store at Looney Tunes," Blige said about her scheduled event at the Long Island, New York record store. "I love y'all," Blige continued. "Thank you so much for your love and support, and I'll see you soon." Although Blige did not give an official reason for the postponement, a Page Six source disclosed that the singer was stuck in traffic in Manhattan at the time of her video message.
As Page Six noted, fans waiting in line to meet Blige were not satiated by the singer's pseudo-explanation. "We were so excited to see Mary just days after she performed on the biggest night in TV, but now we're just disappointed and frustrated. It's really irresponsible of her," one fan shared with the outlet. Many attendees were already feeling sour that the photo-op necessitated they first purchase a physical CD of Blige's new album, "Good Morning Gorgeous." Although Looney Tunes stated in its Facebook post about Blige's postponement that refunds were available, one fan claimed the contrary: "They didn't offer a refund until after I heard [about it on Facebook] hours later." Oof, what a bad look for Mary!