Madonna's New Look Is Shocking Fans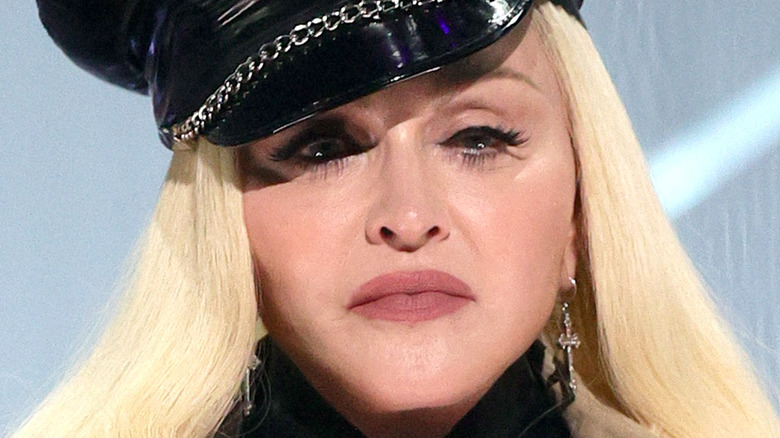 Theo Wargo/Getty Images
Madonna has always been known as music's Queen of Self-Transformation. However, it's her Instagram transformations that are receiving all the attention lately. In March 2021, the Queen of Pop was called out by TikTok user Amelia M. Goldie for a 2015 photo Madge shared to Instagram, alleging that the singer photoshopped her own head onto a photo of Goldie's body. "I look kewl," Madonna captioned the post. Goldie told BuzzFeed at the time, "I think if you're going to play somebody else's body off as your own, they deserve to be mentioned. But no hard feelings!" However, Madonna never acknowledged Goldie or deleted the post, despite receiving some fan backlash.
The photoshopping rumors didn't stop there. That April, Madonna posted a slew of Instagram selfies showing off her luxe designer shades, velour green hoodie, and poreless, wrinkle-free skin. From plastic surgery speculation to skin-smoothing digital filters, the "Material Girl" singer's comments section heavily weighed in that she simply didn't need either type of modification. "Too many filters, you don't need it, you are and you will be the queen of pop.....you are and will be a queen even if you are 100 years old," one commenter opined.
Whatever behind-the-scenes magic Madonna is working on her Instagram posts, she sure is keeping up the trend in a late February 2022 announcement about a film project.
Madonna's Instagram leaves jaws dropped yet again
Madonna is letting us in on the difficulties of Hollywood in youthful style. "Tryin to Make a Movie................It's Really Hard! Wouldn't Have it Any Other Way!", the singer-actor captioned a February 19 Instagram post regarding an upcoming biopic of her life. As it often is with Madge, it's the visuals that overtook her words. Featuring Madonna vaping and sipping wine (and script-reading) while draped in an eclectic ensemble of an oversized puffer vest, fingerless leather gloves, and pink platform jellies, the post's photo carousel stunned fans with the 63-year-old's taut, wrinkle-free skin on glowing display. 
One such commenter praised Madonna's rejuvenated look, writing, "You are so naturally beautiful and you'd be such a soothing presence to anybody," while another stated more cynically, "You look like your are much younger than me... and You could be my mom." One comment probably echoed many's opinion that Madonna uses a de-aging filter on Instagram when they wrote, "You're an icon...you don't need the excessive photoshop retouching...said with love." 
As for the film in question, Madonna announced in September 2021 that she is a co-director and co-writer on the project, describing it as "a visual autobiography" to the Associated Press (via Today). "It's really been a long and arduous process, but it's been really therapeutic as well," Madge said at the time, adding then that she wanted "Black Widow" star Florence Pugh to portray her younger self.