Inside Joss Whedon And Ray Fisher's Feud
Kathy Hutchins/Shutterstock
One of Hollywood's most prolific directors, Joss Whedon, is the mastermind behind shows like "Buffy the Vampire Slayer," "Agents of S.H.I.E.L.D," and "Dollhouse," per IMDb. In particular, Whedon has been lauded for regularly casting strong female leads. "Why aren't you asking the 100 other guys why they don't write strong female characters?" the writer said in a 2006 speech made after campaign group Equality Now honored him for his work (via The Guardian). "Equality is not a concept, not something we should be striving for, equality is like gravity ... Misogyny is life out of balance and it sucks something out of the soul of every man and woman confronted with it," he added.
Yet despite his feminist stance, Whedon has also come under fire for inappropriate on-set behavior towards female actors. In February 2021, "Buffy" alum Charisma Carpenter posted an emotional statement on Twitter in which she accused the director of abuse of power. Carpenter said he mocked her weight while pregnant, berated her for her religious beliefs, and attempted to "disempower" and "alienate me from my peers." Likewise, "Wonder Woman" star Gal Gadot is another female star who had a negative interaction with Whedon. "I had my own experience with [him], which wasn't the best one, but I took care of it there, and when it happened," she told the Los Angeles Times in 2020. It's worth noting that both Carpenter and Gadot's accusations only came after Whedon's feud with "Justice League" actor Ray Fisher.
Ray Fisher had a bad experience on the set of 'Justice League'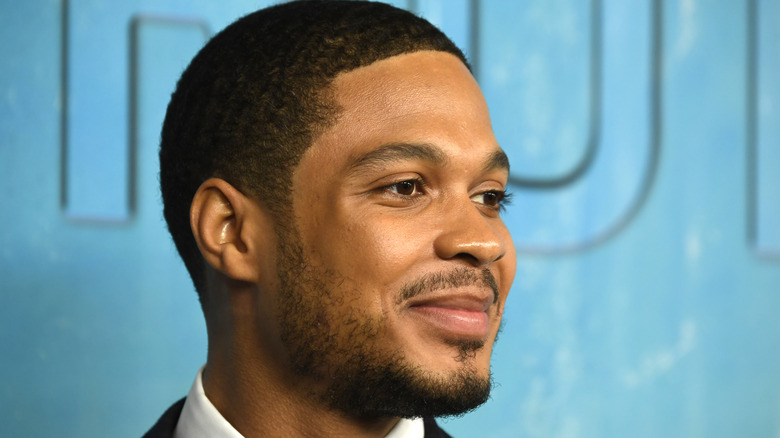 Frazer Harrison/Getty Images
In 2020, Ray Fisher took to Twitter where he labeled Joss Whedon's treatment of "Justice League's" cast and crew "gross, abusive, unprofessional, and completely unacceptable." Fisher also claimed that former Warner Bros. executives Jon Berg and Geoff Johns had "enabled" Whedon's bad behavior, though he did not further explain his accusations at the time. Per Variety, Whedon declined to comment. However, Berg told the outlet that Fisher's allegations were "categorically untrue that we enabled any unprofessional behavior." He further defended himself and provided context — telling Variety that Fisher was "upset that we wanted him to say 'Booyaa,' which is a well known saying of Cyborg in the animated series."
But Fisher's unhappiness didn't come totally out of left field. Prior to the inflammatory tweet, he reposted a Twitter video of himself where he stated, "Joss is a great guy, and [director] Zack [Snyder] picked a good person to come in and clean up and finish up for him." This time around, Fisher wrote, "I'd like to take a moment to forcefully retract every bit of this statement." Yikes! A month later, Fisher made some shocking claims regarding Johns on Twitter. "During the LA reshoots for Justice League, Geoff Johns summoned me to his office to belittle and admonish my ... attempts to take grievances up the proper chain of command. He then made a thinly veiled threat to my career. This behavior cannot continue," he wrote.
Some of Ray Fisher's 'Justice League' co-stars supported his fight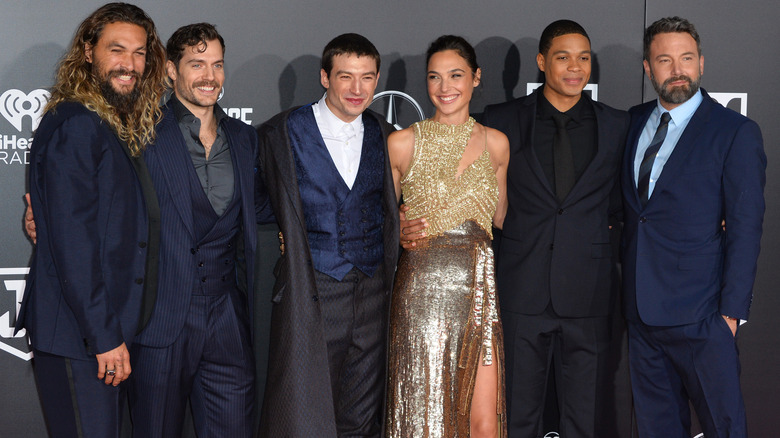 Featureflash Photo Agency/Shutterstock
Following Ray Fisher's accusations, the actor announced via Twitter that Warner Bros. had launched an investigation to uncover what went on during the "Justice League" reshoots. However, Fisher soon found that the studio wasn't cooperating with the investigation and instead focused only on protecting higher-ups, per The Hollywood Reporter. In a 2020 interview with Forbes, Fisher said that "blatantly racist conversations were had and entertained ... by former and current top level executives at Warner Bros. Pictures." As of this writing, Warner Media stated that they took "remedial action" as a result of this investigation, per THR, but these actions are unclear.
Fisher was far from the only actor unhappy with the allegedly toxic environment on the set of "Justice League." A source alleged that Whedon clashed with several of the film's leading characters, including Jason Momoa, per THR. After filming wrapped, the actor took to Instagram to prove that he had Fisher's back by expressing his opinion that "@wbpictures NEEDS PROPER INVESTIGATION." He added, "Serious stuff went down. It needs to be investigated and people need to be held accountable #IStandWithRayFisher." Fisher's "Justice League" co-star Gal Gadot also supported Fisher in a conversation with the Los Angeles Times. "I'm happy for Ray to go out and speak his truth," she shared. In many cases, where there's smoke, there's fire — and this certainly seems to be true of the feud between Fisher and Whedon.